6 Ways a Nearby Gym in Chelsea Keeps You Coming Back
​A staggering 80% of American adults don't get the recommended amount of exercise. But it's not because they don't want to be fit. Factors like cost, gym proximity, waning motivation, and busy schedules prohibit consistent exercise. And 50% of people are hindered by "gymtimidation," or the intimidation they feel working out in certain gyms. Another 31% are also intimidated by the process of getting fit.
Sweat440 believes that physical fitness is central to health and happiness, and seeks to make it possible for everyone. We want to flip that statistic around and maximize the health of everyone who steps through our doors. Our gyms are designed to eliminate the hurdles that prevent people from getting fit, and to have a blast while doing it!
The best way to achieve your fitness goals is to join the right gym, and to stick with a fitness routine. Consistency is key! Here are 6 ways Sweat440 makes consistent exercise easy to achieve at our nearby gym in Chelsea.
1. Our Nearby Gym in Chelsea Aligns With Your Work Life
Whether you work the early shift, late shift, or feel like you're always on the clock, Sweat440's schedule aligns with your work life. Our HIIT classes start every 10 minutes, and pack a powerful punch in just 40 minutes, so you can always squeeze in a workout. Unlike 24-hour gyms, our gyms are always fully staffed, and every class is led by a personal trainer. No matter what time you clock out or close your laptop, our trainers are ready to work with you. Our Chelsea gym is just steps away from your job, whether you're a Starbucks barista, Strand Bookstore aficionado, H&M stylist, or Compass Real Estate expert.  
2. Our Nearby Gym in Chelsea Aligns With Your Social Life
If your limited spare time means having to choose between friends or fitness, that can be a tough choice. But it doesn't have to be a choice at all! Grab your friends and head to Sweat440 for a social sweat session! Your friend's first class is free, so there's no commitment involved for them to exercise with you! Our state of the art machines include something for everyone, so grab your cycling, yogi, or marathoning friends, and show them why Sweat440 rules! Blast through a killer class before joining friends at Bar B, Flight 151, Slate NY, or Thai Villa just steps from our gym.  
3. Our Nearby Gym in Chelsea Aligns With Your Family Life
If you're battling between catching your kid's soccer game or getting your own sweat flowing, choose both at Sweat440! Our gyms are so convenient, with such flexible schedules, that you don't have to sacrifice fitness or family time. Some gyms only offer a fitness class once a week, so you have to miss it when birthday parties and recitals pop up. But our classes repeat all day long, and change each day, so you never miss a thing. Get a good sweat in before hanging with your family at Union Square Park, Gramercy Park, or Madison Square Park, all within walking distance of Sweat440.
4. Our Nearby Gym in Chelsea Aligns With Your To-Do List
Maybe you want to work out, but that to-do list is weighing on you. Sweat440 is centrally located to all your necessary stops, like Whole Foods, Trader Joe's, Container Store, and Bed Bath & Beyond. So, grab a quick workout while you run errands! You'll be more energized to make it through your list. After all, what's more important to check off the to-do list than your health?
5. Our Nearby Gym in Chelsea Aligns With Your Budget
If you want to join a gym but your budget is already stretched, Sweat440 has custom memberships. We don't use contracts, so you're never locked in when money gets tight. Your first class is free, and every class includes free personal training! You can buy as little as one class at a time, or buy in bulk for additional savings. Your fitness goals should not be prohibited by an overpriced membership. Join Sweat440 in Chelsea for flexible membership options that give you financial control. We save you money by eliminating silly things like massage chairs, and investing in the best trainers.
6. Our Nearby Gym in Chelsea Aligns With Your Fitness Goals
If you're one of the 50% who suffers from "gymtimidation," it probably helps just reading that you're not alone! Some gyms in NYC are unwelcoming to new members. Others are so overcrowded or laden with waitlists for classes and machines, that your membership is essentially useless. No one achieves their fitness goals when they're too intimidated to try! That's why Sweat440 provides a positive, uplifting environment for all fitness levels. At Sweat440, we welcome new members with enthusiasm, and walk you through the process.
From our awesome front desk team, to our personal trainers leading each class, you are never left in the dark. At Sweat440, you'll find a safe place to try new equipment with certified trainers and animated demonstrations at each station. Make no mistake, a HIIT fitness class at Sweat440 burns more calories and builds more muscle than any gym in NYC! But it's done at your own pace and ability level, with the guidance of caring instructors. A gym that fits into your work life, social life, family life, to-do list, budget, and fitness goals? No wonder Sweat440 is the gym that keeps people coming back for more!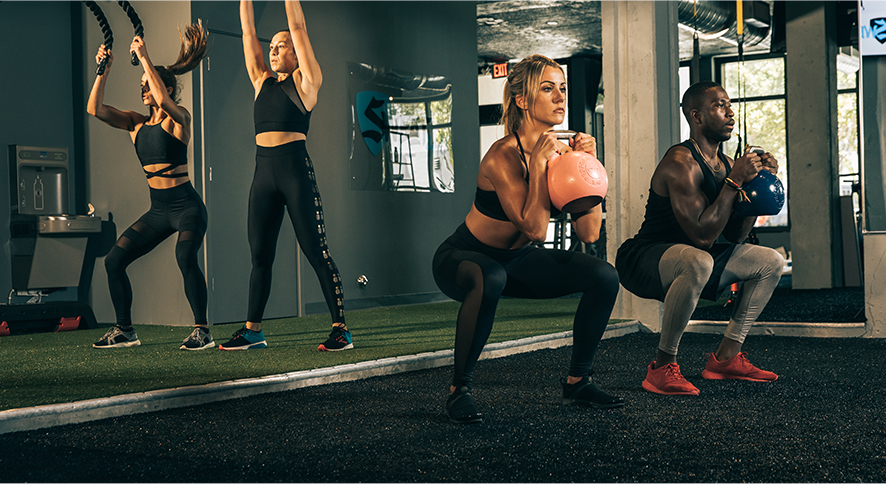 Sweat440's Gyms Enable Consistent Exercise
How We Keep You Coming Back for More
Our gyms align with your work life.
Our gyms align with your social life.
Our gyms align with your family life.
Our gyms align with your to-do list.
Our gyms align with your budget.
Our gyms align with your fitness goals.
Stick With Us to Surpass Fitness Goals
Our gyms use HIIT to burn more calories.
Our compound cardio yields faster results.
Our classes include free personal training.
Our schedule has 40-min. classes every 10 mins.
Our diverse equipment prevents boredom.
Our gyms are motivating, not intimidating.