Learn from Personal Trainers for Free at This Nearby Gym!
Would you like a free workout? How about free personalized training while you work out? Sweat440 offers both at a nearby gym that puts fitness first! While you might assume that all gyms put fitness first, some actually focus more on revenue than helping people get fit. 
That's why some gyms use binding contracts and hidden fees and require people to sign up without a free trial. They also charge extra for services like personal training and group fitness classes. Many even charge for classes you have to miss if illness or schedule conflicts occur. 
Why Sweat440 Offers Free Classes
Sweat440 believes everyone has the right to pursue fitness without being tied to a contract before they acclimate to a gym. In fact, Sweat440 doesn't use contracts at all, and has no minimum number of classes to purchase. We don't charge for classes you miss or impose penalties or fees. We let everyone try a class for free, and only buy the classes they want.  
Why Sweat440 Includes Training for Free
The founders of Sweat440 also know how much personal training impacts fitness, because they're personal trainers themselves. But they know that individual training appointments don't fit in everyone's budget and require a specific schedule. So, they created Sweat440 to provide free personal training in every group fitness class. Our trainers circulate through every class providing personalized attention and customized solutions to reach your fitness goals.
A free class, and then free training in every subsequent class you purchase- too good to be true? Nope. Just ask our thousands of satisfied members who can't get enough of Sweat440's high-intensity interval training (HIIT) classes.  
Why Personal Training Enhances Group Fitness
Group fitness classes are an amazing way to get fit! Especially when those classes are HIIT! When you work together, you reap tremendous benefits. The camaraderie, the inspiration, the motivation, the accountability, and the enthusiasm all combine for a superior workout experience. In addition, group fitness helps the class fly by! The class seems easier when you can grind it out with a friend, laugh at your smooth moves, or push each other through a tough session!   
Personal Training Benefits
Sweat440's classes are conducted in small groups to enhance your fitness experience together. But there's one thing workout buddies can't provide, and that's qualified expertise (even though some of them think they can!). That's where certified instructors come in, and Sweat440 goes even further by providing trainers that work individually with each member during the class.
The Ultimate Recipe for Success
What your friend can lift, squat, or pull, may be inadequate or excessive for you, and trainers know how to assess that. If you just work out with a friend and not a trainer, you risk overdoing it, or working below your potential. Combining personal training with group classes yields the best of both worlds. You get to work out alongside your comrades, but work at your optimal level. Personal training combined with group HIIT fitness is the ultimate recipe for success. 
How to Get Free Training at a Nearby Gym
1) Find the Sweat440 Near You
At Sweat440, you'll experience a challenging workout, but getting there isn't a challenge. We have convenient locations surrounding several major cities like New York City, Miami, Miami Beach, Coral Gables, Doral, and Montréal. Fitness is just a few steps away, and it starts with a free trial!
2) Join a Free Class Easily
Sweat440 makes scheduling classes easy with simple solutions. Our classes start every 10 minutes, so there's always a class that fits your schedule. You could be working out for free in just a few minutes! You can schedule a class online, call our front desk, book through our App, or simply stop by! With so many classes to choose from, our welcoming staff will gladly show you the ropes and fit you into a class on the spot when you drop by.
3) Choose a Flexible Membership for More Free Training
Our gyms won't lock you into a contract or ask you to join without trying a class. If you like it (we know you will!), you can buy as little as one class at a time. You don't have to buy a bundle or book classes months in advance to get a spot. Buy as many or as few as you like, and choose your own level of membership. 
4) Get Free Training in Your 1st Class and Every Class!
Every one of our classes includes HIIT instruction and qualified trainers to assist you. Right off the bat, you get free training, which means results happen from day one! Our trainers are awesome, and they're even supplemented by animated demonstrations at every exercise station. There's no such thing as being a rookie at Sweat440- our classes are designed for all fitness levels to excel, and our trainers are with you each step of the way!
5) Free Classes Start Every 10 Minutes!
Sweat440 believes HIIT classes that include small group training are the way to achieve ultimate fitness. Don't take our word for it, come see for yourself! Sweat440 is the nearby gym that offers free classes and free training to everyone who wants to get fit! Our classes start every 10 minutes, so join a free class right now!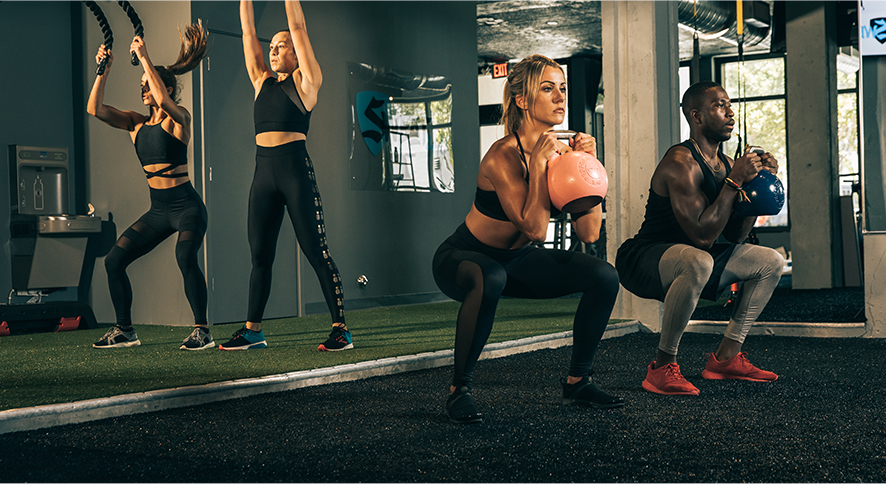 Group Fitness & Personal Training Combined at a Nearby Gym
Why You Need Group Fitness
Group fitness keeps you accountable.

Group fitness inspires and motivates. 

Group fitness makes workouts fun.

Group fitness helps workouts fly by

Group fitness provides enthusiasm.

Group fitness creates camaraderie.
Why You Need Personal Training
Personal training customizes your workout.

Personal training takes your fitness to the next level. 

Personal training increases your commitment.

Personal training prevents plateaus.

Personal training keeps exercise safe.

Personal training empowers you to succeed.