Hiring a personal trainer might sound like the ultimate way to achieve your fitness goals. You've heard about celebrities and their trainers, including Mathew Miller's athletic training with Le Rêve in Las Vegas. So, you might wonder, "How do I find a personal trainer in Miami," or, "How much does a personal trainer cost in Miami Beach?" Before you take the costly plunge, you should know the limitations of working out with a trainer, and why even celebrities swear by fitness classes like HIIT training at Sweat 440.
Who is Personal Training For?
If you've tried different workouts for weight loss or ways to build muscle and are frustrated with your progress, you might be considering a personal trainer. While personal trainers offer an individualized approach, they are quite costly, and typically can't accommodate your schedule. The best trainers are already booked for the most popular times, like early mornings, evenings, and weekends. A trainer with a wide-open schedule might be convenient, but that's also a big red flag. Personal trainers have individual specialties, such as weight loss, muscle mass, or endurance training. It can take time to find the right match for your fitness perspective, and unfortunately, that time = money.
What are the Limitations of Personal Trainers?
Personal trainers are people, even if some of them are built like superheroes. That means they are subject to limitations.  Take a look at the ways a personal trainer can actually hinder your fitness progress.
Inflexible Schedule- Good trainers focus only on their individual client during the scheduled appointment. The problem is, you aren't their only client. So, that means if you're stuck in traffic, running late at the office, or feeling under the weather, they can't bump someone else out of their spot to accommodate you.
Limited Perspective- No matter how well-versed they are in health and fitness, personal trainers each have an intrinsic bias. Some tout plant-based diets and tons of cardio, while others swear by protein and power-lifting, so you only get schooled in their personal preference.
No Substitutes- Individual trainers are sidelined by the same things you are, like sickness, travel, and emergencies. When they don't show up, there is no one to fill in, leaving you to fend for yourself. Chances are, that means you forego the gym, or skip a few reps since no one's watching.
Inconvenient- Maybe you've wondered, "What's in-home personal training? That sounds convenient." But, in truth, it's both costly, and often inconvenient. When you live in a city like NYC or Miami, schedules can be unpredictable. You might need to run errands after work, grab cocktails with friends, or reroute for traffic, making it tough to always get home at the same time. Rather than investing in pricey equipment and rushing through traffic, pop into one of Sweat440's multiple convenient locations.
Expensive- Personal trainers set their own prices and aren't held to a governing system. There's no way to know if their price is fair or if it will deliver the results you're after. Since they only have so many hours in a day, they can charge a premium for a workout that would be a fourth of the price in an affordable gym.
Why Group Fitness Classes Like HIIT Deliver Better Results
Like most athletic pursuits, training is most effective in a team environment. Imagine if the New York Giants only hired a quarterback coach to train the entire team. How would that benefit the running backs, linebackers, and tight ends? We're all wired differently with fitness abilities, so Sweat440 employs a team of fitness coaches to deliver maximum results for everyone who steps into the gym.
Want to increase flexibility? Maximize strength conditioning? Heighten your jump? Blast belly fat? HIIT training can do that. Sweat440 has multiple fitness coaches circulating throughout every class to help you achieve your personal best. Our HIIT classes start every 10 minutes, so schedules don't stand in the way on your path to fitness. You are #never late, since our team staffs the gym around the clock. Don't count on a solo trainer with a singular philosophy and singular schedule to get you past your fitness goal post.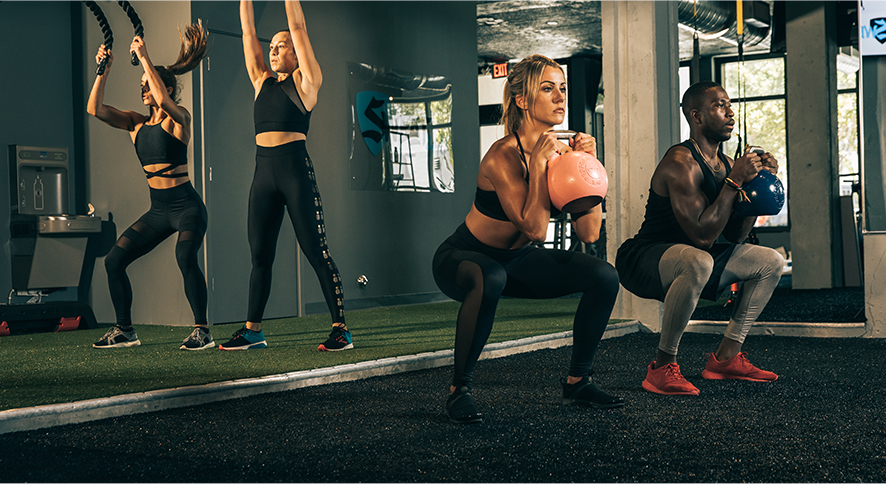 Mathew Miller Personal Trainer vs. Sweat440: Top 4 Reasons to Pick Sweat440
MATTHEW MILLER PERSONAL TRAINER:
Convenience- Having a personal trainer is actually inconvenient, despite what people may think. You depend solely on their schedule, and that leads to cancellations from both parties. You also can't choose when and where to workout, since you're booked and charged for a preset time and location.
Affordability- Personal trainers are notoriously costly, with no way to measure their worth. Even if they have a stack of clients, there's no guarantee they're a match for you. You have to pay even if you cancel, and often pay for a contract you might wish to get out of. There is also added cost for equipment if you want to be trained at home.
Variety- Let's face it, no matter how much you like a trainer, you might get sick of seeing the same face, especially when it's telling you to do more burpees! Personal trainers can only work with their own knowledge base and fitness equipment, most of which needs to be transportable. That means you miss out on the wealth of equipment and workout variety that exists in gyms like Sweat440.
Camaraderie- Training gets dull when you go it alone and there's no one to feel the burn with you. It's easy to plateau, even with a trainer, without the motivation of others around you excelling. You lack the accountability and enthusiasm you get from workout buddies.
SWEAT 440:
Convenience- Sweat440 offers multiple locations and classes that start every 10 minutes, so you don't have to plan ahead or miss out on a workout if it starts before you arrive.
Affordability- Sweat440 classes are priced to entice your attendance, since that's our goal- to make fitness easy for everyone! You never lose money when you can't make it to class- you can just pop in the next available one. We offer better pricing than our competitors, since we see fitness as more than a hobby, but a form of preventative health care.
Variety- Sweat440's HIIT training provides a 40-minute workout comprised of 4 10-minute stations with 3 exercises per station. We target a variety of muscle groups in each class, but focus on certain body parts, so each day is a totally different workout. Our mix of cardio and strength training infused with awesome music means you will never be bored in our gym!
Camaraderie- Nothing motivates you to squeeze out one more set like the enthusiasm of fitness classmates. There's an energy gleaned from being in it together and seeing each other succeed. Our classmates bond in a training environment of positivity and high energy.
If you're thinking of hiring a personal trainer in Miami, the cost-benefit ratio just doesn't add up. You might get one-on-one attention, but your schedule, goals, enjoyment, and bank account will be compromised. Search for a "fitness class near me" and see why Sweat440 delivers a perfect workout at a fraction of the price.