Just 40 Fitness in Concord vs. Sweat440
​Have you ever wondered what the perfect length of time is for your workouts? Some experts say you need to cross the 30-minute threshold to enter the fat-burning zone. The truth is, it's not so much about "zones", as it is about intervals of intensity. At Sweat440, our classes last 40 minutes, which is ample time to engage both the aerobic and anaerobic systems. But duration isn't the most important component. It's what we pack into those minutes that creates the magic.
Higher intensity exercise is fueled by carbs, whereas lower intensity exercise burns through fat. These alternating intervals are the key to maxing out your 40-minute sweat sessions. Some other gyms offer 40-minute workouts, including Just 40 Fitness in Concord. But simply hitting the gym for 40 minutes won't guarantee results. Trudging along on a treadmill for 40 minutes and doing a killer 40-minute HIIT workout produce dramatically different results. Here's how Sweat440's 40-minute workout stacks up against Just 40 Fitness.
Similarities Between Just 40 Fitness in Concord & Sweat440
Both Sweat440 and Just 40 Fitness in Concord offer 40-minute fitness classes. They also both offer classes with high-intensity workouts. In addition, they both use circuit training in their workout program to move you through different exercises. But that is where the similarities end. In fact, they are actually quite different.
Differences Between Just 40 Fitness in Concord & Sweat440
There are several key components that differentiate the two gyms, which explains why Sweat440 produces dramatically different results.
Sweat440 Packs in More Exercises- Just 40 Fitness in Concord uses 8 stations where one exercise is performed in each. Sweat440 uses 4 stations where you perform 3 sets of 3 different exercises. That means you're getting 12 different exercises in each 40-minute class at Sweat440.
Sweat440 Has Classes Every 10 Minutes- Just 40 Fitness is open at select hours each day, with a traditional set of classes on the hour. However, Sweat440's classes start every 10 minutes, so there's always a time that works for you. If you show up late to your class, you can simply join the next one starting within minutes. Unlike most gyms, you don't have to book Sweat440's classes months in advance or join waiting lists to get a spot. Simply book online or through our app, or stop by when it's convenient for you. Our classes repeat all day long, and are different each day, so you never have to miss a class. In addition, Sweat440 has multiple convenient locations, as opposed to a single Just 40 Fitness gym.
Sweat440's Classes are HIIT, Not Just High Intensity- Several gyms, like Just 40 Fitness in Concord, offer high-intensity classes, but that is not the same as high-intensity interval training (HIIT). High-intensity means you go all out the whole time, which is actually counterproductive. The varied intervals of intensity in HIIT are what allow your body to enter fat-burning mode and to achieve your VO2 Max, or maximum oxygen consumption while working out. This is what enables you to burn calories long after the workout is done. It also enables you to retain proper form and maximum effort in each set when you have those 15-second breaks in intensity. Multiple studies show that simply using high intensity for the duration of the workout will actually lead to injury, overexertion, and even plateau. Those shifts in intensity are what keep your metabolism and your muscles on their toes.
Sweat440's Classes Are Led by HIIT Experts- All of Sweat440's classes are HIIT classes, and they're all led by certified HIIT instructors. That means no matter what time you come, you're guaranteed an expert trainer. Our instructors circulate through each class offering individualized instruction and assistance, so you get the benefit of a personal trainer at no additional fee. Since Sweat440 is a dedicated HIIT gym, you don't have to wait for a particular class time slot every week. Each of our classes guarantees the best 40-minute workout you'll find.
Sweat440's Workout Program is Designed for All Fitness Levels- Sweat440's classes are divided into 4 10-minute stations with 3 sets of 3 exercises performed for 45 seconds. Between each set, there's a15-second break to regroup without losing your momentum. This allows elite athletes to go harder for longer. It also allows beginners to shift gears if something becomes challenging. Each class member works in their own space in designated workout pods. They also work at their own pace and resistance level. Unlike other 40-minute classes that follow a generic routine, Sweat440's exercises are all customizable for each fitness level. Our trainers are just a step away to help with accommodations, alternatives, and assistance.
Sweat440 Helps You Reach Fitness Goals Faster- Since Sweat440's founders developed a superior ratio of intervals of intensity, our classes deliver quicker results. You'll burn twice the calories in half the time at Sweat440 compared to gyms like Just 40 Fitness in Concord. In addition, our classes each offer a full body workout that torches your core and focuses on different muscle groups every day. That makes our classes safe to perform 7 days a week, unlike other routines that don't target individual muscles and require breaks in between.  
Sweat440 is the Best 40-Minute Workout Program for Results
When it comes to HIIT workouts, 40-minute workouts, or any other workout program on the planet, nothing beats Sweat440. Our unique blend of intervals of intensity, fused with our elite trainers and ideal schedule, make Sweat440 the most effective way to achieve your fitness goals. Head to Sweat440 where you'll sweat for 40 minutes and make each drop of sweat count!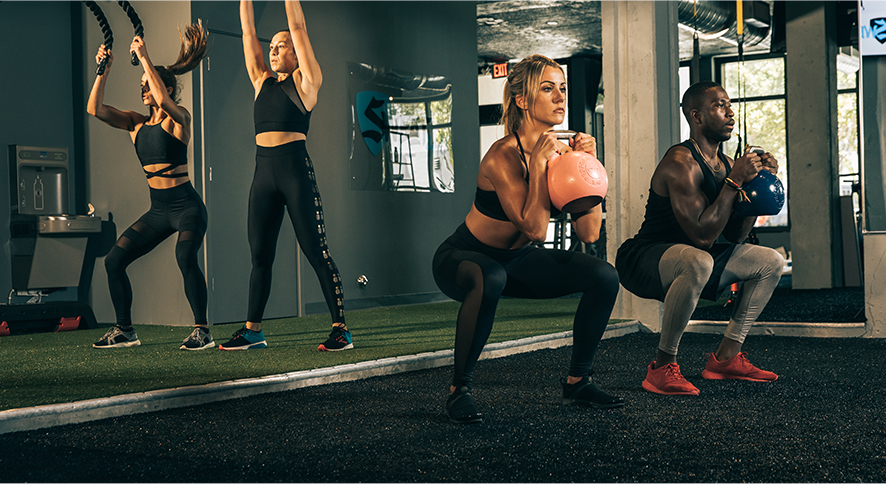 Why Sweat440 is Superior to Just 40 Fitness Concord
HIIT, not just high intensity
Classes every 10 minutes
3 sets of 12 exercises per class
Dedicated HIIT gym
Certified HIIT instructors
Multiple convenient locations
Designed for all fitness levels
Achieves VO2 Max
Reaches fitness goals faster
Just 40 Fitness Drawbacks:
High intensity, but not HIIT
Fewer classes per week
Only 8 exercises per class
Not a dedicated HIIT gym
Non-specialized trainers
Only one location
Only for athletes with high endurance
Leads to plateau & poor form
Lack of intervals delays results