6 Tips to Select the Right Fitness Studio Near NYC
1. Location: Is the Fitness Studio Near Me in NYC?
Public transportation in NYC is super accessible. But that doesn't mean it's always fast! If you have to Uber across town for a group fitness class at 6:00 pm, you may or may not make it in time. Look for a "fitness studio near me in NYC" that's actually close to your home or office.
Countless studies show that a convenient location is key to consistently working out.
Walking distance is great. Or choose a gym right near transit stops like Sweat440 Chelsea, near the 18th St. Station, or Sweat440 Fidi, near the Fulton St. Station.
2. Format: What Fitness Method & Equipment Are Used?  
Some gyms have an impressive facility or list of amenities, but what really matters is the quality of instructors, equipment, and method employed. Gyms without qualified trainers and cutting-edge methods and machines are a waste of money since they won't deliver results.
At Sweat440 in Chelsea and FiDi, we provide high-intensity interval training (HIIT), the most efficient way to get fit. Plus, personal training is part of the package! All of our classes are essentially small group personal training sessions, so you get the most out of your membership. We use state-of-the-art tools like Versa Climbers, Ski Ergs, and Assault Bikes to fuse resistance with cardio so you double your results in half the time.
3. Availability: How Many Group Fitness Classes Are Offered?
Group fitness classes have the most potential of any workout to maximize your fitness. Why? Because they provide inspiration, accountability, variety, and trainer oversight– the most important ingredients in the recipe for fitness. Studies show group fitness classes even improve your mental health. Many gyms have fitness classes. The question is, how many and how often?
In NYC, it's not uncommon to sit for months on a class waitlist, so investigate the availability before signing up. Sweat440 is entirely class-based, with classes every 10 minutes, so you're never stuck on a list. Our abundance of classes means you can book in advance, or simply show up, and never wait more than a few minutes to jump in. With the unpredictability of life in NYC, a class schedule like this is essential.  
4. Intensity: Is It Safe, Yet Challenging, for My Fitness Level?
Ask yourself, "Am I okay with just any fitness studio near me in NYC?" Of course not. Gyms in Manhattan range from unsafe and unsanitary to overpriced and overcrowded. There's also a huge range in who they're designed for. Are you a cyclist, bodybuilder, marathoner, or beginner? What's your fitness level and what type of exercise motivates you? Choose a gym that's not intimidating or exclusive, so you'll actually want to go. You want a blend of challenging workouts with a welcoming environment that's designed for all fitness levels.
If you're a beginner, you want classes to ease into, but you also want the ability to improve and push yourself as you go. If you're a pro, you want something new that will challenge you and expert trainers with groundbreaking ideas. Sweat440 offers something for everyone and our classes are suited to all types of athletes. We use a series of stations so you can push yourself at your own pace with the guidance of our trainers. No two workouts are the same, and our classes are different each day, so everyone finds what they're looking for at Sweat440.   
5. Reputation: Is It Proven Safe & Effective?
With social media, everyone has a chance to voice their opinion on businesses and products. Look for a consistently positive review of the gym, particularly those that reference safety and efficacy. Some 24-hour gyms aren't staffed at all times, increasing your risk of injury. Other gyms have nice equipment, but personal training costs a fortune, so members don't get the results they're looking for or a good return on their investment.
Sweat440 consistently gets 5-star reviews because our gyms are incredibly safe and effective. Our trainers are always circulating through each class, so you're never unsafe or alone. We use hospital-grade sanitizing procedures, including antimicrobial defogging treatments and continuous sanitizing throughout the day, with cleansing equipment readily available to our members. Our HIIT method is the most powerful and also the most exhilarating, since we used various intervals of intensity. Members love how positive, inviting, and motivating our atmosphere is, which keeps them coming back for more!
6. Incentive: What Does the Gym Offer Me?
Some gyms are only concerned with turning a profit, often at the expense of their members. This includes tactics like iron-clad contracts, hidden fees, extra charges for every amenity, and membership fees that don't guarantee you'll get a turn in a class or on a machine. Look for a gym that prioritizes members over income. This includes complimentary training, free trials, and the absence of contracts; three things Sweat440 guarantees.
Each of our classes includes free training and every newcomer gets a free class to see how they like our gym. Other gyms in NYC count on you not showing up since it costs them less money that way. But at Sweat440, we can't wait to see you and we inspire you to come back. We're a community of friendly fitness enthusiasts who truly care about your wellbeing. Come try a free class today and see why Sweat440 is the right fitness studio near you in NYC-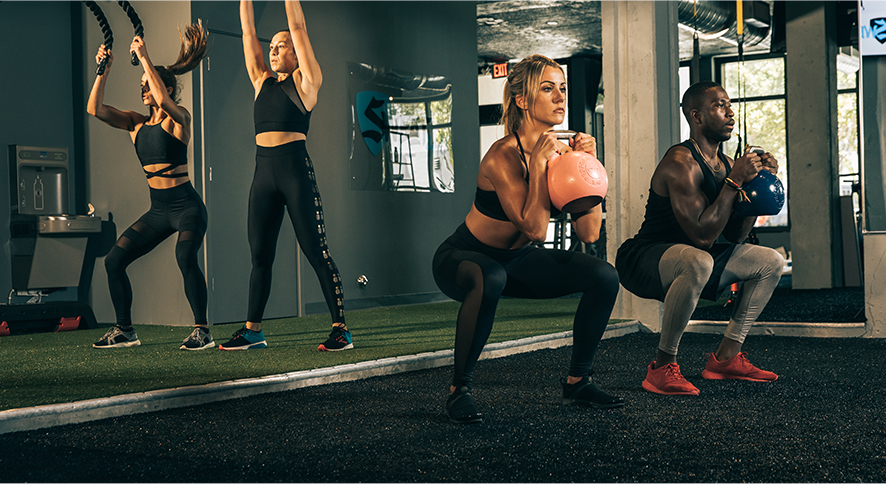 How to Choose a Gym in NYC:
Consider These 6 Essential Factors:​
Location: Is it convenient to my home or office?
Format: Are the instructors, method, and equipment excellent?
Availability: Are there plenty of group fitness classes?
Intensity: Is the method right for my fitness level?
Reputation: Is it proven safe and effective?
Incentive: Does it prioritize and incentivize members?
Try 1 of These 6 Free Sweat440 Classes:
SHAPE– Lower Body/Core
SHAPE– Upper Body/Core
SWEAT– Core/Conditioning
SHRED– Lower Body/Core
SHRED– Upper Body/Core
WARRIOR– Total Body Conditioning