The Unrivaled Group Fitness Experience Near South Beach, Miami: Feel the Power of SWEAT440
Are you struggling to squeeze your workouts into a fixed class timetable? Explore the groundbreaking group fitness approach at SWEAT440 near South Beach, Miami. Our boutique exercise studio provides a one-of-a-kind and efficient workout experience suitable for all fitness levels, thanks to our inventive personal trainer group sessions.
What Sets SWEAT440's Group Fitness Apart?
Established by seasoned Miami fitness pros Matthew Miller and Cody Patrick, SWEAT440 is an avant-garde gym that merges the motivational benefits of small group training with the convenience of adaptable workout times. Our 40-minute high-intensity interval training (HIIT) and cross-training sessions aim to burn fat, enhance your metabolism, and help you achieve your fitness objectives faster than ever.
The SWEAT440 Workout: Punctuality Redefined and Consistently Stimulating
Our energetic 40-minute exercise classes blend cross-training, strength training, and HIIT to provide an efficient and effective workout routine. With classes beginning every 10 minutes, there's no need to stress about being late or missing a session. Just join at your preferred time and become part of the 440 Squad for a powerful workout.
Four Exercise Stations to Keep You Engaged and Driven
SWEAT440's workout regimen includes 4 exercise stations, each lasting 10 minutes. New participants enter the class every 10 minutes, ensuring a constant stream of motivation and fellowship. Our certified personal trainers guide you through each station, offering customized training plans designed for your specific needs and objectives.
Experience Your First Workout Class for Free Near South Beach, Miami
If you're looking for complimentary workout classes nearby, SWEAT440 is the place to be. We're confident that you'll enjoy our group fitness sessions so much that we're offering your first class absolutely free! Come feel the energy and camaraderie of our 440 Squad and discover why SWEAT440 is the premier fitness hub in Miami Beach's Sunset Harbour neighborhood.
Join the SWEAT440 Family: Group Fitness Instructor Near Miami Beach
Elevate your workout routine with SWEAT440's group fitness sessions. Our groundbreaking HIIT and cross-training workouts, coupled with the flexibility of classes starting every 10 minutes, distinguish us from other gyms in the vicinity. At SWEAT440, you get what you sweat. So, why wait? Join our 440 Squad today and feel the difference.
Explore SWEAT440's Diverse Membership Choices
SWEAT440 provides an array of membership options to suit your preferences and requirements. Whether you're a busy professional seeking a convenient workout timetable or a fitness enthusiast excited to try something new, we have a plan for you. Choose from a single-class, multi-class pack, or unlimited monthly membership, and enjoy the adaptability and effectiveness of our group fitness sessions.
Enhance Your Performance with Our Certified Personal Trainers
Our certified personal trainers are devoted to helping you reach your fitness goals. With their guidance and expertise, you'll receive tailored training programs designed for your individual needs. Whether you're a novice or an experienced fitness aficionado, our trainers will challenge you to reach new heights and ensure you maximize each workout.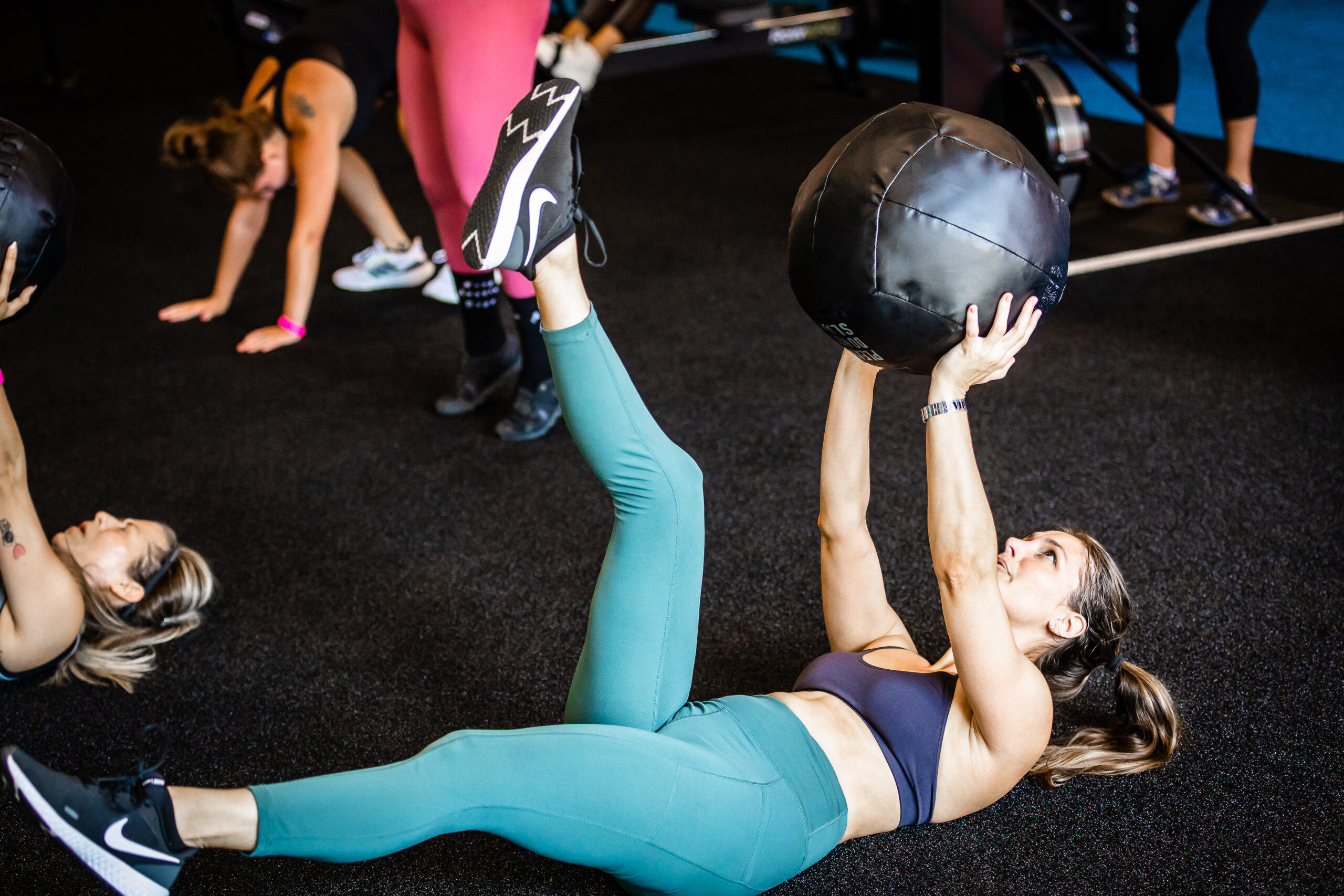 Strategically Located Near South Beach, Miami
Nestled in the lively Sunset Harbour neighborhood, SWEAT440 is easily accessible for South Beach, Miami residents, and visitors. Our top-notch facility boasts cutting-edge equipment and a welcoming environment where everyone is encouraged to give their best effort. With group fitness sessions starting every 10 minutes, SWEAT440 is the perfect spot for a quick,  effective workout near South Beach.
Stay Connected with the SWEAT440 Community
As a member of the 440 Squad, you'll have access to our thriving fitness network. Connect with fellow members, share your progress, and celebrate your achievements through our social media platforms and exclusive events. Stay motivated and inspired by surrounding yourself with like-minded individuals who share your passion for health and well-being.
Begin Your Group Fitness Journey Near South Beach, Miami Today!
There's no better time than now to join SWEAT440 and experience the power of group fitness near South Beach, Miami. Our distinctive approach to HIIT and cross-training workouts, along with the flexibility of classes starting every 10 minutes, makes us the ideal choice for anyone looking to elevate their fitness routine. Don't wait another day – join the 440 Squad and start sweating your way to a healthier, happier you!
No More Excuses: SWEAT440 Adapts to Your Hectic Lifestyle
We understand that balancing work, family, and personal time can be challenging. That's why SWEAT440's adaptable class schedule is designed to accommodate even the busiest lifestyles. With classes starting every 10 minutes, you can easily fit a workout into your daily routine. Say goodbye to missed gym sessions and hello to a consistent fitness regimen that works for you.
Revolutionize Your Fitness Path with SWEAT440's Supportive Atmosphere
At SWEAT440, we believe in fostering an inclusive, welcoming environment where everyone can feel at ease and confident. Our gym is designed for beginners and experts alike, providing a supportive setting where you can challenge yourself and grow. Join our diverse community of fitness enthusiasts and experience the positive impact of group fitness near South Beach, Miami.
Uncover the Advantages of High-Intensity Interval Training
SWEAT440's group fitness sessions incorporate HIIT, a scientifically proven technique to maximize fat burning and boost metabolism. By alternating between intense bursts of activity and brief periods of rest, HIIT workouts deliver incredible results in a fraction of the time compared to traditional workouts. Experience the benefits of HIIT for yourself by joining our group fitness sessions near South Beach, Miami.
Celebrate Your Accomplishments with the 440 Squad
We take pride in the achievements of our members and believe in celebrating every milestone. As part of the 440 Squad, you'll have the opportunity to participate in exclusive events, challenges, and promotions designed to keep you motivated and engaged. Share your progress, support your fellow members, and revel in the power of teamwork and camaraderie at SWEAT440.
Take the First Step Towards a Healthier, Happier You at SWEAT440
Embarking on a fitness journey can be challenging, but with the support and guidance of SWEAT440′s group fitness near South Beach, Miami, you'll never feel alone. Our innovative approach to HIIT and cross-training workouts, combined with the flexibility of classes starting every 10 minutes, makes it easy to stay committed to your fitness goals. Don't wait any longer – join the 440 Squad today and start transforming your life one workout at a time.
SWEAT440's group fitness near South Beach, Miami offers a distinctive and engaging workout experience designed to accommodate busy lifestyles and various fitness levels. With the support of our certified personal trainers, flexible class schedules, and an inclusive atmosphere, you'll find everything you need to achieve your fitness goals at our state-of-the-art facility. Experience the power of the 440 Squad and see for yourself why SWEAT440 is the ultimate destination for group fitness in Miami Beach.
SWEAT440 HIIT Class Benefits
Advantages of HIIT Sessions
Optimized workouts

Elevated metabolism

Enhanced heart health and stamina
Adaptable scheduling

All levels welcome

Uplifting atmosphere