How Does HIIT Work at the Top Gyms in New York
City?
How Do High Intensity Workout Classes Accelerate Fitness?
What is HIIT and why is it so popular? High intensity interval training, or HIIT, is one of the most revered fitness trends in the world. Unlike most fitness trends, HIIT training is backed by ample scientific research. Fitness gimmicks like Shake Weights, Hawaii Chairs, toning shoes, and electric ab belts claim to enhance your fitness without hard work. File those fitness trends under "too good to be true." HIIT requires you to get off the couch and break a sweat. But the great news is, HIIT is so efficient that you'll only need half as much time in the gym! 
By combining cardio with resistance and alternating intensity levels in rapid intervals, you burn twice as many calories as you would in other fitness classes. High intensity alone isn't enough to reap these rewards. A great HIIT routine requires a specific balance of intervals, speed, and resistance, and Sweat440's HIIT classes in NYC have the right recipe!
How Does HIIT Work Better in Top HIIT Gyms Like Sweat440?
Sweat440 doesn't just offer HIIT classes. Sweat440 is exclusively a HIIT gym. Our founders are renowned personal trainers who perfected the HIIT ratio to maximize both strength training and aerobic exercise simultaneously. Our HIIT classes pack each 40-minute class with four 10-minute stations, in which you'll complete three sets of three different exercises. 
We don't just put you on a treadmill and tell you to run with high intensity. We offer the latest compound cardio machines on the market, including Ski Ergs, Versa Climbers, and Assault Bikes that engage your muscles during aerobic exercise. We have a depth of equipment that prevents any workout from ever becoming routine. Sleds, sliders, kettlebells, dumbbells, TRX, you name it, we've got it, and we use it all to sculpt your optimal physique. 
In addition, Sweat440 Chelsea keeps classes small so we can offer personal training for free to every member. Our instructors don't just position themselves at the front of the class. They circulate the entire time to offer suggestions, answer questions, and make sure you aren't working above or beneath your target heart rate. We also have animated demonstrations at each station, so you'll look like a pro, even when you're a beginner. 
How Are a HIIT Workout and Metabolic Confusion Connected?
HIIT workouts are uniquely designed to keep your body guessing and generate metabolic conditioning. The exercise equivalent of metabolic confusion diets, metabolic conditioning varies how much energy is needed for each set. You might go as hard as possible for 45 seconds, but then catch your breath for 15 seconds, which confuses your metabolism. Metabolic confusion helps your body burn fat, even when you're resting. 
In HIIT classes, you rotate between different stations using different muscle groups with varied speed and resistance as you go. Rather than logging an hour of steady-state cardio on the treadmill, you'll rotate between compound cardio machines and weight lifting exercises to keep you on your toes.
Just when your body figures out what you're doing, you'll hop into a new station. This prevents muscle memory, complacency, and plateau from setting in, and it keeps your metabolism engaged. You'll hit your VO2 Max during Sweat440's HIIT workouts, so you'll rev up your metabolism enough to remain in calorie burn mode for hours after your workout.  
How Does Sweat440 Utilize HIIT to Lose Fat Quicker?
Sweat440 burns fat faster because our aerobic exercises engage your muscles. Muscle burns fat while you're at rest, so toning up is key to weight loss. Rather than coasting on a bike, you'll face increasing resistance as you pedal our Assault Bikes. Rather than walking on a treadmill, you'll stride on our Ski Ergs, which mimic cross country skiing and engage every muscle group. 
Adding resistance to HIIT cardio won't bulk you up, unless that's your goal. Our trainers give you just the right amount of resistance to make sure you're burning fat, not just burning through carbohydrates. If you don't build muscle while doing cardio, you might lose muscle rather than losing fat. Sweat440's HIIT classes are designed to burn fat while maintaining muscle, so you lose weight instead of strength.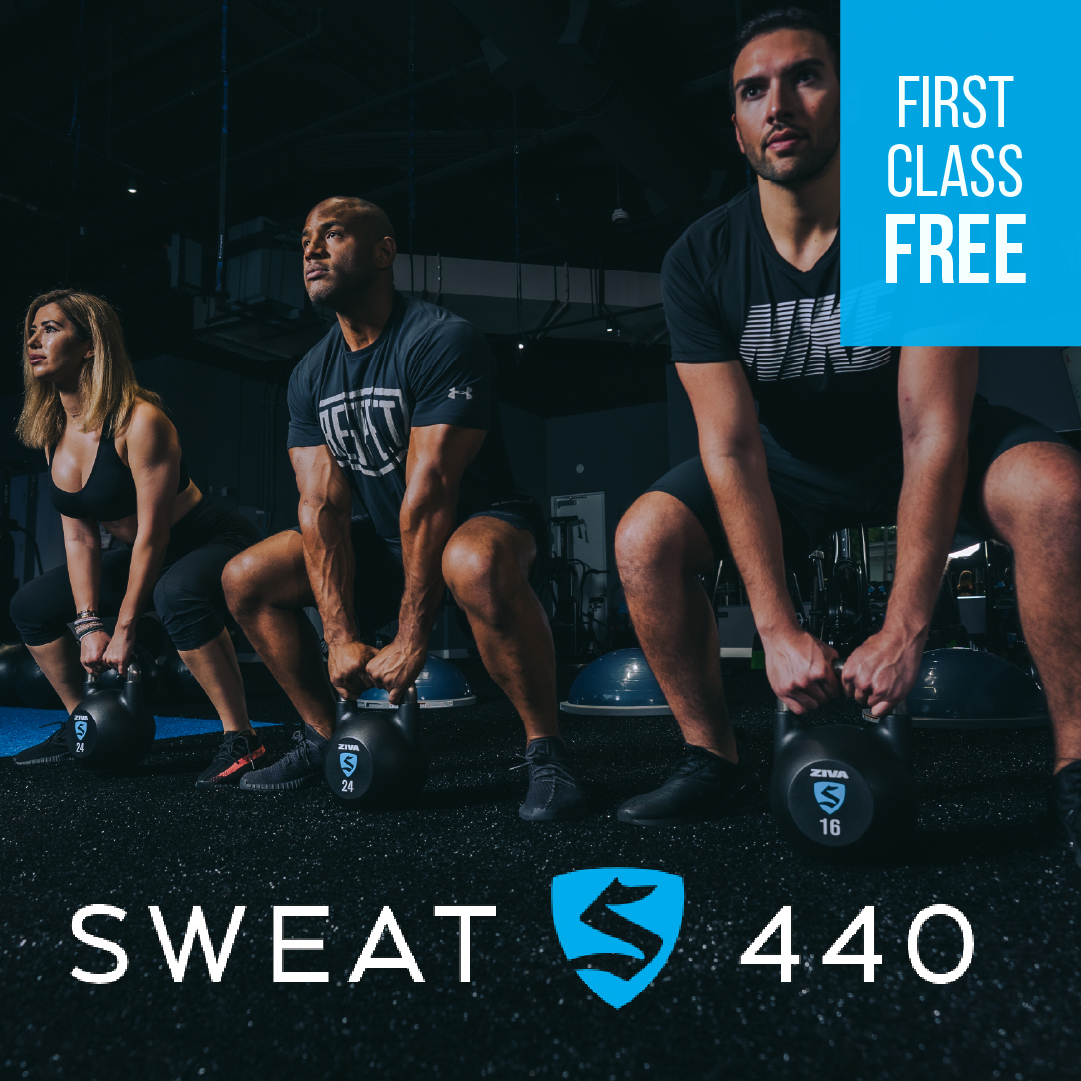 How Does Sweat440 Fuse HIIT and Strength Training Perfectly?
Sweat440 saves you time in the gym by fusing strength training into each movement. If you're pushing sleds, we top them with weight plates. If you're riding bikes, we kick up the resistance. If you're doing squats, we hand you kettlebells. The best thing about Sweat440 for strength training is that you work at your own pace. You use the poundage that's right for your goals while you crank out reps. Our instructors are experts at maximizing lifting capabilities safely, and fusing that with cardio to enhance muscle definition. 
How Does Sweat440 Blend Cardio, Weights, and HIIT Workouts?
Sweat440's HIIT classes take you through three sets of 12 different exercises. Each one is performed for 45 seconds, followed by 15 seconds of rest. These compound cardio intervals blend aerobic exercise and strength training seamlessly, so you get a full-body workout in just 40 minutes! Whether you want a workout for weight loss or muscle growth, our classes are customizable for all fitness goals. You'll work toward your personal best, cheered on by the uplifting classmates and trainers around you.
How Can I Try Free HIIT Classes at a Top Gym Near Me in NYC?
Sweat440 offers free HIIT classes for everyone at our state-of-the-art HIIT gym in Chelsea. You can choose from any of our classes, which start every 10 minutes! Stop by and see a HIIT class in action, and you'll no longer wonder, "How does HIIT work better at top gyms like Sweat440." Sweat440 Chelsea is an affordable gym located right near Madison Square Park. Pop in and join us today!
Where Does HIIT Work Best in NYC?
Top HIIT Gym Near Me in NYC:
Sweat440 Chelsea:

Located at 600 6th Ave., New York, NY 10011

This convenient Chelsea gym offers state-of-the-art HIIT 

classes right where you need them, near Madison Square Park 

and Union Station. Call us at 888-507-9328 for your free class! 
Sweat440 FiDi:

Located at 80 John St., New York, NY 10038

Our FiDi gym is also near Chelsea and offers the same Innovative HIIT classes for free for each newcomer! Try a Free HIIT routine today at our Chelsea or FiDi gyms!
Top HIIT Class Near Me in NYC:
Our classes start every 10 minutes in NYC andchange daily! Here's a sample of the top HIIT classes. 
Monday

– SHAPE- Lower Body
Tuesday

– SHRED- Upper Body & Core
Wednesday

– SWEAT- Core & Conditioning
Thursday

– SHRED Lower Body & Core
Friday

– SHAPE- Upper Body & Core
Saturday

– WARRIOR- Total Body Conditioning
Sunday– WARRIOR- Total Body Conditioning