Try the 6 Best HIIT Workouts for Weight Loss in New York Free!
What Are the 6 Best HIIT Classes Near Me in New York City?
Several New York City gyms offer a class with HIIT components, but very few are legitimately trained in the method. What is HIIT training and why does it matter where you do it? HIIT stands for high intensity interval training, and it follows a specific formula of intense exercise interspersed with periods of rest. When done correctly, it also incorporates resistance, since building muscle is key to burning fat. When done incorrectly, results are reduced, and you can sustain an injury. 
For best results, choose the New York City gym that specializes in HIIT – Sweat440. Our gyms are dedicated HIIT training facilities, teaching HIIT all day, 7 days a week. We offer the top 6 HIIT workouts near you in New York City, with classes starting every 10 minutes. Choose the class you're most interested in, and come try it for free at Sweat440 Chelsea or Sweat440 FiDi!
SHAPE- Lower Body:

Expertly tone your lower body through intense, compound circuits that amplify form, technique, and physique with cutting-edge fitness tools!
SHRED- Upper Body & Core:

Power through metabolic conditioning circuits that expedite fat burning and get you ripped in a hurry!
SWEAT- Core & Conditioning:

Burn maximum calories in this pulse-pounding, sweat-inducing class that sculpts your core and crushes calories!
SHRED- Lower Body & Core:

Plyometrics, agility, and resistance training play starring roles in these HIIT exercises that shred your core, legs, and glutes.
SHAPE- Upper Body & Core:

Sculpt both your core and upper body with compound HIIT exercises that induce fat loss while you build muscle!
WARRIOR- Total Body Conditioning:

Join the weekend warriors for this full body HIIT workout that gets your blood pumping with awesome music on Saturdays and Sundays!
Why Does HIIT Strength Training Maximize Fat Burning?
HIIT workouts are best for losing weight and burning fat quickly because of their specific ratio of intensity and rest, coupled with their specific ratio of cardio and resistance. Sweat440's high intensity interval training is intense, but it also alternates between 45 seconds of maximum effort and 15 seconds of rest. In those brief recovery periods, you catch your breath and rest your muscles just enough to gear up for another full-throttle set. 
This enables you to go harder for longer, without getting injured, burning out, or slipping into poor form. The compound cardio and resistance movements help you build muscle while you burn fat. Instead of burning through muscle or carbs during Sweat440's cardio, you burn through actual fat and maximize muscle definition simultaneously. This not only burns more calories overall, but it also helps you keep burning calories for hours after your workout. More muscle generates a higher metabolism, so weight loss continues even when you're at rest.
Why Is the Change from HIIT Before and After So Impressive?
HIIT produces dramatic results quickly in part because it's so efficient. In one 40-minute HIIT workout at Sweat440, you move through 3 sets of 12 different exercises, and each of them combines cardio and resistance. To accomplish the same with a different method, you would need at least 2 hours in the gym. Traditional cardio doesn't produce the same weight loss as HIIT can, And simply running, cycling, or lifting weights can lead to boredom, injury, and plateau, all of which often result in people quitting their workout. 
At Sweat440 Chelsea, and Sweat440 FiDi, our members are always pleasantly shocked by how quickly they see a change appear with HIIT before and after. We even stock our gyms with selfie stations so you can capture your rapid results! If you've been toiling away at a high intensity workout without getting the results you want, it's time to try Sweat440!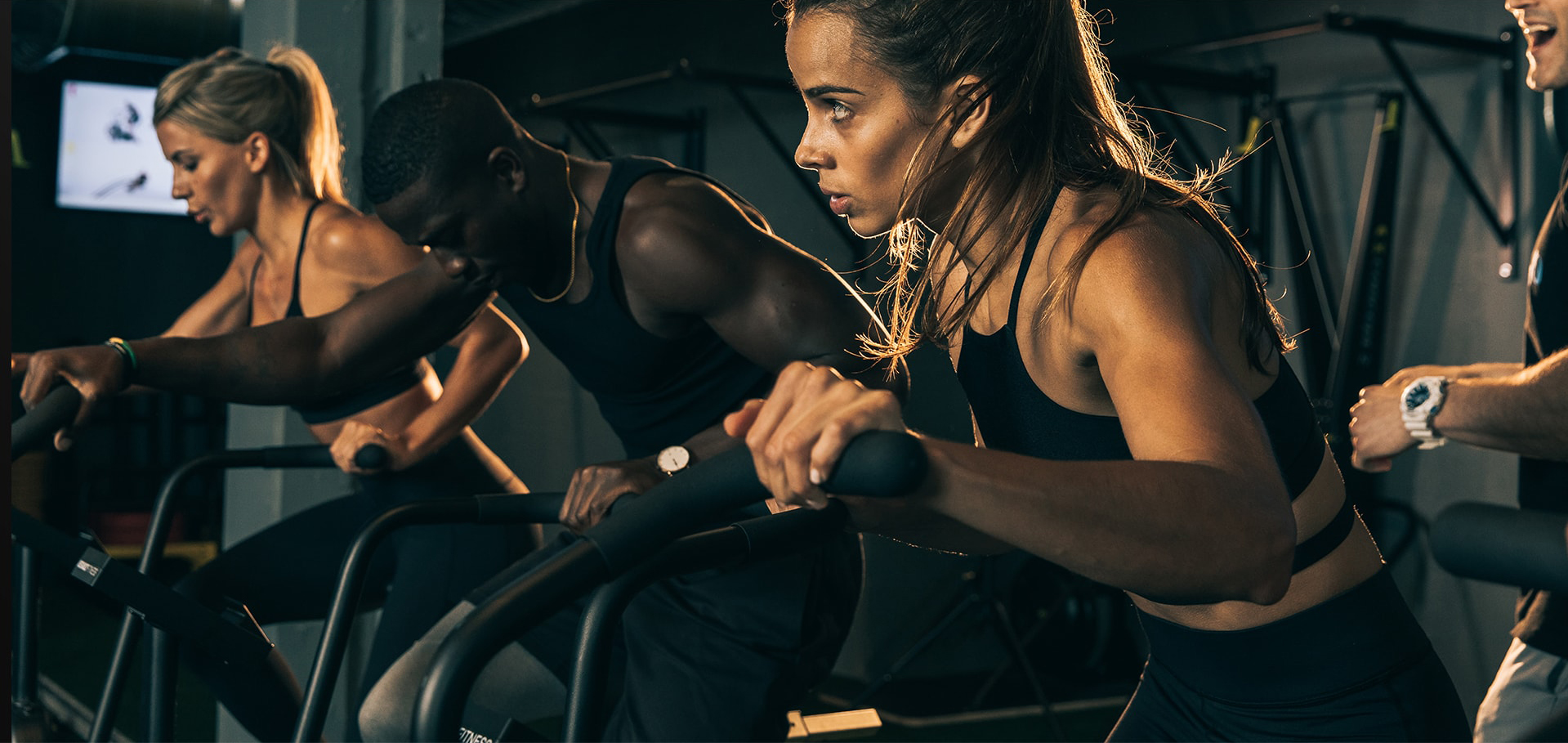 Why Are 40-Min. HIIT Workouts Better 30- or 60-Min. Classes?
When done correctly, a 40-minute HIIT workout is the ideal length. A 30-minute class isn't long enough to reach your VO2 Max and be in fat-burning mode for an optimal timeframe. But a 60-minute class can be too long if you're going all-out, since your muscles need time to recuperate. HIIT classes are designed to squeeze out every last droplet of sweat and push you to your limit but not beyond. Our HIIT trainers prioritize safe workouts with proper form to prevent injury from overtraining. 
Where Can I Try the Best HIIT Classes Near Me for Free?
If you're looking for the best HIIT workouts for weight loss in New York, visit Sweat440! Our boutique fitness centers teach HIIT 24/7, so there's always a class that fits your schedule. Sweat440's HIIT workouts for women and men are the same since you work at your own pace with your own resistance in each station. Best of all, we offer free classes for every newcomer! Our affordable gym is contract-free, so you can visit as many times as you want without getting locked in. Try your free class at Sweat440 Chelsea near Madison Square Park or Sweat440 FiDi near Pace University today!
Why is HIIT the Best Workout to Lose Weight?
Benefits of HIIT Exercises:
Compound circuits build muscle and burn fat.

Calorie burn lasts for hours after the workout.

Cardio + resistance maximizes efficiency.

Achieving your VO2 Max burns the most fat.

Rest periods enable longer peak performance.

Variations of intensity prevent injury.

Different daily exercises prevent plateaus.
Attributes of the Best HIIT Workouts:
Great HIIT workouts involve resistance.

The optimal HIIT workouts are 40 minutes.

The ideal HIIT workouts are led by HIIT trainers.

The best HIIT workouts are at dedicated HIIT gyms.

True HIIT workouts vary in intensity.

The right HIIT workout is adaptable for everyone.

Legit HIIT workouts are safe for women and men.