Sweat 440: Best HIIT Workout With Weights in Doral
Fitness fanatics in Doral, Florida, have been buzzing about Sweat 440 Doral lately. Known to be the best HIIT workout with weights, this inspired fitness studio is home to a range of world-class, intense training sessions combining cardio, strength and conditioning designed to give you an effective and rewarding workout. With cutting-edge machines, advanced technology, and motivational trainers, each session at Sweat 440 pushes your body to its limits. If you're serious about your fitness and haven't tried Sweat 440 Doral yet, you'll definitely want to add this to your list of must-try studios for the ultimate workout experience.
Sweat 440 offers comprehensive HIIT workouts that include cardio, strength training, weight training, resistance training, and cross-training
Nowadays, it seems like everyone is searching for the most effective workout to reach their health and fitness goals. Sweat 440 has answered the call with one of the most comprehensive workout areas available. Focusing on High-Intensity Interval Training (HIIT) workouts, the facility combines cardio, strength, and resistance training to provide members with effective and diverse workout routines.
With a focus on HIIT training, members receive bursts of intensity for 30-second intervals between rest and recovery periods. This fast-paced routine increases energy, strengthens muscles, and improves overall fitness. For those wanting to focus on cardio training, Sweat 440 has an array of equipment, including treadmills, ellipticals, recumbent bikes, and rowing machines. We provide an expansive range of free weights, battle ropes, kettlebells, and medicine balls for strength and resistance training.
To ensure a safe environment, Sweat 440 Doral follows strict cleaning and disinfecting protocols. Equipment is regularly wiped down and sanitized. The facility also provides free antibacterial wipes and masks to keep its members and employees safe. Sweat 440 is the perfect gym — with the combination of HIIT workouts, cardio, strength and resistance training, and a variety of classes, you'll find the number for your fitness journey.
Is it OK to do HIIT with weights?
Yes, it is perfectly ok to do HIIT (High-Intensity Interval Training) workouts with weights! It's a great way to get the most out of your workouts and help you reach your goals faster. HIIT with weights allows you to target specific areas for improved strength and cardiovascular endurance. It also combines strength training with cardio, allowing you to burn more calories and get faster results. So if you're ready to take your workout to the next level, consider giving HIIT with weights a try!
Is a 30-minute HIIT workout a day enough?
High-Intensity Interval Training (HIIT) is a fun and effective way to get fit, with many people seeing great results in less time compared to longer workouts. But is a 30-minute HIIT workout enough? The answer is yes and no. 30 minutes of HIIT is enough to give your body a solid workout and provide health benefits; however, if you want to get the most out of your HIIT workout, it's best to stick to it for 40 minutes or more. On the other hand, if you're limited on time, it's better to get in a shorter session than miss your workout entirely. So, to answer the question, yes, a 30-minute HIIT workout a day is enough!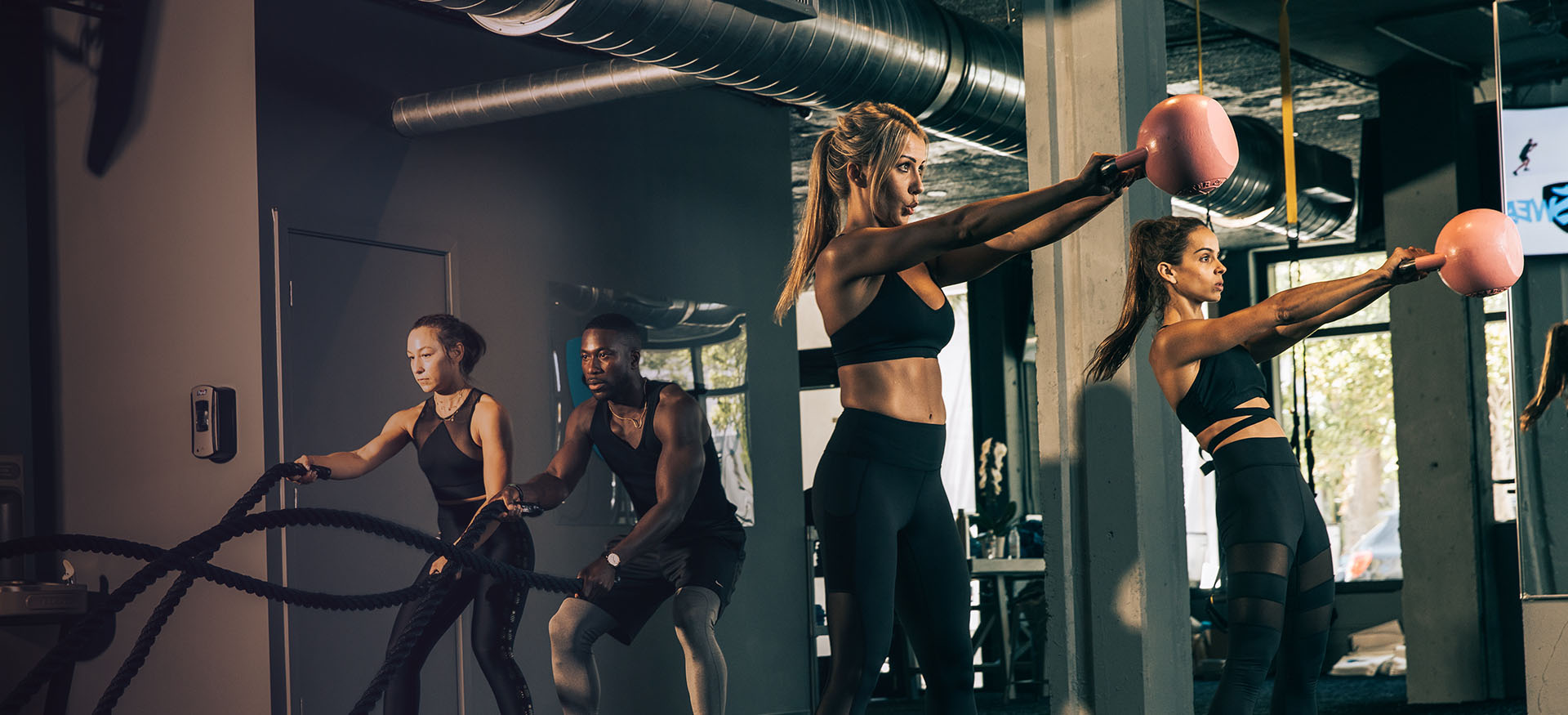 Are 15 minutes of HIIT good for weight loss?
15 minutes of HIIT may seem like a convenient way to fit in some exercise, but it likely won't be sufficient to produce significant weight loss results. HIIT is a great workout but relies on intensity and may require a longer duration to burn enough calories and impact your weight.
Are 20 minutes of HIIT exercise enough?
Yes, 20 minutes of HIIT exercise can be just enough! High-intensity interval training, or HIIT as it is commonly called, is a great way to get maximum fat-burning and fitness benefits in a short period. Studies have shown that just 20 minutes of HIIT can improve your aerobic capacity, muscular strength, and endurance and generate a metabolic response that helps you burn calories long after the exercise. But if you're a fitness enthusiast seeking more dramatic muscle-building results or weight loss, you need 30 to 40 minutes of HIIT workouts.
Visit Sweat 440 in Doral for full-body HIIT workout
If you've been looking for an intense, full-body HIIT workout, your search has ended. Welcome to Sweat 440 Doral, the fitness center in Doral that's revolutionizing the exercise experience.
By packing a traditional one-hour workout into just 40 minutes, Sweat 440 keeps you moving in a fast-paced and effective session. Each class features the distinct components of strength, conditioning, and core. The strength and conditioning sections of the workout use equipment like kettlebells, barbells, and plates, while the core segment will have you utilizing everything from medicine balls to battle ropes.
Whether you're a HIIT beginner or a veteran, you can find the right intensity. Coaches and trainers will show you proper techniques and keep you motivated to achieve your fitness goals. Mixing and matching exercises like squats, pull-ups, and burpees in different combinations will keep your body guessing and maximize efficiency. If you've been wanting to get fit but don't know where to begin, Sweat 440 is the perfect place to start.
Sweat 440 Doral is conveniently located at 8405 NW 53rd St, suite #E 104, Doral, close to family-friendly locations like Downtown Doral Park and the Downtown Doral Charter Elementary School. We offer free trial classes that you can claim with a simple visit — so what are you waiting for; get your sweat on!
HIIT Workout Weights Doral
Benefits of HIIT Workouts with Weights:
Quicker workouts

Targeted muscle development

Improved posture

Improved coordination

Better mental focus
Benefits of HIIT Workouts at Sweat 440:
Cutting-edge workout equipment

Classes led by certified trainers

Small groups for maximum attention

HIIT workouts include all forms of exercise

Free trial classes for new members