Where Is the Top HIIT Workout with Weights in Alabama?
What Is the Best 45-Minute Cardio Workout in Alabama?
If you want the best cardio workout, choose the HIIT workouts at Sweat440 Madison! Our gyms use compound circuits that combine strength training with cardio for superior results. At Sweat440, you burn fat and build muscle simultaneously, so you achieve your VO2 Max within 40 minutes! Our classes include four 10-minute stations that include three sets of three exercises. So, in just 40 minutes, you complete 36 sets of diverse exercises. 
We provide a full body workout with an emphasis on different muscle groups each day. You can take HIIT classes as often as you want at Sweat440 without overtraining any muscles. Our gyms are stocked with high-tech equipment like SkiErgs, Assault Bikes, and VersaClimbers that fuse resistance with cardio. We add kettlebells, dumbbells, battle ropes and TRX to the mix too, so you build muscle even during a workout for weight loss. This helps you hit your target heart rate, and improve your metabolism so you keep burning calories while at rest. 
Sweat440 is a dedicated HIIT fitness studio. We teach HIIT seven days a week. So, our instructors have superior expertise and know how to maximize your efforts. In each station, you'll do 45 seconds of intense HIIT exercises, followed by 15 seconds of rest. You'll repeat that sequence throughout the class, so you can work at your peak capacity for longer than you can with steady state cardio. High intensity workouts that don't include recovery periods can be ineffective, or even dangerous. The variations in intensity are key to getting all the results and none of the overexertion or plateau. 
Your first class is free, so come see why Sweat440 is the best HIIT workout with weights in Alabama! The secret to great HIIT workouts is HIIT classes. When you're surrounded by others doing their best, you'll be motivated to do the same. And you'll have a blast while doing so, making connections along the way!
What's the Best HIIT Workout at a Gym for a Woman?
High Intensity Interval Training is not gender specific. When it's done correctly, any class is adaptable to all fitness levels. Participants use the level of resistance and number of reps that are right for them. So, as a beginner, you can take HIIT classes with professional athletes. And the reverse is also true. 
Our HIIT workouts are led by trainers that circulate throughout the class to offer guidance, accommodations, and suggestions to reach your goals. They're trained to identify when class members are overdoing it, and also when they are capable of more. Our environment is welcoming and upbeat, so no matter what your experience level is in the gym, Sweat440 Madison is right for you! Try a free class and see for yourself. We're conveniently located near The Stem and Stein.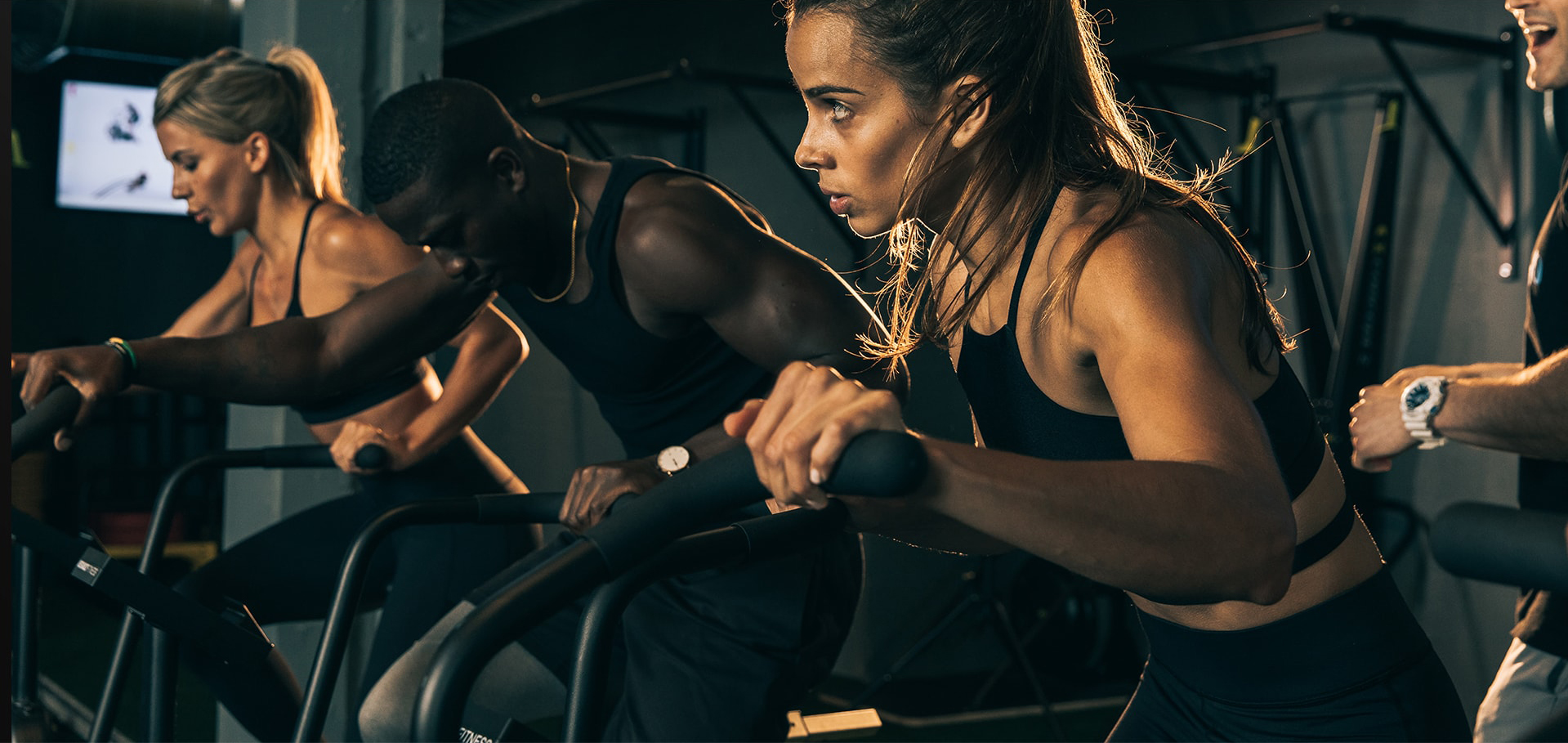 HIIT Weight Loss Before and After: How Fast Are the Results?
High intensity interval training is widely regarded as the best workout for weight loss. Many cardio workouts neglect strength training, so they stop burning calories as soon as you leave the gym. But Sweat440 incorporates strength training into each cardio movement, so you'll keep burning calories for several hours. You'll achieve results quicker, and you'll also be surprised how 40 minutes at Sweat440 works better than two hours at other gyms. 
Our fitness studio offers a specific ratio of intensity and rest. We allow your heart rate to slow just enough to prepare you for the next set. But not so much that it reduces calorie burn. We're experts at keeping you in fat burning mode, by avoiding basic cardio. At Sweat440, when you're cycling, you're using resistance. When you're lunging, you're carrying kettlebells. When you're squatting, you're throwing battle ropes. We combine muscle groups for full body HIIT exercises that excel above other workouts.  
The pace of your weight loss is individual and includes factors like diet, sleep, and consistency with exercise. Our members frequently report feeling dramatically different in their first week at Sweat440. You will sweat and crush calories like never before. Stick with it, and you'll get rapid results! One of the best things about our HIIT workouts is that they are so much fun! They're fast paced and fueled by great music and positive trainers. You will want to come back for more. Your consistency will expedite weight loss. 
Where Are the Best HIIT Classes Near Me in Alabama?
For the best HIIT training in Alabama, visit Sweat440. Our gym has small group classes that start every 10 minutes, so you get personalized training whenever it's convenient for you. High intensity interval training is the type of workout that requires a formula and an instructor with expertise. If you choose that, you'll be amazed by your results! Sweat440 includes individualized instruction for free in every class. 
We also have animated demonstrations of each exercise, so you can look like a pro, even on your first day. We are a welcoming group of all different fitness levels. Join us for the best HIIT workout with weights in Alabama! Visit Sweat440's gyms near Madison, Huntsville, and Mountain Brook for your free trial. 
How Do I Try the Best HIIT Workouts in Alabama?
Where to Try Free HIIT Classes:
10878 County Line Rd.
9032 Memorial Parkway SW
How to Prepare for HIIT Workouts:
Sign up for a time slot or just stop by.

Register at the front desk if you're new.

Bring water and a towel if you want. 

Wear sneakers and comfortable clothes.

Complete your workout and celebrate!