Which HIIT Workout Near Me Is the Best Full Body Workout?
High-intensity interval training (HIIT) is super popular because it produces the highest calorie burn in the shortest amount of time. It's also equally effective at burning fat and building muscle. It's no wonder countless fitness clubs are offering workouts labeled as "HIIT" to draw members in. The problem is, HIIT is a very scientific method with specific requirements to qualify. Unfortunately, a gym can call a class whatever it wants, whether it lives up to the standards or not. A Google search of HIIT classes even pulls up gyms that don't offer HIIT at all! Many classes in Miami and New York City claim to be HIIT, but only Sweat440 offers total body workouts with certified HIIT trainers all day, every day.
​Why Some HIIT Classes Aren't Really HIIT
OrangeTheory, SoulCycle, Peloton, and FlyWheel
Many cycling gyms offer classes that they call "HIIT." But, these fitness studios are missing several key components of a true full body HIIT workout. Do they have high-intensity? If you choose it. Are there intervals involved? Sometimes. Do they practice effective HIIT methods? No. Intervals and intensity must be interspersed with expertise and specific timing to maximize the impact.
At OrangeTheory, you spend the first 30 minutes of class on a treadmill or rower. That completely defeats the interval purpose. At Sweat440, our workouts are broken into 4 10-minute stations with 3 exercises performed for 45 seconds each, followed by 15 seconds of rest, then repeated 3 times. Your body stays in a constant state of change which causes you to maximize oxygen consumption, thus revving your metabolism for hours. Without the varied intensity, you can't work to your full potential. That's why so many cycling students complain of hitting plateaus.
At spin classes, you can decide your own intensity, and you may choose not to switch intervals when told. In addition, these classes heavily target your lower body in every single workout. While some of their classes include small hand weights or "push-ups" on the bike, experts agree these are neither safe, nor effective. HIIT requires explosive diversity of movement for the whole body which you can't perform while stuck on a bike.
Barry's Bootcamp, CrossFit, and Tone House
These gyms have one component of HIIT nailed down- intensity. But ironically, their intensity is what often leads to injuries, hospitalizations, and life-threatening conditions like Rhabdomyolysis. Intensity needs to vary in degree to safely transform your health. And intervals are essential to move your body from states of anaerobic activity, to aerobic activity, to rest. Bootcamp instructors employ one level of intensity for all class members, which is both unsafe and inefficient. Some classmates find that they can't keep up, while others find it monotonous, or even annoying to be yelled at while they work out. In both cases, people frequently quit.
When you quit the gym, you obviously won't get a full-body workout. But gyms that lack varied intensity also encourage overexertion. CrossFit instructors push class members to ignore pain, resistance, or even injury to complete the class. They take pride in breaking people down and even promote a mascot called "Uncle Rhabdo" for the dangerous condition many develop from CrossFit. Good luck getting a full body workout from a hospital bed!
Tone House caters to extreme athletes and promises to improve physical and mental health. Much like CrossFit, members are drawn to Tone House for the empty promise that they will come out looking like professional athletes on TV. But professional athletes don't get where they are through a class with no personalized instruction. CrossFit throws rookies on gymnastic equipment, suggesting there is an Olympic gymnast in all of us. And Tone House instills false hope that anyone can become a professional athlete by joining their gym. Neither guarantees a total body workout, but both have a high risk of injury and discouragement.
Sweat440 Has the Best Full Body HIIT Workout Near You
Sweat440 takes each attribute of HIIT workouts seriously. High-intensity? Check. Intervals? Check. Training? Check. In fact, every one of our classes is led by personal trainers who circulate through the class to instruct on form, speed, intensity, and methods to get you ripped while keeping you safe. Our founders created a system that promotes total body fitness by rotating the focus so you can safely work out every day.
Other gyms' "HIIT" classes cram all body parts into class every day, so none get full attention. The intensity of those classes is just enough to make you sore all over, so you have to skip the gym the next day. At Sweat440, you get a full body workout in each class, but we target certain areas each day, so you don't have to skip days in between. And our variation ensures that each body part gets undivided attention. We fuse strength training with compound cardio circuits for the most powerful combo in town. Here's an example of what to expect.
Monday: Shape- Lower Body
Tuesday: Shred- Upper Body/Core
Wednesday: Sweat- Core/Conditioning
Thursday: Shred- Lower Body/Core
Friday: Shape- Upper Body/Core
Saturday: Warrior- Total Body Conditioning
Sunday: Warrior- Total Body Conditioning
At Sweat440, you're guaranteed to get a killer workout without killing your bones, joints, mojo, or bank account. We know how to help you reach your full potential because we use the only method proven to do so. Unlike some gyms that scam you into thinking you're getting a full body HIIT workout, Sweat440 delivers one all day long. In fact, there's another class starting in 10 minutes! Come on, jump in!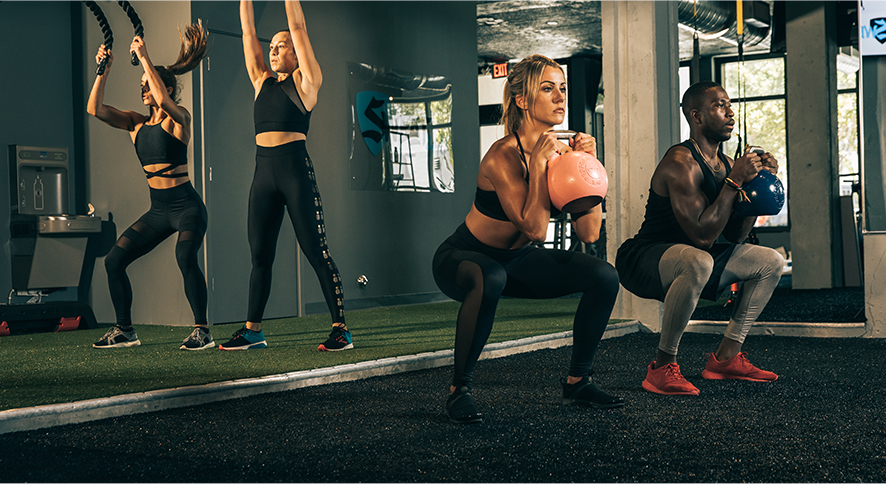 Tips for a Full Body HIIT Workout
Full Body HIIT Workout Equipment to Look for
Classes with varied cardio like versa climbers, ski ergs, and assault bikes
Classes with full body weightlifting equipment like kettlebells, and dumbbells
Classes with compound cardio tools like sleds, slam balls, and battle ropes
Classes with body weight resistance like suspension trainers and TRX
Classes with trainers who target different areas and assist throughout the class
What to Avoid for a Full Body HIIT Workout
Classes that stick you on a treadmill for most of the time
Classes that don't intersperse interval intensity frequently
Classes that cram all body parts into every workout
Classes where you rely on yourself to maximize the outcome
Classes that expect everyone to work to the same intensity