HIIT Workout Classes Near Me for All Fitness Levels
Are you curious about HIIT (high intensity interval training)? Are you wondering if it lives up to the hype? Maybe you're new to HIIT and unsure about whether you can handle the intensity. Or maybe you're a seasoned athlete wondering if a HIIT training class will actually elevate your game. Plenty of gyms offer "HIIT workout classes near me." But only one gym specializes in HIIT all day, every day, and that gym is Sweat440.
The HIIT workout classes at Sweat440 are designed specifically to meet you where you are on your fitness journey. Our proprietary blend of intervals of intensity and pacing of stations delivers a workout that maxes out your potential, regardless of your starting point. Each Sweat440 training class delivers a full body workout that targets specific muscle groups each day. So, whether you want to sculpt abs, tone glutes, or beef up your biceps, our classes get the job done.
The beauty of Sweat440's HIIT classes is you work at your own ability level with the assistance of personal trainers. So, you'll always get the most out of each workout, without overexerting or injuring yourself. And our trainers also ensure you never lack motivation or hit a plateau. Take a look at why HIIT is everything it's cracked up to be, when you train at Sweat440.
​Sweat440's HIIT Workout Classes Are Designed for You
Sweat440 was founded by renowned personal trainers, not corporate investors. Our founders created the gym based on their extensive experience and the input of their clients. They understood that gym goers want quick, yet lasting results, and they want a gym that pushes them without intimidating them. Our founders know that gym members want to make each minute count in the gym, and they don't want to wait around for classes or machines.
They also know that some gyms seem elitist, one-dimensional, or unwelcoming, and that's not what keeps people coming back for more. So, they designed Sweat440 to offer a killer HIIT workout, but one that's accessible for everyone. They knew this was the superior fitness method, regardless of fitness levels. Then they ensured that every single class would be led by a personal trainer who circulated to offer individual instruction.
They formulated the perfect ratio of high intensity sessions (45 seconds) interspersed with periods of rest (15 seconds) so you have time to catch your breath and give it your all through each set. Our trainers incorporate 4 10-minute stations with 3 sets of 3 exercises each, to keep your body guessing, so you never experience boredom or plateau. If you are a beginner, rest assured that our trainers will guide you through each movement, with accommodations and assistance as needed. We also have animated demonstrations on screens at each station to assist you.
And if you're a fitness pro, our stations are designed to maximize calorie burn, strength training, and endurance capacity all within 40 minutes. Our HIIT workout is second-to-none, but don't take our word for it. Check out how we outrank all other high intensity workouts on review sites like Yelp, ClassPass, and Google. Our unique formulation of compound cardio circuits helps you lose fat without losing muscle. Each full body workout crushes your core and sculpts either lean or bulging muscles, depending on your chosen resistance levels. Our trainers deliver a new workout every day, taking your fitness to unprecedented heights.
Try HIIT Workout Classes Near Me for Free!
If you want to see what Sweat440 can do for you, come try a HIIT high intensity interval training class for free! Our classes start every 10 minutes, so there's always one ready for you! We have several convenient locations in cities around the world, including Miami, Montréal, and NYC! Sweat440 doesn't use contracts or charge initiation or cancellation fees. You can buy one HIIT workout class at a time, or buy in bundles to save even more. We never charge for classes you have to miss, and don't require you to book classes months in advance.
Simply book online, give us a call, download our app, or stop by and we'll fit you in! Unlike other gyms offering "HIIT workout classes near me," our classes are led by HIIT professionals, not generalized fitness instructors. Additionally, unlike other gyms, we are a welcoming group comprised of all different fitness levels, working together for optimal fitness. Each class member has their own workout space at each station, so you train to the best of your ability, free from intimidation. Prepare to be motivated and inspired by the variety of fitness levels in our gyms.
Whether you love "leg day," dread "core day," or live for upper body workouts, each one of our classes will be your new favorite. We keep you moving through multiple stations with fast-paced fun, so you never notice how hard you're working. But, you will definitely notice the rapid results! Come see how Sweat440's upbeat music, positivity, inclusivity, and expert trainers elevate your fitness instantly!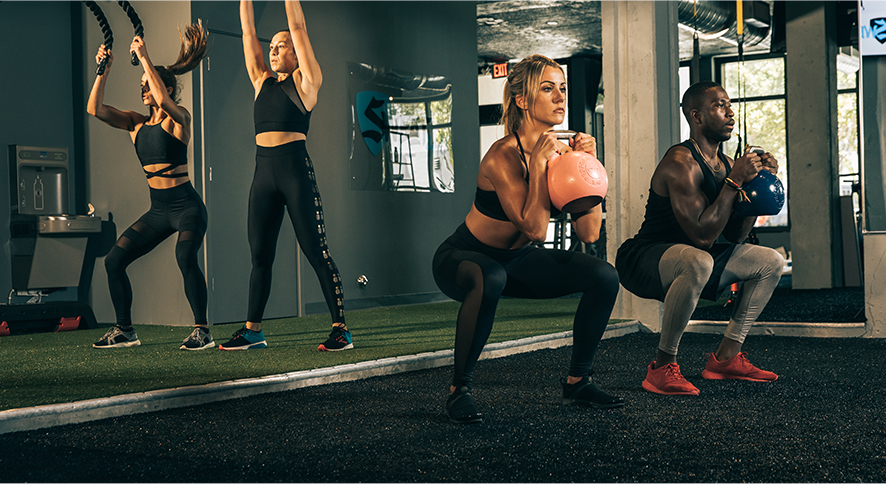 Sweat440's HIIT Workout Classes Near Me
Sweat440 Miami Beach– 1916 Bay Rd.
Sweat440 Brickell– 25 SW 9th St.
Sweat440 Coral Gables– 301 Altara Ave.
Sweat440 Kendall– 4293 SW 152nd Ave.
Sweat440 Palm Beach– 3201 N. Miami Ave.
Sweat440 Doral– 8403 NW 53rd St.
Sweat440 Austin-507 Pressler St.
Sweat440 Chelsea– 600 6th Ave.
Sweat440 FIDI– 80 John St.
Sweat440 Montréal– 5000 Rue Jean-Talon 0
Sweat440 HIIT Classes Near Me
WARRIOR- Total Body Conditioning:
A heart-pounding, core crushing, intense class
Intense circuits of shaping with proper form
Efficient metabolic conditioning & resistance
SWEAT- Core/Conditioning:
6-pack carving, intense conditioning
Compound circuits for shaping & toning
Resistance training to get you ripped fast