We Answer Your Questions About HIIT Training Nearby
Whether you're a beginner or a seasoned veteran, we all have questions about HIIT training. Here we've compiled a list of the most frequently asked questions about HIIT training to help you on your fitness journey!
What is HIIT?
HIIT stands for high-intensity interval training, a type of cardio workout that alternates between periods of high-intensity exercise and low-intensity exercise. HIIT workouts are typically shorter than traditional cardio workouts and can be done at a higher intensity. HIIT has been shown to be more effective than traditional cardio in terms of burning calories and improving cardiovascular fitness.
HIIT workouts typically involve exercises performed at near-maximal intensity for short periods, followed by recovery periods of lower intensity. HIIT workouts can be done using any type of cardio equipment or even with no equipment. The benefits of HIIT include improved cardiovascular fitness, increased fat loss, and improved insulin sensitivity. HIIT has also been shown to be an effective workout for people with limited time.
HIIT can be done with any type of cardio, such as running, biking, rowing, or swimming. The key to HIIT is to go all out for a short burst of time, followed by a period of active rest, and then repeat. HIIT is a great option if you're looking for a workout that will help you lose weight, burn fat, and improve your cardiovascular fitness.
How long should you train for HIIT?
How long should you train for HIIT? The answer depends on your fitness level and goals. Beginners should start with shorter intervals and work up to longer ones. For example, start with 20 seconds of all-out effort, followed by 40 seconds of active rest. Repeat this for 10 minutes. Once you get comfortable with this, you can gradually increase the intervals to 30 seconds of all-out effort, followed by 60 seconds of active rest.
If you want to improve your cardiovascular fitness, aim for HIIT workouts that last 20-30 minutes. If your goal is to improve muscular endurance or to lose fat, you can increase the length of your HIIT workouts to 45 minutes or more. If you're a complete beginner, 20 to 30 minutes of HIIT workouts per day should be enough to help you see improvements, but you need around 40 minutes of HIIT to build muscle.
Does HIIT training really work?
Yes, HIIT training really does work! HIIT workouts are typically shorter than traditional workouts, but they are much more intense. This makes them perfect for people who are short on time but still want to get a great workout. HIIT workouts are also proven more effective than traditional workouts when it comes to burning fat.
A study published in the Journal of Obesity found that HIIT was more effective than traditional, moderate-intensity cardio at improving cardiorespiratory fitness in obese adults. Another study published in the Journal of Sports Medicine and Physical Fitness found that HIIT was more effective than steady-state cardio in improving VO2 max (a measure of cardiorespiratory fitness) in active women.
So, if you want to burn calories, improve your fitness level, and improve your blood sugar control, HIIT may be a good option for you.
Are HIIT gyms worth it?
If you're looking for a workout that will get your heart rate up and help you burn calories quickly, a HIIT gym may be a good option for you. HIIT workouts require immense discipline, and you must know which exercises and workouts to perform to meet your fitness goals. HIIT gyms offer the structure and support you need to excel and see consistent results.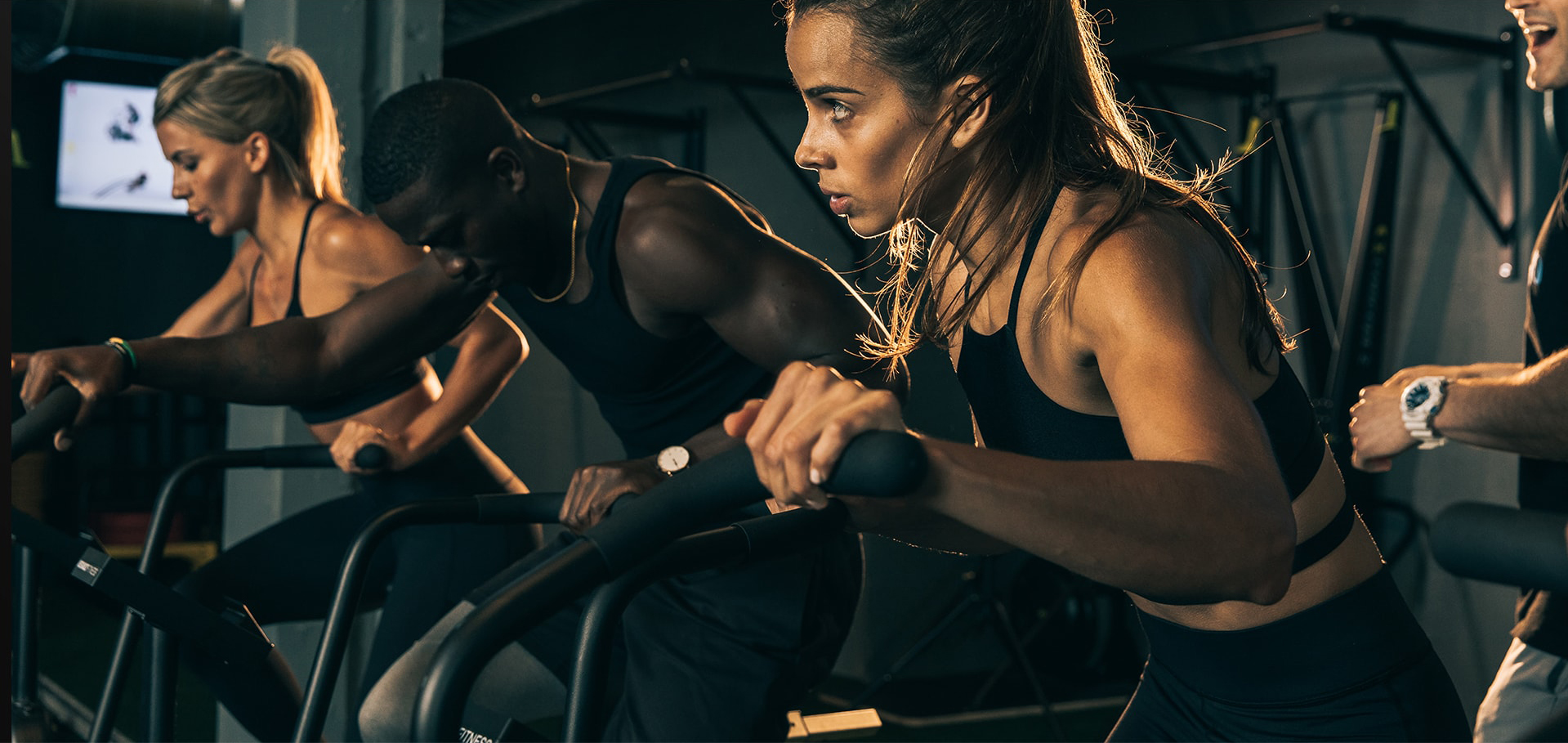 How many times a week should I HIIT train?
There is no one-size-fits-all answer to this question, as the frequency of your HIIT training will depend on factors such as your current fitness level, goals, and schedule. However, most experts recommend HIIT training 2-3 times per week for beginners and 3-5 times per week for those who are more experienced.
What are the benefits of HIIT group fitness classes?
They're More Fun

: Group fitness classes are more fun than working out alone. You get to meet new people, and the energy of the group can be contagious.

They're More Motivating

: When you work out with others, you're more likely to push yourself harder. The camaraderie and competition can be motivating, and it's easier to stay accountable when you're not the only one keeping track.

They're More Affordable

: While some group fitness classes can be pricey, they're generally more affordable than hiring a personal trainer. And you don't have to worry about equipment or a gym membership — most classes are held at fitness studios or community centers.

They Offer a Variety of Classes

: If you're bored with your workout routine, group fitness classes offer a variety of options, including strength training, cross-training, core training, resistance training, cardiovascular exercises, and more.

They're Led by Qualified Instructors

: When you take a group fitness class, you can be sure you're getting a quality workout. The instructors are certified and have experience leading classes. Plus, they're there to answer any questions and give you modifications if needed.

They Provide a Group of Like-Minded People

: In a group fitness class, you're surrounded by people with similar goals. It's a great place to meet new friends and get support from others who understand what you're going through.
Claim your free trial workout classes in Deerfield
Sweat 440 is a state-of-the-art gym specializing in HIIT workout classes in Deerfield. We have gyms across the United States that offer HIIT workout classes led by certified trainers and experts. Our classes start every 10 minutes, so you're never late for a class. We also offer flexible memberships without legally-binding contracts, so you can pay on a monthly basis or for a group of classes.
If you're in or around Deerfield, you can find our Sweat 440 HIIT classes at 248 South Federal HWY Deerfield Beach, located near 1100 E Hillsboro Blvd and next to Massage Envy. This is an extremely convenient location for your group fitness classes. We're also offering free trial workout classes for new members.
Benefits of Group Fitness:
More fun than training solo

More motivating than training solo

More affordable than hiring personal trainers

Offer a variety of classes and exercises

Led by qualified fitness trainers

Offer a community of like-minded individuals
Monday

: Shape (Lower Body)

Tuesday

: Shred (Upper Body & Core)

Wednesday

: Sweat (Core & Conditioning)

Thursday

: Shred (Lower Body & Core)

Friday

: Shape (Upper Body & Core)

Saturday

: Warrior (Total Body)

Sunday

: Warrior (Total Body)