15 Reasons to Try HIIT for Injury Recovery at SWEAT440
5 Ways HIIT for Injury Recovery Classes Protect You
Instructor Involvement

: At

SWEAT440 Music Row

, HIIT classes are small, and instructors circulate throughout the class. They offer guidance, accommodations, and professional insight on how to protect your injury. Unlike big gyms where classes are overcrowded, and instructors stay at the front of the room, Sweat440 offers personalized training for free. This is essential for safety with rehabilitation workout programs. 

Trainer Expertise

: SWEAT440 is a dedicated HIIT gym. Our instructors teach HIIT all day, every day. Other gyms offer a HIIT class once or twice a week. Their instructors often teach multiple methods, rather than specializing in HIIT. Choose the gym that teaches HIIT exclusively to maximize fitness without exacerbating an injury. Our founders are trainers themselves, so they designed SWEAT440 with HIIT safety principles other gyms don't follow.

Financial Protection

: SWEAT440 is an affordable gym that protects your health and your finances. Some injuries heal faster than others, so you can buy as little as one class at a time. We offer

free classes

for every newcomer, so you can try HIIT after an injury without investing in a gym.

No-Penalty Class Cancellation

: At SWEAT440, you're never charged for classes you miss. If you book a class, and your injury flares up, you can cancel without being charged. Also, you aren't penalized or bumped out of classes if you run late. Our classes start every 10 minutes, so you're #neverlate at SWEAT440. We'll simply work you into the next class.

Contract-Free Memberships

:

SWEAT440 offers contract-free memberships

. You aren't locked in for a year, or even a month. If you need to take a break, you can do it without advance notice or cancellation fees. Our gyms are member centric. We want you to come because you love to, not because you're stuck in a contract. Don't hesitate to try injury recovery exercises at SWEAT440. You can stop immediately if they aren't for you. 
5 Ways a HIIT for Injury Recovery Program Adapts to You
Individual Stations

: At SWEAT440, you move through four different exercise stations with three sets of three exercises. You not only work at your own pace and ability level, but you also have options. While one participant is doing squats with kettlebells, you can do kettlebell curls if you have a leg injury. You aren't stuck following a universal fitness plan. 

Brief Intervals

: Our classes are as intense as you want them to be. We go all-out in 45-second increments, followed by 15 seconds of rest. You can do five reps in 45 seconds, or 45 reps, the choice is yours. We encourage participants to try their best, but we know everyone's "best" varies on a given day, and we prioritize safety first. When easing into HIIT after an injury, SWEAT440 is ideal. Our members represent various fitness levels, and we're an inclusive community.

Different Classes Daily

: SWEAT440's classes vary every day of the week, so you don't have to wait a week to take a class that suits you. For instance, we offer upper body classes multiple times a week if you're nursing an ankle injury. SWEAT440's HIIT for injury rehabilitation provides ultimate flexibility.

Muscle Group Focus Varies

: All of SWEAT440's classes offer a comprehensive workout, but we focus on different muscle groups each day. One day, we might torch the core. Another day, we might tone the lower body. By switching the focus, we not only avoid overexerting your injured area, but we also

avoid injuries from repetitive motions

.

Trainer Insights

: As mentioned, SWEAT440's founders are renowned personal trainers, who've worked with many athletes. Many of our instructors are serious athletes as well. So, we offer valuable insight on injury recovery exercises, since we have experience helping others through injuries. You can trust SWEAT440's

HIIT for post injury recovery

.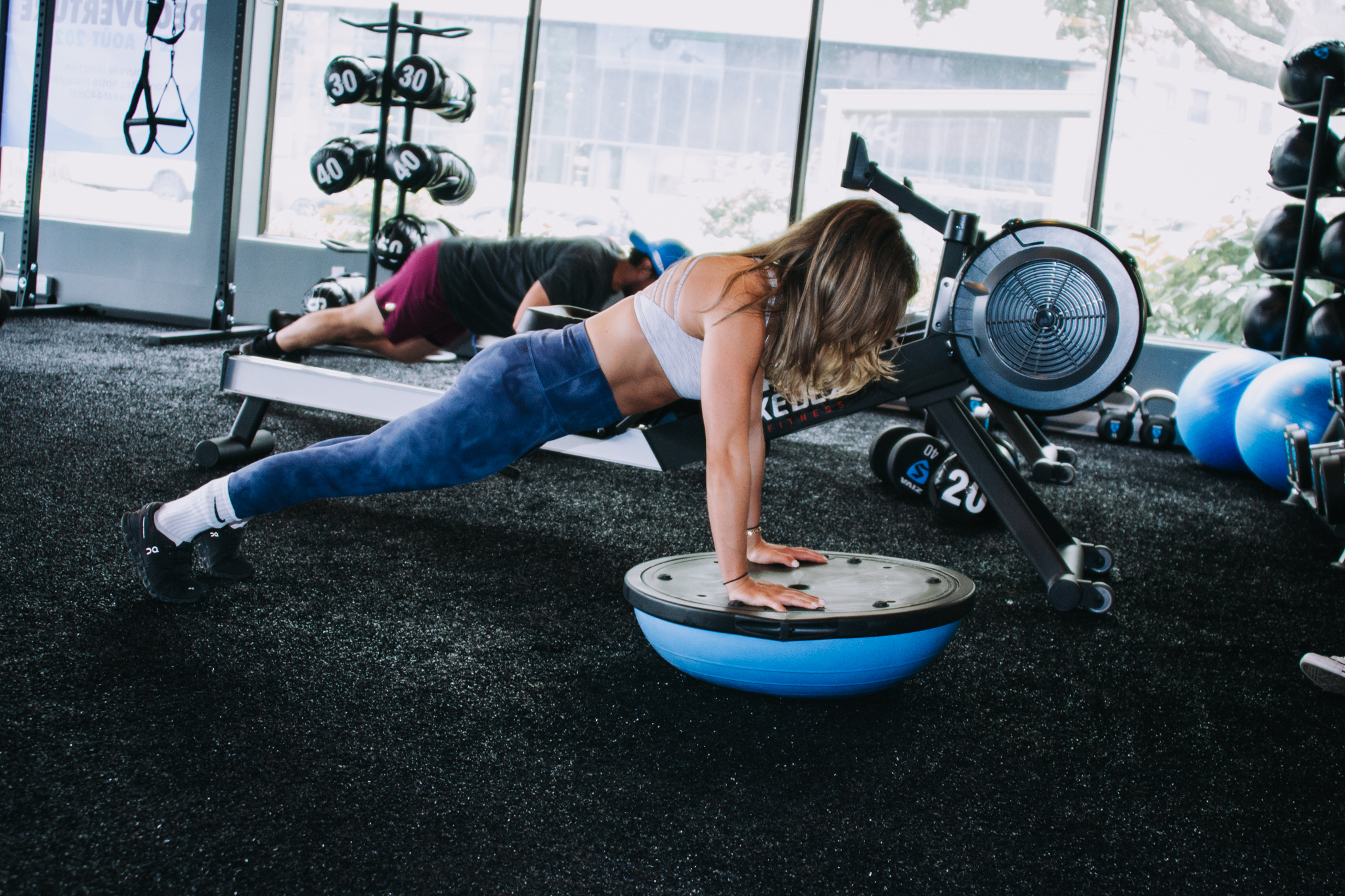 5 Ways HIIT for Injury Recovery Equipment Accommodates You 
Digital Demonstrations

: Sweat440 has unique technology to facilitate injury recovery exercises. In addition to trainer instruction, we have digital animations of each exercise on screens. You can quickly see if you're in proper form and doing the movement correctly. Visual demos aid in recovery and prevent additional muscle strain.

Compound Cardio

: SWEAT440's compound exercises combine cardio with strength training. You can adjust speed and resistance to accommodate your injury. By fusing cardio and strength training, you get a more powerful workout in half the time, leaving you time to recuperate. Plus, you build muscle while burning fat!

Versatile Equipment

: The equipment at SWEAT440 is state of the art and can be used in multiple ways. For instance, our VersaClimbers and SkiErgs can be used from a seated or standing position. If you have a lower-body injury, you can still get the same cardio and strength training you love. We also offer Assault Bikes, rowers, TRX, kettlebells, dumbbells, sleds, sliders, and more, so we can work around any injury.
Endless Combinations

: SWEAT440 changes our workouts daily, but you aren't limited to our ideas. Our equipment can be used in endless combinations, so you can work out in the way that suits you. We're here to guide you, but we love your input too. You know what you like and what works for you. Let our trainers know if you're not a fan of exercise, and they'll provide alternatives.
Free Motivation

: It's impossible to feel unmotivated at SWEAT440. Between the upbeat music, encouraging classmates, and inspiring trainers, you'll be instantly energized. If you're apprehensive about starting physical therapy exercises, visit

SWEAT440 Music Row

 near

Scarritt Bennett Center

, for free motivation! 
How to Try a HIIT for Injury Recovery Program
6 Steps to Try a HIIT for Injury Recovery Program:
Ask your doctor before resuming exercise.

Join a qualified HIIT program like SWEAT440.

Let the instructor know about your injury.

Request injury recovery exercises. 

Go at your own pace.

Ask for accommodations if needed.
6 HIIT for Injury Recovery Classes Near Me:
SWEAT440- SHRED for upper body

SWEAT440- SHAPE for upper body

SWEAT440- WARRIOR for full body

SWEAT440- SWEAT for core and conditioning

SWEAT440- SHRED for lower body

SWEAT440- SHAPE for lower body