4 Ways to Use HIIT for Endurance in Your Workouts
Join the Best HIIT for Endurance Program
High intensity interval training (HIIT) is superior to other workouts since you burn fat and build muscle simultaneously. It's an efficient, powerful way to exercise that yields more results in less time. In addition to perfecting your physique, HIIT also improves your endurance. Since you alternate between periods of intensity and periods of rest, you can go harder for longer, without burning out. The benefits of HIIT are dependent on you following a legitimate HIIT program. Since HIIT is so effective, many gyms offer classes they call "HIIT." But it's a very specific formula that requires training to teach correctly. 
Sweat440 in Madison is a dedicated HIIT gym. We teach HIIT exclusively, seven days a week. So, all of our HIIT instructors are experts in the method. In addition, Sweat440's founders are personal trainers themselves. They've perfected the specific ratio of intensity and recovery to ensure you maximize results. Join a gym that specializes in HIIT, rather than one that offers an occasional HIIT class. Choosing qualified HIIT endurance workout programs will produce quicker results. It will also prevent muscle memory, plateau, and injury.   
Take the Best HIIT for Endurance Classes
Interval training for endurance is an individual process. Some people are lifelong athletes, while others are new to the gym. That's why it's important to choose the right HIIT gym. Some gyms offer HIIT classes for women and men separately. Others offer beginner and advanced classes. But these distinctions are irrelevant when it comes to HIIT. If it's performed correctly, every HIIT class is adaptable to everyone. 
The key is choosing a gym that takes you through circuits or stations, where you work at your own pace. One classmate might use 100 pounds of resistance while completing 20 reps. Another might use 20 pounds of resistance while completing 12 reps. Both will take 45 seconds to do their best, followed by 15 seconds of rest. The formula works for all fitness levels at gyms that teach it correctly. It requires an instructor who circulates throughout the class, offering advice, assistance, and accommodations as needed. 
Choose a gym with small class sizes and HIIT trainers, so you work at your ideal pace. Some trainers just stand at the front of the class and have everyone do the same thing. But a great HIIT gym offers personalized instruction and individual exercise stations, so you achieve your personal goals. That's exactly what you'll find at Sweat440 in Madison. We offer free personalized training in every small group fitness class, and our classes are designed for everyone. Try a free class today at Sweat440 Madison right near Stem & Stein.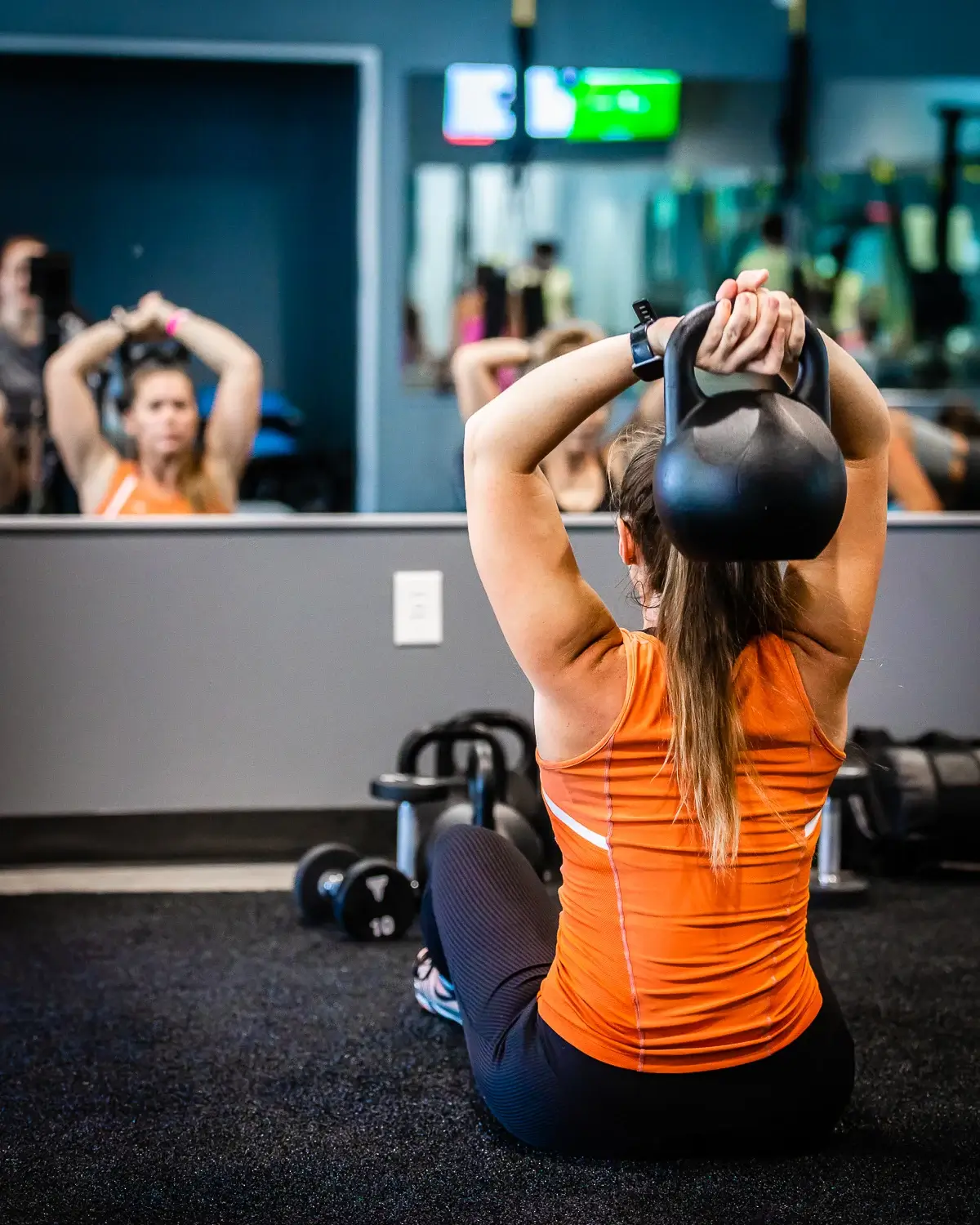 Use the Best HIIT for Endurance Equipment
We had no choice but to do HIIT at-home workouts during the pandemic. But you need a HIIT gym to excel at cardio training for endurance. When you do HIIT at home, equipment is limited. To reap the rewards of HIIT, you need more than a bike or a treadmill. Simply changing the speed or resistance on one piece of equipment isn't sufficient for a full-body workout. At Sweat440, we use innovative HIIT equipment like VersaClimbers, SkiErgs, Assault Bikes, rowers, sleds, sliders, TRX, kettlebells, battle ropes, and dumbbells to keep your muscles guessing.
You'll move through four 10-minute stations with three sets of three exercises each. That pace and variety maxes out each droplet of sweat you shed in 40 minutes. In addition, having inspiring classmates by your side keeps you going, increasing your endurance. When you do HIIT at home for weight loss, you're more likely to stop early, skip a set, or get distracted by household interruptions. This leads to disappointing results, or even quitting the routine. Having a group of classmates to cheer you on will keep you committed to fitness.
Work with the Best HIIT for Endurance Trainers
Having a trainer's oversight is key to using HIIT for endurance training. It's easy to work beneath your ability, and it's also easy to overexert yourself without an instructor by your side. Our HIIT experts ensure you work at your ideal heart rate without overtraining any of your muscles. We correct form, provide assistance, and recommend the target heart rate to master cardio training for endurance. 
Our trainers aren't just HIIT experts, they're also HIIT enthusiasts seeking the same rewards you are. You can trust them for encouraging, effective insight to help you reach your goals. Unlike some fitness instructors, Sweat440's trainers are uplifting, inclusive, and inspiring. They will motivate you, but never humiliate you or push you to the point of overexertion.
The year 2023 brings new opportunities to reclaim your gym membership. Now is a great time to try a free HIIT class and join Sweat440's contract-free, affordable gym. Our gym members were among the few who weren't stuck paying membership fees when the pandemic shut gyms down. We've always believed in a contract-free membership, so members have total control. Come see why Sweat440 in Madison is the best gym to try HIIT for endurance.
Why Is HIIT the Best Workout for Endurance?
6 Reasons Interval Training for Endurance Is Best:
HIIT maximizes endurance by alternating intensity.

HIIT helps you burn calories long after the workout.

HIIT helps you build muscle while you burn calories.

HIIT yields quicker results from shorter workouts.

HIIT uses different muscle groups to prevent injury.

HIIT has ample variety to prevent plateau.
Top 6 Endurance Workout Programs to Try:
Sweat440's SWEAT- Core & Conditioning Class

Sweat440's SHAPE- Lower Body Class

Sweat440's SHRED- Upper Body & Core Class

Sweat440's SHAPE- Upper Body & Core Class

Sweat440's SHRED- Lower Body & Core Class

Sweat440's WARRIOR- Total Body Conditioning Class