Revolutionizing Fitness: The Benefits of HIIT and Crossfit Training at the Gym
Welcome to the Sweat 440 Gym in Jean-Talon, Montreal, where we're revolutionizing fitness with our state-of-the-art HIIT and Crossfit training facilities. Are you looking for a gym membership near you that offers the best in high-intensity exercise? Look no further!
When it comes to getting in shape, there's no denying that high-intensity interval training (HIIT) and Crossfit are some of the most effective methods out there. At Sweat 440, we're proud to offer an exclusive HIIT training facility that's designed to push you to your limits and help you achieve your fitness goals.
HIIT: The Ultimate Workout
HIIT is a type of exercise that involves short bursts of intense activity followed by brief periods of rest. This type of training has been shown to be incredibly effective for burning fat, building muscle, and improving cardiovascular health. At Sweat 440, we offer HIIT classes and equipment designed to challenge you and keep you motivated. One of the best things about HIIT is that it's incredibly versatile. Whether you're a beginner or a seasoned athlete, HIIT workouts can be modified to your needs. At Sweat 440, we offer scalable HIIT classes suitable for all fitness levels. We push even the most experienced fitness enthusiasts to their limits.
Crossfit: The Ultimate Challenge
Crossfit is a type of high-intensity exercise that combines elements of weightlifting, gymnastics, and cardio. It's known for being incredibly challenging, but also incredibly rewarding. Crossfit is designed to be both mentally and physically challenging. It requires focus, discipline, and a willingness to push yourself to your limits. But the rewards are well worth it. Not only will you see improvements in your strength, endurance, and flexibility, but you'll also develop the kind of mental toughness that will serve you well in all areas of your life.
Benefits of Combining HIIT and Crossfit:
Combining High-Intensity Interval Training (HIIT) and Crossfit can provide a number of benefits for those looking to improve their overall fitness. Here are a few reasons why you should consider incorporating both into your workout routine:
Variety

: By incorporating both HIIT and Crossfit into your workout routine, you'll be exposed to a variety of different exercises and training styles. This will help keep your workouts interesting and engaging, which can make it easier to stick to your fitness goals in the long term.

Increased Cardiovascular Fitness

: HIIT and Crossfit are both incredibly effective for improving cardiovascular fitness. HIIT's short bursts of intense activity followed by rest periods help to increase your heart rate quickly, while Crossfit's combination of weightlifting and cardio exercises will improve your overall cardiovascular health.

Increased Strength and Endurance

: Crossfit is well known for its ability to build strength and endurance. The weightlifting and gymnastics elements of Crossfit will help you to build muscle and improve your overall strength. Meanwhile, the cardio elements of HIIT will help you to improve your endurance, which is important for any athlete.

Improved Flexibility and Mobility

: The stretching and yoga elements of Crossfit will help to improve your flexibility and mobility, which can reduce your risk of injury and improve your overall performance.

Better Mental Toughness

: Both HIIT and Crossfit are mentally challenging in different ways, HIIT is about pushing yourself to the limit for short periods, whereas Crossfit is about working through challenging exercises with a positive attitude. Training in both will improve your mental toughness and ability to handle stress.
Better Results: Combining HIIT and Crossfit in your workout routine will give you a well-rounded fitness program that will help you achieve better results in your overall health, fitness, and wellness.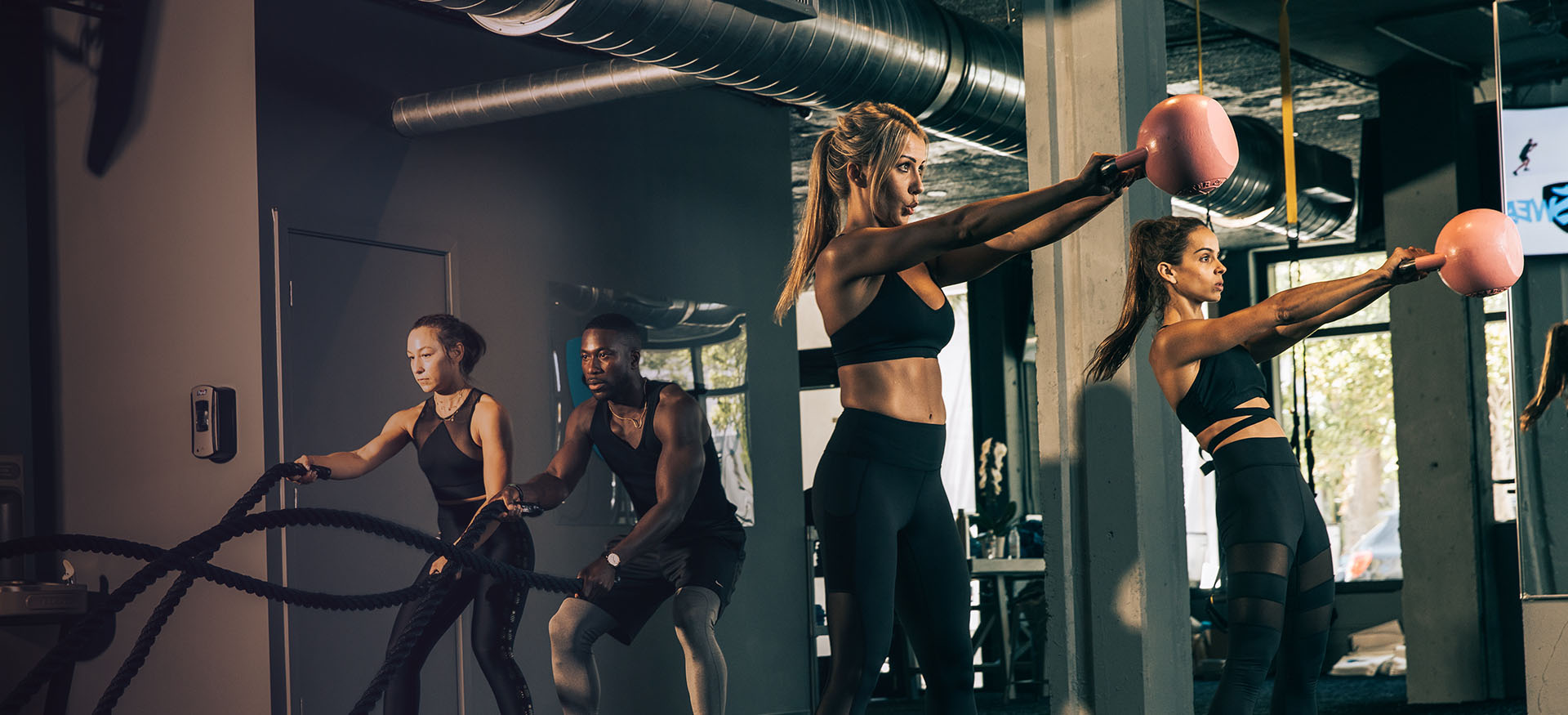 A Gym Membership That Fits Your Budget
At Sweat 440, we understand that not everyone can afford the same gym membership. That's why we offer a range of membership options to suit every budget. Whether you're looking for the cheapest gym membership available or need something more scalable for different membership requirements and needs, we have options for you.
So, how much is a gym membership at Sweat 440? Prices vary depending on the package you choose, but we're proud to say that we offer some of the most competitive rates in Jean-Talon, Montreal. And with our flexible payment options, you can choose a plan that fits your budget and your schedule.
Traditional gyms often bind members into strict contracts that are incredibly difficult to exit. But we believe in offering complete flexibility, so you don't have to sign legally binding contracts for a membership. You can simply pay-as-you-go, either for a group of classes or monthly or annual memberships. This offers complete flexibility to you.
Furthermore, we offer free trial classes to all new members. If you're unsure whether a HIIT and Crossfit gym is right for you, please visit your nearest Sweat 440 gym in Jean Talon to claim your free sweat session! We're sure that you'll be thrilled about joining a membership once you try our HIIT classes in Montreal!
A State-of-the-Art HIIT Training Facility Near You
SWEAT 440 Coral Springs and SWEAT440 Upper East Side are proud to be one of the best HIIT training facilities near you in Miami. Our state-of-the-art facilities are equipped with the latest equipment, and staffed by certified trainers who are dedicated to helping you achieve your fitness goals. Whether you're looking to lose weight, build muscle, or simply get in better shape, we have the resources and expertise to help you.
So, what are you waiting for? If you're ready to take your fitness to the next level, come check out Sweat 440 today! With our exclusive HIIT and Crossfit training facilities, flexible membership options, and state-of-the-art equipment, we have everything you need to get in the best shape of your life. We can't wait to help you reach your fitness goals.
Our Sweat440 Studios are conveniently located at SWEAT440 Coral Springs and SWEAT440 Upper East Side We look forward to seeing you at our Sweat 440 HIIT gym!
Benefits of Combining HIIT and Crossfit:
Variety of exercises

Increased cardiovascular fitness

Increased strength and endurance

Improved flexibility and mobility

Better mental toughness

Better results
Benefits of Sweat 440 HIIT Gyms:
Exclusive HIIT facilities

Affordable membership options

No legally binding contracts

Personalized training options

Flexible group fitness classes

Comprehensive amenities

Convenient location

Free trial classes