In the battle of the best gyms in Chelsea NYC, some companies offer sparkly perks to attract members. The irony is, these perks are often unrelated to fitness and weight loss, and can even be a deterrent. Caloric menus, poolside lounging, and spa treatments are all lovely, but they detract from and cut into the time you spend working out. If you want your gym membership to deliver results, start by joining a gym that prioritizes fitness over selling you extra services.
Pricey Gyms Hinder Weight Loss
It's important to take time to rest between sets. At Sweat440, that equals 15 seconds. But when you spend most of your time at the gym "resting" and refreshing, you won't be happy with the results. We're all for pre and post workout refreshment. But some pricey gyms in Chelsea NYC are laden with temptations. An aromatherapy facial or a sandwich with friends might be fun, but they won't get you ready for swimsuit season. Sweat440 gets you in and out of a calorie-torching class in 40 minutes, so you have plenty of time for fun. P.S.- our classes are a lot more fun than a sandwich!
Affordable Gyms Deliver Consistent Results
It's no wonder that members of expensive gyms often cite lack of results as the reason they stop exercising. Research states the #1 reason people stop working out is the lack of instant gratification. In other words, workouts take time to produce results, and for expensive gym members, time is costly. If you spend your time at the gym socializing instead of cranking out crunches, expect disappointing results.
Small group training in group fitness classes like Sweat440 offers the opportunity to socialize while you blast fat, so you maximize calorie burn. The ultimate way to multi-task is fitting in friendship while you prioritize health. Our lively music and positive atmosphere mean you don't have to sacrifice fitness for social time. With a class of teammates cheering you on, you're encouraged to come back for more. Affordable workouts are also more amenable to consistency and longevity. When you don't have to break the bank each time you do a squat, you're much more likely to stick with it.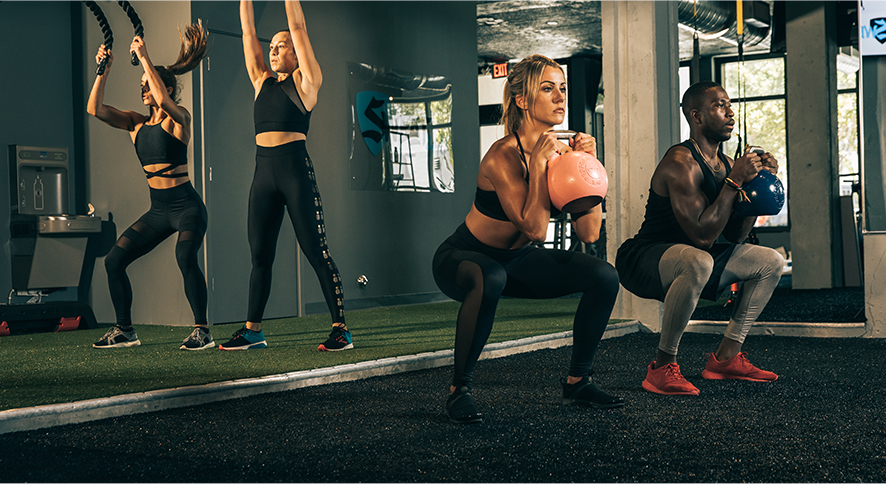 SWEAT440 Offers the Best Perks: Affordability and Convenience
The truth is, the only perks that matter when it comes to fitness are better health and a better body. How do you achieve those? By working out at a gym that prioritizes affordability and convenience. Sweat440 simplifies fitness and takes the hassle away so you can reach those goals. No more planning your workout around a certain class time, or booking your spot in a class weeks in advance, only to be charged if you can't make it.
Sweat440 offers convenient classes starting every 10 minutes, so you can squeeze in a workout whenever you get the chance. Our 40-minute classes and multiple locations make working out an easy priority to fulfill. We take affordability seriously, since we want fitness to be accessible to everyone. That's why we never charge you for a class that you miss, or make you wait hours for the next available class. Our diverse community of fitness enthusiasts consistently ranks us as one of the best gyms in Chelsea NYC for our fair prices and ethical fitness philosophies.
Why Getting Fit Shouldn't Cost a Fortune
Fitness is supposed to save you money, since it helps prevent illness, injury, and time out of work. The best gyms know that exercise is an investment in your future, and they strive to make it accessible. But some gyms charge more than any hospital bill or illness will ever cost you. Leading a healthy life shouldn't be out of reach due to exorbitant memberships. At Sweat440, we want to see your smiling face, and we want you to come back again tomorrow. We offer free classes so you can see if you like it, before you invest one penny. And trust us, you're gonna like it!
Top 5 Things to Consider When Choosing a Gym in Chelsea
5 Things to Look for:
Convenient Location- NYC is an exciting city- which means it's sometimes unpredictable. Traffic flow, snowstorms, and crowds are just a few hurdles you might have to cross on your way to the gym. Pick a gym with convenient locations, or you're more likely to fall off the wagon.
Fair Cost- Let's face it, life is expensive, especially in a big city like New York. If times get tight, gym memberships are one of the first things people cut, even though they're one of the most important. Pick a gym with reasonable prices so you can stay fit even if income ebbs and flows.
Flexible Schedule- Fitness classes are awesome and offer unparalleled support on your path to fitness. But they're only effective if they're available, so stick with a gym that offers classes around the clock like Sweat440.
Group Classes- Most people don't reach their peak level of fitness by going it alone. It takes a team of fitness enthusiasts to push you past plateaus and encourage you to show up for class. We always work harder when someone is watching, and group classes are so fun, you won't even notice how hard you're working.
Diverse Community- At Sweat440 you'll find as many body builders, Ironmen, and triathletes, as you will first-time gym members and beginners. We are a welcoming community that meets you where you are on your fitness journey and takes you farther than you thought you could go.
5 Things to Avoid:
Overcrowded Locations- Some gyms are packed full of people just following the crowd. What seems like an invitation to join an elite circle is actually an invitation to stand in line for machines and linger on waiting lists for classes.
Ridiculous Pricing- Don't get us wrong, we put fitness at the very top of the list of important things in life. That being said, gyms are not constructed of gold or diamonds, and the prices should be fair for the market. Oftentimes the priciest gyms are charging for oversized footprints on expensive land, rather than the benefits to the consumer.
Limited Schedules- If your favorite HIIT class is only offered on Tuesdays at 2:00 pm, that might not work so well. Many gyms offer certain classes on an hourly, or less frequent rotation. That means you're stuck fending for yourself and losing your class fees if you can't make it to that time slot.
Singular Personal Trainers- Personal trainers have their merits, but they also have some drawbacks. They each have a specialty or favored method that may not align with yours. You're also subject to their individual schedules and personal issues that may lead to cancellations. Try a class with a team of group fitness coaches for more well-rounded results.
Uniform Community- If your gym is full of body-builders or power-lifters, and you're on the 5-pound free weight team, you might feel isolated and intimidated during your workouts. You want a community that caters to all levels of fitness, so you can go at your own pace. No need to fear intimidating glances, menacing grunts, or barbell slamming, if that's not your thing. Jump into a class at Sweat440 and you'll fit right in.
While it's often true that you get what you pay for, some gyms in Chelsea NYC charge for things that don't help you. If what you want is a fit bod, a stress reliever, or a stronger heart, you don't need all the costly services that put money in gym owner's pockets. Why pay for square footage and seaweed facials, if the classes are too crowded, and you'd rather have seaweed on your sushi? Sweat440 offers full-service fitness with the only perks that are proven to deliver long-term results- affordability and convenience. Stop in today and get started!