When it comes to gyms in Chelsea, New York, there's no need to read between the lines. The top gyms are all named in ways we find quite fitting, even if it wasn't their owner's intention. Dogpound, Equinox, Chelsea Piers, and Sweat440 all offer personalized training or group fitness, but the similarities end there. Take a look at why these gyms live up to their names to help you make the right choice.
Dogpound NYC
We're not sure why anyone would want to work out in a "dog pound," unless you view yourself as a sick or abandoned animal in need of rescue. Dogs in a pound linger hoping for someone to come and love them, and many are never adopted. This is a fitting metaphor for the Dogpound gym in New York, where you are likely to be stuck on an endless waiting list or completely ignored unless you are wealthy or famous. Their website describes the clientele as exclusive, yet uses canine words like "breeds" to describe their members.
If you shell out the small fortune and somehow squeeze into their schedule, you're likely to find yourself in the doghouse, as well. That's because sessions start at $200 each, and sessions with the owner, Kirk Myers, cost $1,000 an hour! He boldly admits his business philosophy was to find the highest paid trainer and charge more, to draw the most elite patrons. Don't expect to spot a celebrity there either, Myers often trains them on their own turf. At that price, and with that mentality, skip the Dogpound and head to a gym that treats you like a person. Then stop by a real dog pound on the way home, and rescue a furry friend with the money you saved!
Equinox New York
Merriam-Webster's dictionary defines an equinox as, "either of the two times each year when the sun crosses the equator and day and night are everywhere on earth of approximate equal length." Likewise, approximately two days a year at Equinox gym, you might get a decent workout. The rest of the year? Forget it! Despite its multiple outposts, Equinox is plagued by negative reviews citing everything from high prices, to crowded classes, to unruly and unqualified instructors.
It will take a perfect alignment of the solar system to get out of your Equinox contract too. Members complain of lengthy exit periods, enormous exit fees, and an arduous process to quit. While Equinox boasts a large membership, it's mostly an unsatisfied group who quit working out there long ago and are stuck in a messy contract. Some people wonder which is the best Equinox in NYC, and the answer is, just steer clear of them all.
Chelsea Piers
If you're wondering why a gym is named after a pier, surprise! Boats actually dock there. That's right, you might have come for the workout, but you're paying for the facility to host gymnastics, volleyball, a day care, a marina, ice skating, bowling, and event spaces under its roof. And that's not even the half of it. While you might be a fitness fanatic or sports lover, it's unlikely you're proficient in everything Chelsea Piers provides. This makes it one of the worst investments in gyms in Chelsea, New York, since you're paying for things you can't use.
You wouldn't pay for your neighbor's electricity just because they're housed in your apartment building, so why pay for someone else to take barre classes or play volleyball, just because it's housed in your gym? If you want to get fit at an affordable gym, skip the one that charges for square footage, and pay for results instead.
Sweat440
Sweat440 stands for 4 stations completed in 40 minutes, delivering the most efficient workout. Each station includes 3 exercises performed for 45 seconds, with 15 seconds to transition to the next exercise. The cycle is repeated 3 times, with one minute to rest and hydrate before the next station. If it sounds like an invigorating, exciting challenge, you're correct. And our high-intensity interval training method (HIIT) is also the one exercise scientists find to be most effective. The superior combination of cardio and strength circuit training burns more calories not just while you workout, but also after you're done.
So, what's in a name? In our name, it's pure fitness around the clock. Sweat440 is also synonymous with fun, just check out our reviews. Our small group classes for all fitness levels fly by thanks to an awesome playlist and enthusiastic trainers and classmates. Our name is authentic to who we are and what we are passionate about- which is fitness whenever you want it. Jump into one of our classes that start every 10 minutes, and see why we're the real deal.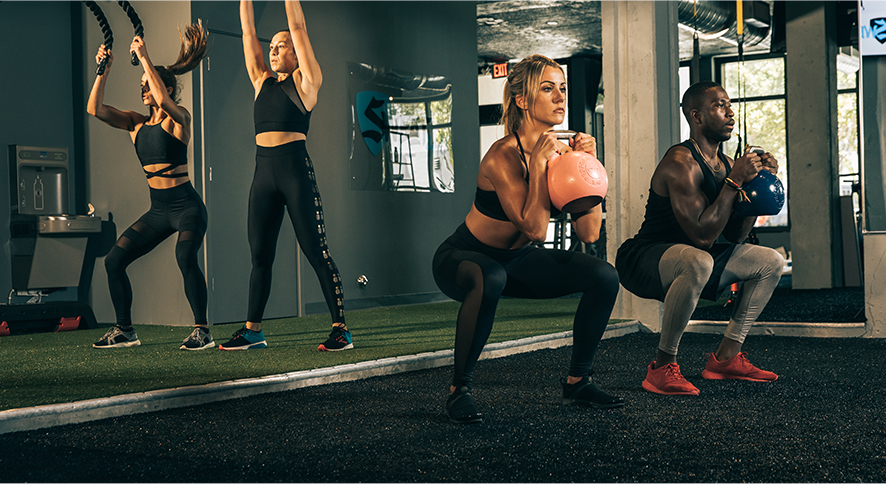 Gyms in Chelsea New York: Why the Name Matters
What Sweat440's Name Represents:
A high-intensity interval workout that takes just 40 minutes
A commitment to making fitness easier with a flexible schedule
A gym that prioritizes fitness first and eliminates unnecessary costs
An affordable workout for everyone that values your money and time
A gym that caters to every person, not just the most famous or athletic
A transparent system with no hidden fees, or charges for missed classes
What Sweat440's Name Guarantees:
The most fun you'll ever have in a gym- try it and see!
A spot in class for you every time you come
The quickest results with the least time invested
The best atmosphere to lift your spirits and coax you to the finish line
The Chelsea, New York trainers most passionate about your success
The workout that meets both beginners and pros at their level and takes them further than they thought they could go
Every time we hear a company's name, we subconsciously make assumptions about that brand. A name tells people who you are, what you do, and maybe even how you do it. Fortunately, gyms in Chelsea, New York take the guesswork out of the equation with names that befit their vibe. If you're looking for the best workout money can buy, head to Sweat440– the name that backs up the hype with legitimate results and consistently satisfied members.