When is My Gym Reopening Near Me in Montréal?
​Hang in there, friends! We know it's been a long time since you hit the gym! If you're wondering, "When is my gym reopening near me in Montréal," you'll be glad to know that Sweat440 Montréal is fully prepared to open safely and soon! We're also offering outdoor classes for members, in addition to free classes for beginners! Let's stay fit safely together while we await the green light from Premier François Legault.
Premier François Legault's Red Zone Restrictions
After the Québec government issued a second lockdown on gyms to coincide with Montréal's red zone status, fitness centers had to pump the brakes on reopening. Fortunately, these red zone restrictions expire November 23rd, and Premier François Legault said that restrictions might lift even sooner if there is a sustained drop in COVID-19 cases. Sweat440 is ready to reopen with the highest level of sanitization as soon as we're permitted. In addition, we offer outdoor classes with precautions while we wait!
How Sweat440 Montréal Prepared for Your Return
Sweat440 Montréal has already planned for your return by exceeding all of the Québec government guidelines for reopening. Our gym is deep cleaned twice a week with an antimicrobial disinfectant fogging machine, and cleaned twice a day with hospital-grade Protexus electrostatic sprayers. We sanitize all touchpoints, equipment, surfaces, and restrooms frequently and provide sanitizer for our members.
Our studios require masks and touchless temperature checks. We've placed social distancing marks on the floor to provide ample space, and assigned workout pods with individual equipment. We're keeping classes small and advising members not to arrive early to class, and to leave promptly when class ends. We've also suspended the use of showers, lockers, towels, and water fountains until further notice. Since our gym is class-based, there is always an instructor present to monitor member behavior and enforce safety compliance. We require members to agree to our terms and stay home if they're sick or if they've been exposed.
We've also added outdoor classes for additional air circulation. While we wait for indoor classes to resume, join us for an exhilarating workout in the fresh air! You'll need to wear a mask and bring your own towel, water, and workout mat. Our outdoor classes allow plenty of space to spread out and exercise safely. We require pre-registration and forbid walk-ups for everyone's safety.
Choose Your Montréal Area Gym Wisely
Some Montréal area gyms have been operating without permission. Others are signing petitions and threatening to reopen against Québec government orders. These gyms will face police intervention and fines. Members who participate are subject to penalties as well. So, make sure the gym you attend has consent to receive members indoors. Some indoor sports facilities are permitted to allow one participant at a time. But, currently, no Montréal area gym is permitted to reach capacity inside. Choose a gym like Sweat440 Montréal that is following protocols and awaiting the green light.
Improve Your Physical and Mental Health With Sweat440
Studies show that gym lockdowns have negatively impacted Canadian's physical and mental health. Exercise has a positive impact on every aspect of physical health, from enabling weight loss to combating things like osteoporosis, arthritis, heart disease, and cancer. Its benefits are reparative as well as preventative, warding off high blood pressure, insomnia, and stroke.
But exercise also dramatically improves mental health, taming things like anxiety, depression, panic attacks, and Seasonal Affective Disorder. While the Québec government imposes red zone restrictions on gym operations, be sure to still prioritize exercise. Check out our website for workout tips, join us for an outdoor class, or contact us for healthy solutions. Our email address is contact@sweat440.com, and our phone number is (514) 594-0440. Our founders are passionate about your physical and mental health, and we'd love to help you stay active.
Here's What to Look Forward to With the Green Light
Once we're given the green light to reopen fully, here's what you'll get at Sweat440 Montréal. We're using the best safety protocols, but we also offer the best workout! Our classes pack 4 10-minute stations with 3 sets of 3 exercises into 40 minutes. Each class is a HIIT class (high-intensity interval training), which means you'll burn fat while building muscle. Our compound cardio circuits fuse cardio with resistance to maximize your efforts.
This blend of tools, intervals, and varied intensity targets your VO2 Max, so you keep burning calories long after class. You won't find a better workout in the Montréal area, particularly since our classes include free training. Each small-group class is led by a certified instructor who circulates to offer individual instruction. Our exercise stations are also supplemented by animated demonstrations on screens to demonstrate how it's done.
We know you're eager to reclaim the fitness you achieved prior to lockdown. Our classes are designed to do that quickly, unlike yoga, martial arts, or traditional cardio. We can't wait to show you what our HIIT classes can do! Contact us by social media, email address, or phone to learn more about our sanitized Montréal gym near the SPCA . See you soon!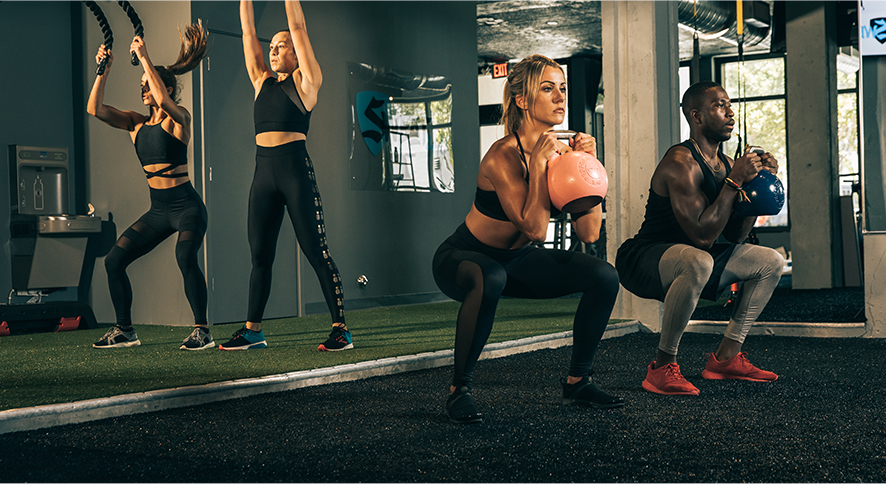 Montréal Area Gym Reopening Soon
Sweat440's Reopening Procedures
Hospital-Grade Protexus Electrostatic Spraying
Antimicrobial Disinfectant Defogging
Masks & Touchless Temperature Checks
Social Distance Floor Markings
Small Classes & Workout Pods
Suspension of Some Amenities
Sanitizers & Masks Available
SHAPE- Lower Body
SHRED- Upper Body/Core
SWEAT- Core/Conditioning
SHRED- Lower Body/Core
SHAPE- Upper Body/Core
WARRIOR- Total Body Conditioning
OUTDOOR- Full Body Workout