Which Gym Reopening Near Me in Miami is Safe During COVID-19
If you live in Miami, your gym is more than a gym to you. It's your social meeting place, your dose of adrenaline for the day, and your ticket to that beach-ready body you need! South Floridians take fitness seriously. On any given day, you might be trekking through parks at Disney World or chasing your kids around a waterpark, so you need to stay fit. You might also be hitting the night clubs or lounging poolside at a moment's notice, so you need to look your best. Our friends in Miami count on their gym to keep them ready for active, sunny pursuits! Sweat440 has proudly partnered with you in achieving optimal fitness. So, we were just as sad as you were when we had to close for a while.
Has COVID-19 Affected Your Mental and Physical Health?
Unfortunately, COVID-19 cases put a damper on gyms, as well as many active pursuits, for longer than we imagined. The virus has negatively impacted the physical and mental health of many. From less activity, to more take-out food, to financial hardship, to isolation, depression, and anxiety, the virus itself is only one of the harmful impacts of the pandemic.
Lack of exercise causes double trouble, since it affects your physical health and mental health too. We need the endorphins, adrenaline, and tension release that exercise provides to stay at peace. And the benefits of group fitness are even more impactful, including social and mental engagement, connection, and camaraderie. The irony is, during one of the more stressful times in our lives, the gyms we count on to combat stress weren't allowed to open. But thankfully, that's coming to an end!
Sweat440 Prevents the Spread of COVID-19 and Your Waistline!
The great news is, gyms are reopening now! In fact there's a "gym reopening near me in Miami" that can't wait to make up for lost time! Sweat440 has several gyms reopening near Miami offering HIIT classes every 10 minutes! Our unique method will recoup any fitness you lost swiftly. Whether you packed on a few pounds or lost a little definition during quarantine, our classes will get you up to speed quickly. In the interest of your mental and physical health, you should resume exercise promptly. But it's important to choose your gym wisely to prohibit the spread of COVID-19.
Sweat440's gym owners are closely abiding by the guidelines of Miami Dade Mayor Carlos Gimenez, plus we're implementing additional safety measures for your health. Our commitment to your safety has always been superior to other gyms, but we've taken additional steps to be the safest gym reopening near me in Miami.
How Sweat440 Combats COVID-19 Cases
Our gym owners are personally involved in the reopening procedures of COVID-19. Unlike some gyms in Miami, we aren't owned by absentee investors, or corporate chain developers driven by replenishing lost income. Our founders are renowned personal trainers who care about each member. We're not cutting corners or allowing high capacity to generate revenue. Instead, we're reducing class sizes, limiting capacity, and suspending certain amenities to keep you safe. In addition, we have the best cleaning procedures in town. Check it out.
Sweat440's Safety Protocols:
Touchless temperature check for every employee
All staff members wear facial coverings and PPE
Antimicrobial disinfectant defogging performed 2x a week
Studios cleaned 2x a day with Protexus Electrostatic Sprayers
High-touch areas disinfected after each use
Disinfectant spray bottles and cleaning towels provided
Members assigned workout pods and individual equipment
Social distancing clearly marked on the floors
Members arrive less than 5 minutes before class and leave promptly
Lockers, towels, showers, water fountain suspended for now
Members who are sick or exposed are asked to stay home
Outdoor classes for additional safety
Sweat440 Exceeds Miami Dade Mayor Carlos Gimenez's Orders
Sweat440 is committed to eliminating COVID-19 cases and restoring Miami's health and fitness. Our gyms were already designed for proper social distancing prior to the spread of COVID-19 so we could provide members with ample workout space. But now, we've implemented safety procedures superior to any other gym reopening near me in Miami. It's not enough to assume gyms are following safety procedures; check their websites for actual descriptions of their procedures. Their safety measures should be a public file, so you can check them against local orders.  
Don't join a gym with complicated terms of service, like annual memberships, initiation fees, cancellation fees, and minimum purchase requirements, since you might want to quit if they aren't up to code. Gyms popping up in facilities with short term rentals or asking you to enter through a back door might not be following safety precautions. It's essential to respect Miami Dade Mayor Carlos Gimenez's orders for your safety. Remember, if a gym is willing to ignore sanitization and capacity requirements, they're seeking a profit, not your best interest.
Sweat440 will always prioritize your health and go above and beyond to protect it. We also offer free classes for all newcomers, so you can see our safety procedures in action. You can come to any of our classes, 7 days a week, and you'll see the same standard of care given by each of our team members. We wear facial coverings, sanitize equipment, and require social distancing and a temperature check. But we do so much more than that.
Each of our classes is led by a trainer who ensures member compliance and appropriate social distancing. Our class schedule rotates every 10 minutes to limit exposure and provide contact tracing. Our trainers also make sure equipment is cleaned after each use, which you won't find in the typical gym reopening near me in Miami.
Since we're a gym that specializes in group fitness classes, we have oversight of all members at all times, which protects your health. We're beyond excited to welcome you back to Sweat440 in Miami! And we welcome you back more safely than any other gym reopening in Miami. Try a free class at one of our studios, like our Brickell gym near SunTrust Bank, to see for yourself!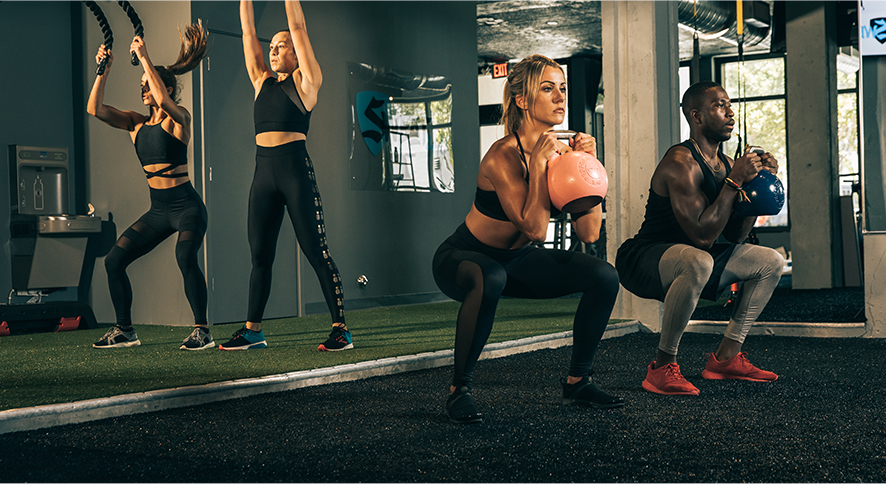 The Gym Reopening Near Me in Miami Safely
Sweat440's Safe Miami Gyms
Sweat440 Brickell
Sweat440 Miami Beach
Sweat440 Kendall
Sweat440 Palm Beach
Sweat440 Downtown Doral
Sweat440 Coral Gables
Sweat440 Outdoor Classes
Sweat440's Safety Procedures
Hospital-grade sanitizing 2x a day
Antimicrobial disinfectant fogging 2x a week
Sanitizing of equipment and touchpoints constantly
Employees wear facial coverings & PPE
Staff has touchless temperature check
Social distancing marks and workout pods
Reduced capacity and suspended amenities