How to Find a Safe Gym Reopening Near Me on Jean Talon
The pandemic has caused a lot of confusion. The guidelines and restrictions frequently change. But one thing is very clear. Canadians are eager to get back in the gym! After a second lockdown, gym goers anxiously await the red zone restriction lifting. But before you hop into the first gym that reopens, check out their safety protocols. Gym owners are antsy to reopen, which means some are cutting corners on safety. Here's how to choose a safe gym reopening near me on Jean Talon.
​15 Things to Avoid in a Gym Reopening Near Me
The COVID-19 lockdown has made it harder for gyms to do what they love most– promote health and fitness. But it has also impacted revenue, forcing some gyms to close. As a result, some gym owners are resorting to illegal or oppositional tactics to stay in business. Before you head to a gym near Jean Talon, inquire about their procedures. For example, certain indoor facilities are permitted to allow one guest at a time. And some gyms have received the green light to offer outdoor classes. But until the red zone restriction is lifted, gyms should not be operating at full capacity. Here are some things to avoid.
Gyms that don't abide by capacity guidelines
Gyms that don't follow local mask requirements
Gyms that don't conduct touchless temperature checks
Gyms that are open 24 hours but aren't staffed around the clock
Gyms that don't restrict amenities that transmit germs
Gyms that ask you to come in through a rear or side door
Gyms that don't offer sanitizer to guests
Gyms that don't mark social distance spacing
Gyms that allow walk-up participants to outdoor classes
Gyms that are large with many different franchisors
Gyms that aren't transparent about cleaning procedures
Gyms that reopen before given the green light
Gyms that charge for classes you cancel
Gym that require annual contracts to join
Gyms that don't offer a free trial
15 Things to Look for in a Gym Reopening Near Me
While some gyms aren't following safety procedures, others are taking safety very seriously. Gyms like Sweat440 in Montréal have always put safety first and are now enhancing their safety measures. Look for a gym that makes you feel safe, valued, and comfortable, rather than like a number on their revenue stream. The right gym should also be treating their staff with the same care and respect as members. Choose a gym that protects staff by doing symptom checks and providing PPE for their usage. Here's what to look for.  
Gyms that reduced their capacity and class sizes
Gyms that require masks for staff and members
Gyms that require staff touchless temperature checks
Gyms that are fully staffed at all times
Gyms that suspend amenities that transmit germs
Gyms that require you to pre-register and enter at the front door
Gyms that provide masks and sanitizers for members
Gyms that mark social distancing clearly on floors
Gyms that prohibit studio walk-ins and outdoor walk-ups
Gyms that are overseen by founders, not investors
Gyms that demonstrate and explain their cleaning process
Gyms that await the government green light to reopen
Gyms that don't charge for a class if you miss
Gyms that don't lock you into a contract
Gyms that offer free classes to see if you like them
Sweat440 is the Gym Reopening Near Me on Jean Talon Safely
Don't choose a gym reopening near me on Jean Talon without checking its procedures against the Québec government's orders. It's not worth the risk to join a gym operating illegally. If the gym will take chances with the law, they'll likely take chances with your health as well. It's important to check the gym's website for their reopening plan, and to make sure the plan is enacted when you are there. For the safest gym on Rue Jean Talon, choose Sweat440 Montréal. We're conveniently located near the Jean-Talon No 5000 bus stop. Our gym exceeds government guidelines with state-of-the-art sanitizing techniques. Here's how we guard your health.
Sweat440 deep-cleans with antimicrobial disinfectant fogging twice a week.
Sweat440 disinfects with hospital-grade Protexus Electrostatic Sprayers twice a day.
Sweat440 sanitizes equipment, surfaces, handles, and restrooms frequently.
Sweat440 requires masks for members and staff.
Sweat440 conducts touchless temperature checks of staff before each shift.
Sweat440 suspended the use of showers, lockers, towels, and water fountains.
Sweat440 outlined social distancing clearly on floors and walls.
Sweat440 developed workout pods with individual equipment.
Sweat440 reduced class sizes and requires pre-registration.
Sweat440 is founded by renowned personal trainers who prioritize safety.
Sweat440 is class-driven, so there's constant trainer oversight.
Sweat440 provides masks and sanitizer for members.
Sweat440 never charges for classes you miss or makes you buy in bulk.
Sweat440 doesn't use contracts, and we never have.
Sweat440 has no initiation, annual, or cancellation fees, so you aren't trapped.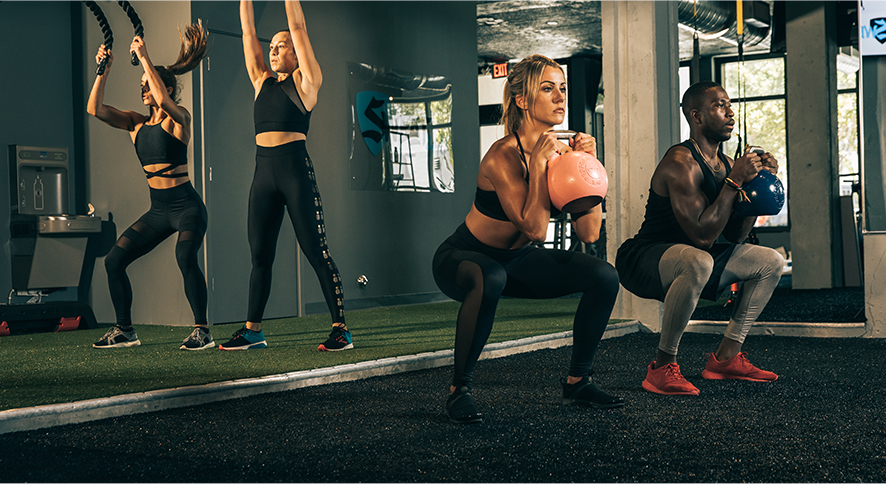 See You at Sweat440's Gym Reopening Near Me on Jean Talon!​
Await the Québec government green light
Use hospital-grade disinfectants
Provide masks and sanitizers
Require PPE and temperature checks
Clearly mark social distancing
Limit amenities and capacity
Use pre-registration and workout pods
Staff fully for compliance oversight