Sweat440 Gym Reopening Near Me in Coral Gables Soon!
Are you feeling a little stressed out? Life's thrown some major curveballs our way, including social unrest, natural disasters, and a pandemic! That anxiety has caused some of us to stress-eat and spend extra time on the couch. While those are comforting rituals, and even necessary sometimes to soothe our souls, they ultimately leave us discouraged. If you're ready to blast through those excess COVID-19 calories and reignite your enthusiasm for life, you're in luck! The most exhilarating gym reopening near me in Coral Gables is ready to welcome you back! Here's how we'll keep you safe when you return.
​Sanitized Fitness Studio in Coral Gables
Sweat440 has implemented state-of-the-art cleaning procedures with hospital-grade sanitizers to secure a safe workout space. We've always taken your safety seriously, but now we've enhanced our protocols for extra protection. Our Coral Gables gym is deep-cleaned twice a day with hospital-grade disinfectants, including Protexus electrostatic sprayers. We also complete an endurance antimicrobial disinfectant fogging twice a week. Our touchpoints like equipment, bathroom, and door handles are sanitized after each use, and sanitizers are readily available for all members.
Social Distancing is Just One of Our Precautions
We not only enforce social distancing, we clearly mark placement on the floors. But we also assign members to workout pods to provide ample space. Our members and staff undergo touchless temperature checks and our team wears PPE at all times. We encourage members to stay home if they're sick or exposed, and we never charge for classes you cancel.
We've suspended the use of lockers and showers until further notice. We also ask members to bring their own water bottles and towels to keep everyone safe. Our classes have always been small so trainers can provide individual instruction. But now we keep classes even smaller for your safety. Since we're a HIIT class-driven gym, our members are always visible to our staff. Unlike some gyms where members are on their own, we're able to monitor member compliance so you can exercise safely in Miami Dade County.
Outdoor Classes at Sweat440's South Florida Gym
In addition to the safety precautions we've taken in our South Florida gyms, we're also offering outdoor classes. In both South Beach and Doral, you can sign up for a spot in our outdoor fitness classes for additional COVID-19 protection. Our outdoor classes have a maximum capacity of 15 people, and each person is given their own workout area. Classmates must bring their own towel, water, workout mat, and mask, and must register in advance. We don't allow any walk-ups, in order to keep capacity low. These classes are offered in two convenient locations in Miami Dade County, at 1825 West Ave. in Miami, and 8403 NW 53rd St. in Doral. Sign up for our classes at Eventbrite and join us to burn off that stress!
Exercise Safely in Miami Dade County
Sweat440 offers multiple ways to work out safely. From our sanitized gyms in Coral Gables, Miami Beach, Doral, Brickell, Kendall, and Palm Beach, to our outdoor classes in SOBE and Doral, we have something for everyone. We will always prioritize your health, unlike other gyms in South Florida that aren't following safety guidelines. Whether you live in Pembroke Pines, Miami Gardens, or Fort Lauderdale, there's a Sweat440 gym near you providing safe options to stay fit, including our Coral Gables gym near the Shops at Merrick Park.
Get Social While Social Distancing
These isolating times are taking a toll on our physical and mental health. Join us to socialize with old friends and new ones with social distancing in place. It's essential to reconnect with others and with our fitness routines during these trying times. At Sweat440, we blast upbeat music and deliver a killer workout that feels more like a party with positive people. Our classes are designed to challenge people of all fitness levels, since they're conducted in various intervals of intensity. You work at your own pace and ability level, and our trainers assist with any accommodations. At Sweat440, everyone is welcome, and we celebrate fitness success together.
The Wait is Over– Let's Get Fit, South Florida!
Set down that pint of ice cream and pause your internet scrolling; we promise you'll feel better once you get moving! Our members love the encouragement they get from our classes, and our trainers can't wait to inspire your fitness! Let's crush those COVID-19 calories and banish the blues with the best HIIT class in South Florida. You'll not only feel like yourself again, you'll also get super fit! See you soon!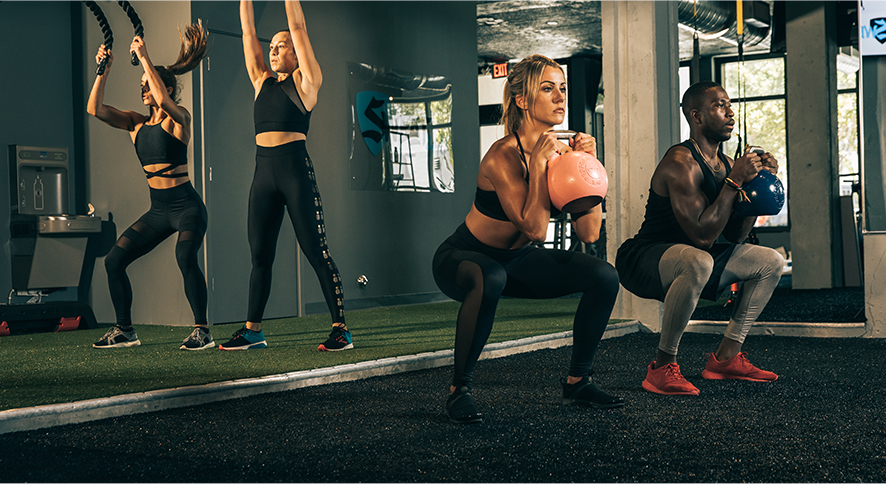 #1 Gym Reopening Near Me in Coral Gables
South Florida Gyms Reopening:​
301 Altara Ave., Suite 111, Coral Gables
-1825 West Ave., Miami, FL
-8403 NW 53rd. St, Doral, FL
25 SW 9th St., Suite G100, Miami
1916 Bay Rd., Miami Beach
Social Distancing & Sanitization:
Hospital-grade sanitizing 2x/day
Antimicrobial defogging 2x/week
Touchpoints sanitized after each use
Social distancing floor markings
Suspension of towels, lockers, showers
Temperature checks, masks, PPE
Limited class capacity
Class pre-registration
Outdoor fitness classes
Members bring their own water and mat
PPE and sanitizer available for members
Trainer oversight for safety compliance