Gym Reopening Near Me in Brickell With Personal Trainers
​Are you ready to get back in the gym after a seemingly endless hiatus? If you were counting the days until your gym reopened, guess what? The countdown is over! Gyms in downtown Miami are beginning to reopen. But, now more than ever, it's important to pick the right gym. Your safety, your finances, and your health are potentially at stake if a gym reopening near me in Brickell doesn't follow safety guidelines. Sweat440 Brickell exceeds the safety guidelines proposed by Miami Dade Mayor Carlos Gimenez. But, we also exceed the efficacy of other gyms through our fitness philosophy. Key to our superior method is free personal trainers!
Why Personal Trainers Are So Important During COVID-19
Personal trainers have always been the key to maximum fitness. Their training enables them to tap into abilities and results you never thought possible with your own body. But their expertise is just one part of the equation in light of COVID-19. Take a look at 5 reasons personal trainers are more important now than ever.
1. Personal Trainers Provide Social Distancing
Personal trainers ensure adequate space between gym members to enforce social distancing. In typical gyms, even those that request members to distance themselves, it's difficult to enforce compliance without oversight. But at Sweat440 Brickell, we're a class-driven gym, and each class is led by trainers. That means all members are within sight of our team while they exercise. We help our classmates ensure proper spacing to minimize exposure.
2. Personal Trainers Make Group Fitness Safer
Group fitness classes are proven to provide a better workout. One of the main reasons is that they encourage consistent attendance. Exercise is more enjoyable with friends, and they hold you accountable. Plus group fitness inspires you to push a bit harder than you would working out on your own. Personal trainers enable you to engage in group fitness safely during COVID-19. At Sweat440, our personal trainers create workout pods where you use individual equipment. You reap all the benefits of a group fitness class, like camaraderie, enthusiasm, and encouragement, but you do it safely with our personal trainers.
3. Personal Trainers Motivate You After a Long Gym Break
Most of us have experienced the law of inertia. Things that are in motion tend to stay in motion, and things at rest tend to stay at rest. In the case of COVID-19, those of us who were in a state of steady motion at Sweat440 were forced to take a break from the gym. That left many of us anxiously awaiting a return. But others may have settled into a state of rest, and now need a little push to get back in motion. Sweat440's personal trainers are experts at reinvigorating fitness. They're ready to motivate, inspire, and encourage you to get back into action and generate results!
4. Personal Trainers Undo Quarantine's Effects
How did COVID-19 affect your fitness? Did you settle into snacks on the couch to combat your stress? Did you try to exercise but gym closures, beach closures, and outdoor activity limitations made it difficult? Was your fitness sidelined by endless Zoom meetings and homeschooling your kids? Whether you packed on a few extra pounds or lost a bit of muscle definition, you are in good company. That's why there's no better time for a personal trainer, since they'll get you back into shape fast! Since they're pros at finding your target heart rate and capabilities, as well as creating diverse workouts that prevent plateau you'll see immediate results.
5. Personal Trainers Don't Waste Your Time
If there's one thing we learned during COVID-19, it's not to take things for granted. Most of us now have a renewed focus on what matters most. Not to mention, many of our schedules look differently than before. Joining a random gym reopening near me in Brickell might be a waste of time. You could plod along for hours on a treadmill and burn less calories than you would in a 40-minute group fitness class with Sweat440's personal trainers. You've already missed out on time at the gym, so don't waste more time on ineffective workouts. Our trainers will use every droplet of sweat to your advantage, so you achieve peak fitness and still have time for everything else life throws your way.
Try Personal Trainers and Group Fitness for Free at Sweat440
Haven't you faced enough disappointment recently? Don't join a gym reopening near me in Brickell that will let you down. Some aren't following proper safety procedures, and many don't provide group fitness classes or personal trainers. Join Sweat440 where you won't be disappointed! Our 5-star reviews will give you a glimpse of what we're about, but we invite you to come see for yourself. We use better sanitization methods than any gym in downtown Miami, including antimicrobial disinfectant fogging twice a week, and Protexus Electrostatic Spraying twice a day.
Each group fitness class is clearly marked for social distancing and implements workout pods for your safety. Our personal trainers have temperature checks and wear face coverings and PPE. We keep our group fitness classes small and rotate members out every 10 minutes for minimal capacity. But, don't take our word for it, come check us out! Your first class is FREE at Sweat440, and personal training is FREE in every class! Get all the benefits of group fitness and personal trainers safely at Sweat440's Brickell gym in downtown Miami, right near the Bank of America Financial Center.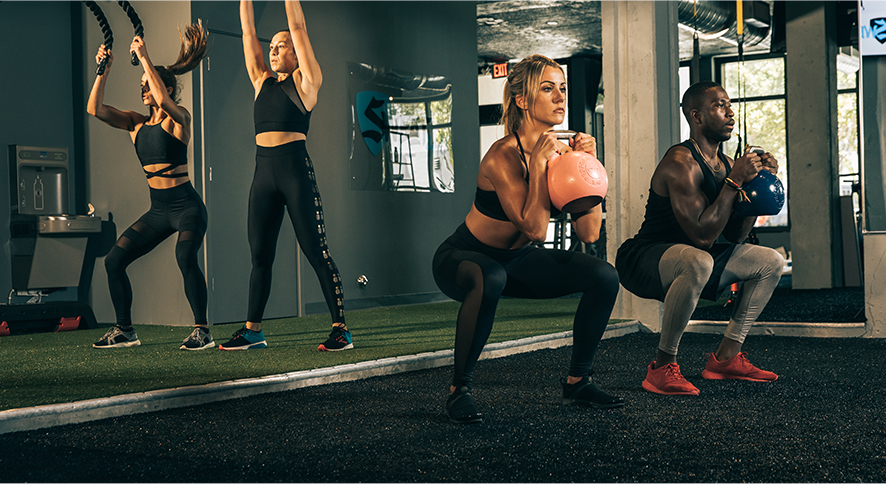 Free Personal Trainers at a Gym Near Me in Brickell
Classes With Free Personal Trainers:
SHAPE- Lower Body
SHRED- Upper Body/Core
SWEAT- Core Conditioning
SHRED- Lower Body/Core
SHAPE- Upper Body/Core
WARRIOR- Total Body Conditioning
Free Classes & Training at These Gyms:
Sweat440 Brickell
Sweat440 Coral Gables
Sweat440 Miami Beach
Sweat440 Downtown Doral
Sweat440 Kendall
Sweat440 Palm Beach