Safe Strength Training Classes at a Gym Near Me in Montreal
The past couple of months haven't been ideal for fitness enthusiasts. Due to the ongoing COVID-19 pandemic, most gyms, fitness centers, and health clubs remained closed for several months. Furthermore, you may have stayed away from fitness centers because of the fear of contamination. But all of that can now change.
Sweat440 is the ideal gym for safe strength training and group fitness classes in Montreal. As the "safest gym near me in Montreal," Sweat440 adheres to all the social distancing protocols to create an environment that allows you to resume your fitness goals without sacrificing your health.
This article shows you why Sweat440 has the best strength training, weight training, and group fitness classes in Montreal.
Sweat440 provides group fitness classes that adhere to the strictest safety standards.
Sweat440 has implemented the strictest safety standards and to help you stay fit without contracting or spreading coronavirus. The following are some of our safety standards:
Even though Sweat440 allows walk-in appointments, we encourage pre-bookings to help manage the flow and number of attendants.
We encourage all members to arrive within 5 minutes before their class to prevent the waiting area from being crowded.
No-contact temperature checks before each shift for all fitness staff and members.
The entire Sweat440 team must wear personal protective equipment during their shifts, including masks and gloves.
Instead of high-fives, members are encouraged to communicate their enthusiasm and encouragement with a thumbs-up.
All members are given individual disinfectant spray bottles and cleaning towels. We encourage you to clean up after yourself.
We've installed social distancing lines to demarcate individual workout pods with individual equipment. This allows you to work within your socially-distanced zone without spreading your droplets.
Once you're done with your workouts, we encourage you to leave immediately to prevent crowding the waiting room.
We deep-clean all equipment and surfaces twice a day with hospital-grade products. All high-touch areas, like the equipment and door handles, are sanitized regularly.
You should pack light and carry only the essentials because we've temporarily closed the locker rooms.
Please bring reusable and refillable bottles for the water fountains.
We won't be providing any towels, so please bring your own.
We've closed the showers temporarily to ensure complete safety.
Members are encouraged to stay at home if they're feeling unwell, have been exposed to someone sick, or displaying signs or symptoms of COVID-19.
Sweat440 is ideal for strength training, free weight training, personal training, and group fitness classes.
Sweat440 provides the best group fitness classes in Montreal because we combine strength training, free weight training, personal training, high-intensity interval training, core training, and cross-training for supercharged workouts that target all your muscle groups, ensuring full-body and holistic development. Our fitness center is equipped with the latest cutting-edge training devices, including rowers, assault bikes, sleds, battle ropes, suspension trainers, etc. As such, whatever your fitness goals might be, you can achieve them through regular Sweat440 classes.
Sweat440 distinguishes itself with a unique workout structure. Each Sweat440 training class comprises 4 fitness stations, each covering 3 sets of 3 exercises for a total of 10 minutes. Once you take your place in the first fitness station, you have to perform each exercise according to the countdown clock, taking only 10 seconds of break between each set. Once you're done with the first fitness station, you can move to the second fitness station and repeat the process. As you move from one fitness station to the next, the successive groups take their places in your prior fitness stations. This circuitous training style ensures everyone can attend a Sweat440 class within 10 minutes.
Besides cutting-edge equipment, a dynamic workout program, and flexible group fitness classes, Sweat440 is ideal for personal training. Even though we don't offer personal training exactly, our group fitness classes are led by certified fitness trainers who guide you through the entire workout plan, correcting you whenever necessary. You can also talk to the fitness expert to modify the scheduled workout plan according to your unique training needs and goals. Sweat440 also provides a unique weekly training program that addresses all major muscle groups:
Monday: Shape — Lower Body
Tuesday: Shred — Upper Body/Core
Wednesday: Sweat — Core/Conditioning
Thursday: Shred — Lower Body/Core
Friday: Shape — Upper Body/Core
Saturday: Warrior — Total Body Conditioning
Sunday: Warrior — Total Body Conditioning
Schedule a free strength training class at Sweat440, Montreal.
Sweat440's Montreal gym is located at 5000 Rue Jean-Talon O, a short walk from the Jean-Talon/No 5000 bus stop and the City of Montréal Police Department– Station #26. We provide free trial sessions to all first-timers, so please schedule an appointment to claim your free sweat session today.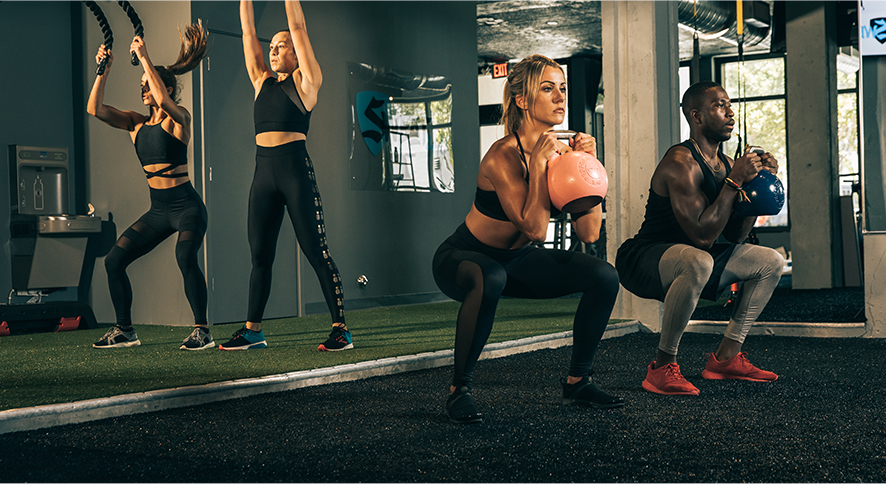 Strength Training Classes at a Gym Near Me
Sweat440 Safety Standards
Pre-bookings for classes.
Arrival within 5 minutes of the class.
No-contact temperature checks.
Mandatory PPE for the staff.
Thumbs-up instead of high-fives.
Regular disinfection and deep-clean with hospital-grade cleaners.
Individual, socially-distanced workout pods.
No lockers, towels, or showers.
Sweat440 Group Fitness Classes Schedule
Monday: Shape — Lower Body
Tuesday: Shred — Upper Body/Core
Wednesday: Sweat — Core/Conditioning
Thursday: Shred — Lower Body/Core
Friday: Shape — Upper Body/Core
Saturday: Warrior — Total Body Conditioning
Sunday: Warrior — Total Body Conditioning