The Best Gym Near Me in Miami for Fast Results
It's springtime in Miami! Time to enjoy the longer, sunnier days with beautiful sunsets and Bougainvillea in full bloom. As much as we love spring in Miami, for some people, it also creates a bit of panic. Beach days are upon us and those New Year's fitness resolutions may not have come true. If swimsuit season snuck up on you quicker than you'd like, don't stress, Sweat440's Miami group fitness classes get you swimsuit-ready for South Beach in no time!
Sweat440 is the Gym Near Me in Miami for Quick Results
Some people think a personal trainer or boot camp will deliver the quickest results. But in reality, most personal trainers have limited space in their schedules, and most boot camps aren't customized to your individual needs. At Sweat440, we implement the benefits of personal training and boot camp but deliver them in a far more effective way.
First, our classes pack the most powerful workout into 40 minutes, so you burn the most calories in the shortest amount of time. Each class includes 4 10-minute stations with 3 sets of 3 exercises each. In other words, we make you sweat, and we put that sweat to work creating your best beach body. Our classes target your VO2 Max, which means you keep burning calories long after the class is done. A shorter workout with more calories burned? That's the definition of quick results!
Each Sweat440 class includes a certified instructor that offers personalized training throughout your entire workout. We pair that with animated demos at each station so you always perform to the best of your ability. We use high-intensity interval training (HIIT) which alternates periods of high intensity with periods of rest to target maximum caloric expenditure.
Unlike boot camps that force everyone to work at the same level, our classes are designed for all fitness levels. That means, if you're an elite athlete, our classes will quickly grant you exponential power, and if you're a beginner, you'll quickly feel like a pro. No matter where you are on your fitness journey, Sweat440 creates change fast.
Sweat440 Tones Your Whole Body Efficiently
How do we do it? We start by offering full-body workouts that target key areas each day. That means you'll burn tons of calories and sculpt your physique in each class, but we hone in on different parts throughout the week so you can effectively create change. Some gyms' full-body workouts pay brief attention to each body part in every class, never maxing out any of them. But our classes vary throughout the week, so you get a comprehensive workout that works each muscle group to its full potential.
Want to tone your thighs, sculpt your glutes, pump up your pecs, or build your biceps? Our classes will do that. To get maximum results in minimal time, join Sweat440 where every part of the body gets undivided attention. Our classes rotate between SHAPE, SHRED, SWEAT, and WARRIOR modes, each targeting different areas like upper body, lower body, and core. Even better? Each class provides a superior core workout, since we know the core affects your whole body's athletic ability, not to mention, we know you want abs for the beach!
Sweat440 Helps You Lose Weight and Build Muscle Fast
Our HIIT classes utilize compound cardio circuits so you build muscle while torching calories. Most workouts focus on cardio or weightlifting separately, but Sweat440 combines them for quicker results. You could spend hours at another gym doing cardio and resistance individually with inferior outcomes, or you can try Sweat440's method that's equally effective at both.
Our state of the art equipment allows you to safely and efficiently blend anaerobic and aerobic movements to take fitness to the next level. We bring elements of workouts like rock climbing, skiing, cycling, and yoga into our format that fuses each movement with interval training for incomparable results. Our innovative technology includes ski ergs, assault bikes, sleds, sliders, suspension trainers, and versa climbers to add diversity of movement and keep your body on its toes. The results? A fit body in half the time and prevention from ever getting bored in our gyms!
At Sweat440, You Can Start Free Today!
Ready to get fit and fab? Good news! We have a class starting in a few minutes! At Sweat440, our classes always start every 10 minutes, 7 days a week, so you don't have to wait another minute to get fit! We offer free trial classes and month-to-month memberships, in fact, you can even buy one class at a time. We don't issue contracts or hidden fees, so you can get fit on your own terms. Got a minute? Step into Sweat440 in Miami, conveniently located near the Brickell City Centre, and step out fitter in 40 minutes! It doesn't get any quicker than that​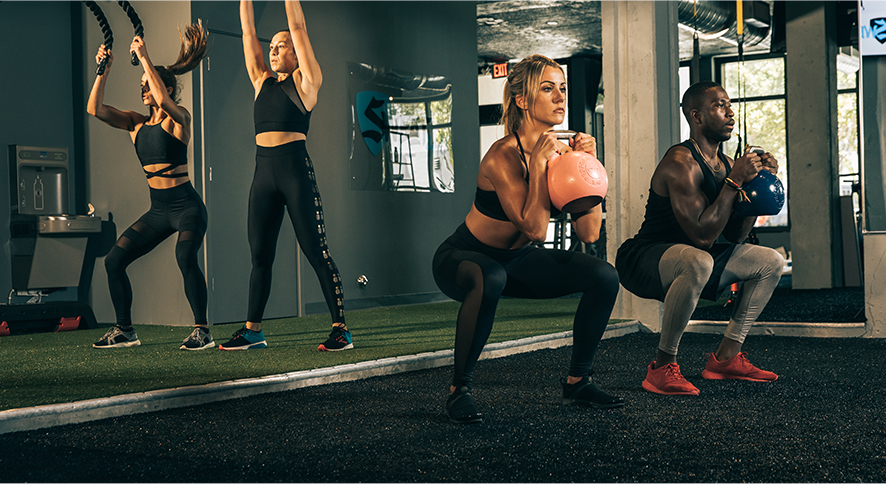 Sweat440: The "Gym Near Me in Miami" That Gets it Done!
How Sweat440 Provides Rapid Results
Sweat440's classes start every 10 minutes to fit in your schedule.
Sweat440's classes use HIIT techniques for quicker impact.
Sweat440's classes combine cardio and resistance to pack a punch.
Sweat440's classes burn more calories in a shorter time period.
Sweat440's classes help you burn calories even at rest.
Sweat440's classes are conveniently located so you don't waste time.
Sweat440's classes build muscle and burn calories equally.
Sweat440's classes devote special attention to each muscle group.
Sweat440's classes are great for all fitness levels, so you can start now!
How Other Gyms Slow Your Progress
Other gyms have limited classes on their schedules.
Other gyms have varied results with inconsistent methods.
Other gyms keep cardio and weightlifting separate.
Other gyms burn less calories even in longer workouts.
Other gyms' classes stop burning calories once they're done.
Other gyms may only have one inconvenient location.
Other gyms only emphasize certain things like cycling.
Other gyms don't focus attention on each individual muscle group.
Other gyms aren't equally fit for beginners and elite athletes.