What Makes Sweat440 the Best Gym Near Me in Gables?
Gyms, personal training sessions, and group fitness classes are in high demand in Coral Gables, FL. While you can probably find dozens of gyms and workout programs in your neighborhood in Miami Beach, you may have a slightly harder time finding the right gym or training program.
We live with an abundance of extremely specific choices. You have spin classes, traditional weightlifting gyms, personal trainers, CrossFit, and a wide range of other workout styles and programs. But we believe most of those programs come with certain limitations.
Spin classes focus mostly on burning calories. Traditional gyms lack direction, structure, and specificity. Personal training classes can be costly. CrossFit classes take their members to their limits, which may be dangerous in some situations. We believe Sweat440 is currently the best gym near me in Gables, FL. Our Miami Beach gym offers trainer-led group fitness classes that provide the perfect combination of strength training and high-intensity interval training (HIIT). Our group fitness classes are structured such that each session starts every 10 minutes, ensuring you're never late for a class.
In this article, we give you a detailed overview of the workout program at Sweat440 and what makes it one of the best gyms in Miami Beach, Florida.
Description of the Workout Program at Sweat440 Gym Near Me in Gables
Sweat440 provides 40-minute group fitness classes that start every 10 minutes. Our primary goal is to make fitness accessible to those who lead busy lives. Since our group fitness classes start every 10 minutes, you don't have to plan your day around the class, and you're never late. You can show up whenever you get the time and join the upcoming session. Furthermore, each group is relatively small, comprising 3-4 individuals, which means our certified personal trainer can focus on you, offering personalized advice, much like a personal training session.
So how does this work exactly?
Each Sweat440 group fitness class consists of four 10-minute stations. Each station consists of 3 sets of 3 exercises. You have to follow the on-screen prompts taking you through each set of exercises with clockwork precision. Each set lasts for 45 seconds, followed by a 15 seconds recovery period. Once you're done with the 3 sets of 3 exercises in station A, you move on to station B. Meanwhile, the next group will take their place in station A. After 10 minutes, you'll move to station C, and the next group will advance to station B, clearing off station A for a new group. This structure ensures that a group fitness class starts every 10 minutes and ends in 40 minutes.
Each 40-minute class includes a combination of cross-training, strength training, and high-intensity interval training. As such, we aim to burn fat, build muscle mass, and boost your metabolism simultaneously. Sweat440 handles every aspect of your physical fitness, which means you don't need to join other gyms.
Through the week, we aim to target every single muscle group on your body.
Monday: Shape — Lower Body
Tuesday: Shred — Upper Body/Core
Wednesday: Sweat — Core/Conditioning
Thursday: Shred — Lower Body/Core
Friday: Shape — Upper Body/Core
Saturday: Warrior — Total Body Conditioning
Sunday: Warrior — Total Body Conditioning
Qualities of the Sweat440 Gym Near Me in Gables
Sweat440 is one of the best gyms in Miami Beach for the following reasons.
Never Late: Each group fitness class starts in intervals of 10 minutes, which means you're never late. You don't need to schedule classes in advance; show up whenever you're available and join the upcoming session.
Group Fitness Classes: Traditional gyms and weightlifting classes are fairly solitary efforts. Sweat440 offers group fitness classes where you can follow a pre-designed schedule and format that's perfectly optimized to make you feel the burn and target all your muscle groups and full-body conditioning. Furthermore, group fitness classes are also more effective because you're training with other individuals, which provides greater motivation to push yourself.
Small Groups: One of the biggest issues with group fitness classes is that the trainer's attention may be divided because of a large group. However, because of Sweat440's structure, we ensure that each group is relatively small, allowing the trainer to offer personalized advice.
Whole Body Training: At Sweat440, we combine various forms of exercise, including HIIT, cross-training, and weight training. As such, our workout programs offer well-rounded whole-body training.
Safe Techniques: In the past decades, research has shown that pushing yourself past your limit is actually counter-intuitive. Engaging in a random assortment of lifting practices will increase your risk of knee injuries, wrist injuries, back injuries, and other forms of injuries that may keep you away from the gym for extended periods or even cause lasting damage. At Sweat440, we ensure that you reach the peaks of your physical fitness while using safe practices suitable for long-term development.
State-of-the-Art Infrastructure: Sweat440 gyms are equipped with the latest state-of-the-art equipment such as rowers, battle ropes, suspension training, assault bikes, sleds, and many more.
No Contract: Sweat440 doesn't try to lock you in with contracts. You can work out with us for as long as you want.
Flexible Membership Options: We offer a wide range of affordable membership options, both for individual sessions or monthly memberships.
Start your Fitness Journey Today!
At Sweat440, your first session is free! You can contact our front desk for your first trial session, which will give you a feel for our workout structure at no cost. Drop by and claim your free trial class from a Sweat440 gym near me in Gables today!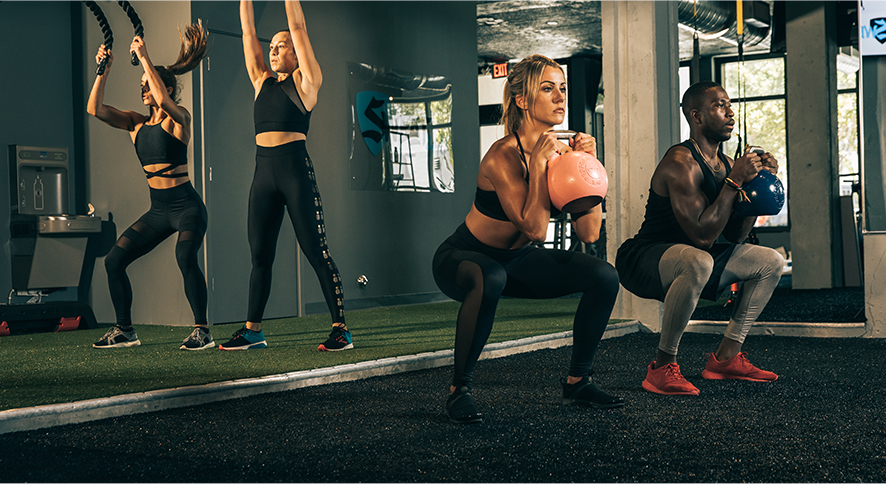 Sweat440: The Best Gym Near Me in Gables
What Makes Sweat440 The Best Gym in Coral Gables
You're never late because each session starts in intervals of 10 minutes.
We offer group fitness classes led by certified fitness trainers.
Our 40-minute classes combine cross-training, weight training, and HIIT for a full-body workout.
Sweat440 prioritizes safety over all else.
Our Sweat440 gyms are equipped with the latest state-of-the-art equipment.
We don't lock you into contracts.
We offer multiple membership options for flexibility.
You can also drop in for a free trial session.
Sweat440 Gym Locations in Florida