What Happens at Sweat440 Gym Near Me in Coral Gables?What Happens at Sweat440 Gym Near Me in Coral Gables?
Are you looking for a "gym near me in Coral Gables, FL"? If so, we believe you should definitely check out one of Miami Beach's hottest fitness clubs — Sweat440.
You can probably find a lot of different types of gyms in Coral Gables. If you want to burn calories and fat, you may go to spin classes. If you want to build muscle mass, you may consider a CrossFit location. But it's hard to find group fitness classes in Coral Gables that offer a well-rounded workout program that burns calories, increases muscle mass, and increases your metabolism all at the same time.
That's where Sweat440 comes in. One the hottest new gyms in Miami Beach, Sweat440 has a workout program that combines elements of strength training, cross-training, and High-Intensity Interval Training (HIIT) in a single supercharged 40-minute workout.
You don't need to alternate between different gyms around Coral Gables to achieve your full-body fitness goals. Sweat440 is the only well-rounded fitness program you need.
In this article, we will give you an overview of what happens at Sweat440 gym near me in Coral Gables and why it's the best gym in Miami Beach.
How to Sweat it Out at Sweat440 Fitness Club
Sweat440 is a challenging 40-minute workout that combines elements of cross-training, strength training, and HIIT for full-body development. Our classes are programmed to simultaneously reduce fats and burn calories while increasing muscle mass. As such, Sweat440 is the best fitness club for those who want to get ripped in a safe environment.
One of the greatest aspects of the Sweat440 workout program is that each new session starts in intervals of 10 minutes. Our workout program consists of 4 10-minute fitness stations, each of them taking you through 3 sets of 3 exercises. As you move from Station A to Station D, the next group will follow behind you, which enables a new group to join Station A every 10 minutes. This module ensures that no one is ever late for their group fitness class. No matter when you show up, you'll have a slot ready within 10 minutes.
Sweat440 also liberates you from having to curate your workout plan. Our certified fitness experts have curated a 7-day workout program that targets every single muscle group. The following is our daily schedule:
Monday: Lower Body (Shape)
Tuesday: Upper Body/Core (Shred)
Wednesday: Core/Conditioning (Sweat)
Thursday: Lower Body/Core (Shred)
Friday: Upper Body/Core (Shape)
Saturday: Total Body Conditioning (Warrior)
Sunday: Total Body Conditioning (Warrior)
As you may notice, our workout programs are divided into four subcategories based on their goals:
Shape: These are days when we focus on conditioning, shaping, and toning.
Shred: These are days when we focus on resistance and weight training to help you get lean and ripped.
Sweat: These days are combinations of HIIT and core exercises to make your body achieve maximum oxygen consumption (VO2).
Warrior: These are days when we combine all of the aforementioned styles into a single full-body heart-pounding workout.
Why Sweat440's Workout Program is the Best in Coral Gables
True High-Intensity Interval Training (HIIT) with Strength Training
High-Intensity Interval Training (HIIT), i.e., short bursts of intense exercise followed by a slow recovery period, is widely hailed as one of the most effective workout programs around.
They can help you reach your VO2 max capacity, which is measured in the milliliters of oxygen consumed in one minute per kilogram of body weight (ml/kg/min). Studies have also found that a short duration of HIIT burns more calories than steady cardiovascular exercises for extended periods. Furthermore, you continue burning calories even after the workout.
Most HIIT-based workout programs only focus on burning calories and lower body exercises. Sweat440, however, combines HIIT with elements of strength training and weighted resistance training to ensure muscle mass development as well. To that end, Sweat440 is also equipped with some of the latest state-of-the-art devices like assault bikes, sliders, and suspension trainers to help you target different muscle groups.
Group Fitness Classes instead of Personal Training
Sweat440 provides some of the best group fitness classes available. You get to work out with other people, which motivates you to do better and push yourself. Furthermore, since you follow a program created by experts, you don't have to put time and effort into creating a program for yourself.
However, there are two common complaints made against group fitness classes. First, they freeze you into a specific time slot, and you have to schedule your day around your fitness class. Second, group fitness classes usually have too many participants, which means you don't get enough attention from the trainer.
Sweat440 overcomes those challenges by creating group fitness classes that include some of the greatest benefits of personal training sessions. Our group fitness classes start every 10 minutes and you don't need to schedule a class in advance. As such, you can fit the group fitness class into your schedule without complications. Furthermore, because of the rotation system, we have small groups, which means you'll have the trainer's undivided attention.
Flexible Membership Plans with a Free Trial
Sweat440 offers some extremely flexible membership plans. You can schedule a specific number of classes or you can join the fitness club on monthly memberships. Unlike most gyms, we don't lock you into a contract either.
Furthermore, we also offer a free trial session to newcomers. As such, if you're curious, feel free to drop by a Sweat440 gym near me in Coral Gables today!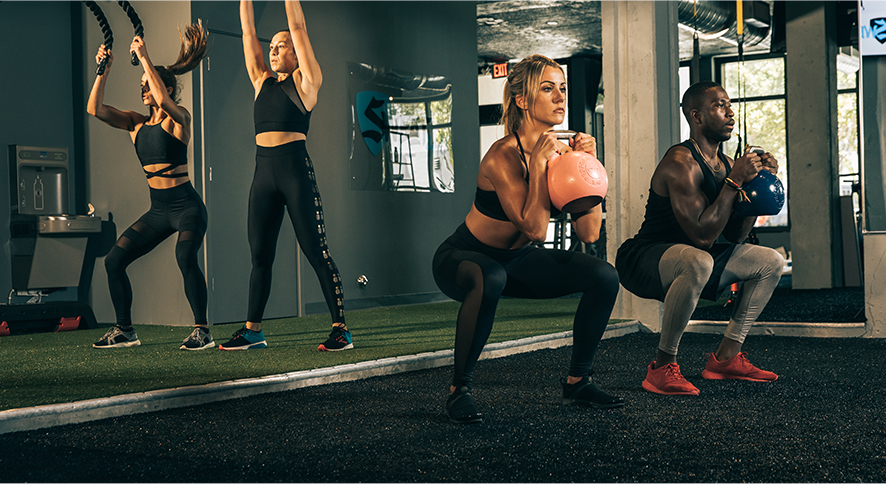 Sweat440: The Best Gym Near Me in Coral Gables
Advantages of Training at Sweat440 Gyms
Affordable memberships with free trial.
Lots of gyms in Miami beach.
You're never late for a class.
Full-body workouts that include elements of HIIT, weight training, and cross-training.
Use state-of-the-art equipment.
Group fitness classes for additional motivation.
Disadvantages of Other Gyms
Other HIIT programs don't focus on muscle growth.
Personal training is costly.
Most group fitness classes necessitate that you come at specific times.
Most group fitness classes have too many people.
Traditional gyms require you to curate a workout program for yourself.