The Best Gym Near Me in Brickell for Weight Training
Do you like to pump iron? Do you lift to look like the Incredible Hulk, or are you in favor of a sleeker physique? Weightlifting has the potential to grant you a superhero's build, a competitive lifting trophy, or even just less jiggly triceps. The benefits are endless with weight training and extend well beyond building muscle. But not all gyms treat weight training the same, so it matters where you flex your reps. Sweat440 combines science and innovation to offer a weightlifting experience with superior outcomes. Whether you curl 5-pounders or squat like Schwarzenegger, Sweat440 will give you the pump you seek.
What Kinds of Gyms are Best for Weight Training?
Gyms That Prevent Injury
The weightlifting gyms of the 80s were synonymous with grunting, weight-slamming, and veins bulging out all over your body. Big hair, tiny shorts, and tanning-bed bodies crowded those gyms where intimidation reigned. But research revealed that uninformed lifting practices led to things like knee injuries, back injuries, and conditions like rhabdomyolysis. Power lifting is now only advised for athletes who specialize in specific individual training. Even so, risks are still prevalent. Choose a gym like Sweat440 that's up to date on safe lifting.
Gyms That Use the Latest Research
The good news is, you don't need to lift a car, squat an elephant, or bench 1,000 pounds to sculpt a stellar physique! Some of the most muscular athletes like Thor's Chris Hemsworth use functional exercises like bodyweight squats, lunges, and burpees to stay in shape. The best gyms offer weights and resistance exercises that build muscle without destroying joints and ligaments. Sweat440 combines weights like dumbbells and kettlebells with certified techniques and functional exercises to maximize muscle the smarter way.
Gyms That Don't Intimidate
If you are new to weight training, Sweat440 welcomes you, rather than intimidating you. In fact, those who are new to weightlifting are given extra attention to ensure proper form. We also provide animated demos at every workout station, so you always know exactly what to do. Our trainers stick with you throughout every class so you are never on your own. We help you reach goals you never thought possible! If you're already an adept lifter, we inspire exponential growth with high-tech equipment like suspension trainers, sliders, and versa climbers to create muscle confusion, pushing you past plateaus.
Gyms With Group Fitness Classes
Weightlifting was traditionally a solo effort- just you and the mirror and a barbell, with maybe a spotter nearby. But fitness always excels in the presence of healthy competition. Group fitness classes are both inspiring and engaging, helping you reach new heights. When you start to feel the burn, classmates cheer you on to push through. When you need accountability, classmates text you to turn off Netflix and get yourself to the gym! And classes provide certified instructors who know how to help you lift safely. How effective is your solo weight training routine when you're laid up with a hernia or ruptured disc? Group fitness is the safest and most energizing way to reach your weight training goals.
Sweat440: The Best Weight Training Gym Near Me in Brickell
How Sweat440 Provides Effective Weight Training in Brickell:
Training Frequency– Our gyms provide high-intensity interval training (HIIT) classes that start every 10 minutes. No matter what time you like to lift, we have a class ready for you. Our classes are just 40 minutes, so you don't overtax your muscles, preventing a workout the next day.
Perfect Intervals– Within those 40 minutes, we pack a powerful punch! Four 10-minute stations include 3 sets of 3 exercises performed at high intensity, with brief periods of rest in between. This allows you to use your muscles for maximum effort, then regroup and do it again. Improper intervals yield less power in lifting, so Sweat440 implements perfect intervals.
Innovative Equipment– We use a combo of innovative resistance tools like slam balls, sleds, rowers, ski ergs, and ropes in conjunction with traditional tools like dumbbells to keep your muscles guessing. Our members achieve superior results with the diversity of weight training methods we employ.
Certifications and Expertise– Our certified instructors help you push past perceived limits while keeping you safe and in best form. We inspire you to achieve greater fitness and prevent boredom in your routine. Our highly sought-after trainers work with beginners all the way to pro athletes to produce incomparable results.
How Sweat440 Provides Affordable Weight Training in Brickell:
No Contracts– While some gyms lock you into a contract before you even know if you like them, Sweat440 never locks you in at all. We want fitness to be affordable for everyone, so we don't charge initiation fees or require annual contracts.
Multiple Membership Options– You can come train for one individual session or buy multiple classes at a time. We don't make you book a ton of classes or charge if you have to miss one. We also provide enough classes that you always get your money's worth.
Free Classes– At Sweat440, your first week is free, so you can start weight training now at no cost! We're excited to meet you and help you reach your goals. Some people think perks like an infrared sauna or juice bar add value to gyms, but what's more valuable than a free workout class?
Free Personalized Training– Each of our classes includes personalized instruction for no additional fee. With weight training, it's important to seek professional assistance. You wouldn't go it alone in martial arts or a cycle class, and with weight lifting, coaching is even more essential. Unlike those other classes, we provide training for free, saving you money and preventing costly injuries.
Multiple Locations– Finding a "gym near me" in Brickell also makes fitness affordable. You save both money and time eliminating a lengthy commute. When your gym is in a convenient location, you also make the most of your membership. Sweat440 has a location in Brickell, near SunTrust Bank, as well as locations in Coral Gables, Doral, and South Beach. Come weight train with us today!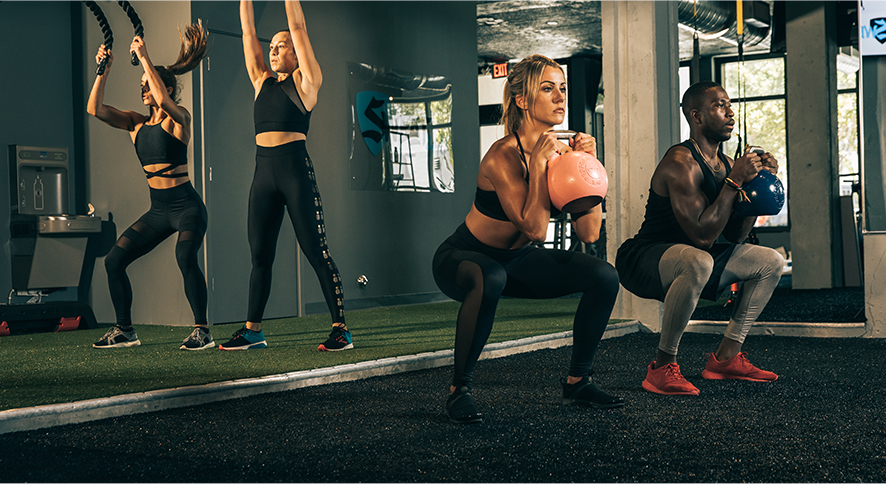 How to Choose a Weight Training Gym Near Me in Brickell
Inquire About the Gym's Weight Training Methods
Look for diversity of equipment, not just free weights.
Ask about available trainers and their cost.
Seek trainers with certification and expertise.
Look for an environment of inclusion for all fitness levels.
Choose a gym that values instruction and latest research.
Inquire About the Gym's Fitness Options
Choose a gym with multiple membership options.
Ask about contracts and additional fees.
Select a gym with group classes for better results.
Look for a class schedule that works for you.
Make sure the gym is nearby to save money and time.