How to Find the Best Gym Near Home?
The location of your gym or fitness center is crucial. Going to the gym regularly requires immense commitment and strength of will. The gym's convenience is a crucial determining factor in whether you're regular with your workouts. The last thing you need is to fuel the excuse, "I don't have the time." You can find the time if your gym is 5 minutes from your home or on the way to your work. If you have to go out of your way for the gym, you're more likely to say, "I'd love to go, but I don't have the time." Besides being close to your home, it should also be close to public transportations, increasing its accessibility in case you don't have a car.
However, finding a gym near home isn't all that matters. You're just as likely to give up on the gym if they don't have a proper workout program, are too expensive, or have bad training systems and outdated gym equipment. This article describes all the factors to consider when looking for the best gym near home for regular workouts.
Factors to consider when you're looking for the best gym near home.
Quality of Gym Equipment: You must find a gym with state-of-the-art gym equipment, including cardio stations, rowers, assault bikes, sleds, battle ropes, etc. The gym must also have a wide range of free weights that allow you to scale up effectively.
Versatile Training Systems: You should avoid specialty gyms that focus on one or two specific aspects of fitness, like core training, or cardio workouts, or leg workouts. Instead, you must find a gym with versatile training systems that address all aspects of fitness, including strength training, cardio workouts, high-intensity interval training, core training, cross-training, etc. The gym must also have a training program that targets all major muscle groups throughout the week. You shouldn't have to find multiple gyms to achieve full-body and holistic fitness.
Amount of Space: You should avoid small basement-style gyms that pack a hundred people in cramped spaces. If you're not comfortable working in the gym or need to wait several minutes to access the limited gym equipment, you're a lot more likely to give up. The amount of space within the gym matters — find a large gym with sufficient gym equipment.
COVID-19 Protocols: In 2020, you should also find a gym that follows all COVID-19 safety and sanitization protocols. The gym should accept limited members at all times, have social distancing pods, and they must disinfect their entire space frequently.
Flexible Memberships: You must find a state-of-the-art gym with flexible and no-contract memberships. Avoid gyms that trap you into inflexible years-long memberships that you're stuck paying for even when you're not working out.
Introducing Sweat440, the best gym near home.
Sweat440 is one of the best gyms for regular workouts because it meets all the requirements mentioned above. Sweat440 provides 40-minute group fitness classes that ensure holistic physical development through a combination of strength training, core training, cross-training, conditioning, steady-state cardio workouts, and high-intensity interval training. Our workouts plans are supervised by trained fitness experts, and our weekly schedule targets all major muscle groups at least twice every week.
Sweat440 also follows the strictest social distancing and sanitization protocols to prevent coronavirus from spreading. We encourage all members to pre-book their classes, allowing us to limit the number of members in our gym facilities at any given time. We have mandatory temperature checks and PPE equipment for all gym members and Sweat440 team members. We also provide individual workout pods with social distancing lines to ensure you work out safely, minimizing contact with other members. After you're done, we encourage all members to leave immediately to prevent overcrowding.
You can find a Sweat440 gym in the following locations.
Schedule your free trial session at a Sweat440 gym near home today.
Sweat440 provides free trial sessions to all first-timers. If you live in an area close to a Sweat440 gym, feel free to claim your free sweat session whenever you want.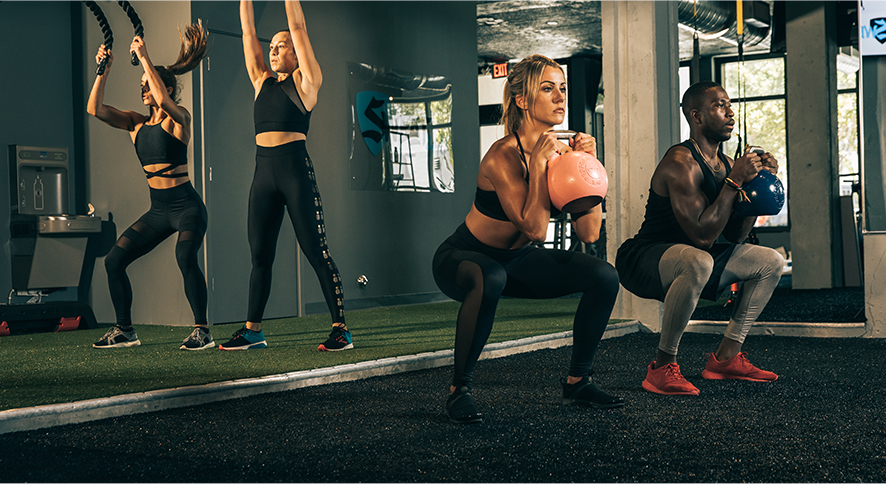 Qualities of the Best Gym Near Home
State-of-the-art quality of gym equipment.
Large amounts of space to prevent overcrowding.
Convenient location near home.
Versatile training systems that ensure holistic workouts.
COVID-19 sanitization and social distancing protocols.
No-contract and flexible gym memberships.