9 Questions to Help You Pick a Gym Membership Near Miami
1. Why Do You Want to Join a Gym?
Take a minute to assess why you're considering a gym membership near you in Miami. Do you want to lose a few pounds before summer on South Beach? Are you trying to increase your cardiovascular health? Do you want to enhance your muscle definition? Are you seeking connection with other fitness-minded friends? The answers will point you toward the right kind of gym for you. Sweat440 Brickell has something for everyone, including personalized training, a group fitness community, and powerful HIIT workouts for all fitness levels.
2. Do You Enjoy Group Fitness Classes?
Some gyms in Miami don't offer group fitness classes at all, while others charge extra for them, and many have long wait lists for each class. If the camaraderie of other classmates is important to you, make sure you choose a gym that has plenty of classes for everyone. Sweat440's classes begin every 10 minutes and they're uniquely designed so that you can jump right in, whether you're a novice or an Olympian. The trainers in our classes circulate continually to assist each member and make sure your workout is both safe and highly effective.  
3. Is Personal Training Important to You?
Have you always wanted to hire a personal trainer? Personal training in Miami can be quite expensive, and it's also difficult to get an appointment because the demand exceeds the supply of qualified trainers. Sweat440 solves this problem by conducting small group classes led by trainers who offer personalized instruction, for no additional fee. Our HIIT workouts are divided into 4 10-minute stations, incorporating 3 sets of 12 different exercises. As such, each member can move at their own pace and crank out their own number of reps, making the workout highly customized. Our trainers guide you each step of the way and we supplement their instruction with demonstrations of each exercise on video screens at each fitness station.   
4. Do You Prefer Small Group Fitness Training?
Small group fitness training fuses all the best aspects of exercise into one powerful package. Training with a group adds motivation, energy, and accountability to your workouts. Keeping the group small allows trainers to provide one-on-one attention to each participant throughout the class. And the pandemic has proven that there are even more benefits to smaller fitness classes. Sweat440's HIIT classes are smaller in capacity than other gyms in Miami and we rotate groups out every 10 minutes, so members benefit from a fitness community, stay socially distanced, and get individualized attention from their trainer.  
5. Do You Like an Express Circuit or a Leisurely Workout?
What's your workout style? Do you like to crush a session in under an hour, or take your time meandering from one machine to another? Studies show that varied intervals of intensity are best, meaning you should definitely crank out your best efforts, but also alternate that with periods of lower intensity to reap the most rewards. Interval training is key to maximizing both calorie burn and muscle gains, and it also helps prevent poor form and injury. Sweat440 provides this perfect ratio, with 45-second express circuit exercises, interspersed with 15 seconds of rest. Our classes are designed to suit your preferences and provide incomparable results.
6. Which Monthly Memberships Can You Afford?
Monthly memberships include different things at different gyms. It's important to calculate the monthly dues but also to read the fine print in order to determine the true cost of membership. Do the monthly fees include classes or personal training? Do they cover lockers, towels, and parking? Are there initiation fees, annual fees, or cancellation fees? Are the monthly dues subject to increase at the owner's discretion? Some gyms use low monthly fees to lure customers in and then saddle them with hidden fees. Sweat440 offers transparent pricing: no contracts, no annual, initiation, or cancellation fees, and no minimum purchase. Our amenities are included, along with personalized training in every class. You only pay for the classes you take, and never the ones you miss.
7. Do You Want State of the Art Equipment?
Some gyms have been in Miami for decades. But a recognizable gym isn't necessarily a reputable one. Some of the older gyms lack state of the art equipment, expert trainers, and even basic amenities. If you want quick results, choose a gym with modern equipment and instructors trained in the latest fitness methods. Newer machines and techniques deliver rapid results with less risk of injury or plateau. Sweat440 utilizes Ski Ergs, Versa Climbers, Assault Bikes, and more for an innovative workout that works in half the time.  
8. Are Massage Chairs and Smoothie Bars Your Thing?
Some Miami gym memberships charge extra to cover the cost of housing things like smoothie bars, massage chairs, and spas. But you probably aren't joining a gym to get a massage, so you shouldn't bear the cost of that to get a good workout. Join a gym where you get what you pay for, rather than paying for things you don't actually need from a gym. Raw Juce and Massage Envy are just across the street from Sweat440 Brickell. So, if you want a smoothie or a massage after your workout, it's super convenient, but you don't have to pay for those things in your monthly gym membership.
9. Do You Want a Contract and Start Up Fee or a Free Trial?
Many gym memberships in Miami require a start up fee, initiation fee, or annual contract before you can try the facility. Others require you to purchase a minimum number of classes in order to join. But each gym has its own vibe, and some gyms don't live up their hype. Make sure you choose a gym that offers a free trial, with no strings attached, so you can decide if it's right for you. Sweat440 Brickell offers free classes for everyone without a start up fee. And it's not just one specific class you can try. Choose from any of our classes that start every 10 minutes, 7 days a week. Our unique formula allows both beginners and pros to fold into the class seamlessly, with the help of our expert trainers. Come try a free class at Sweat440 and see why it's the best gym membership in Miami.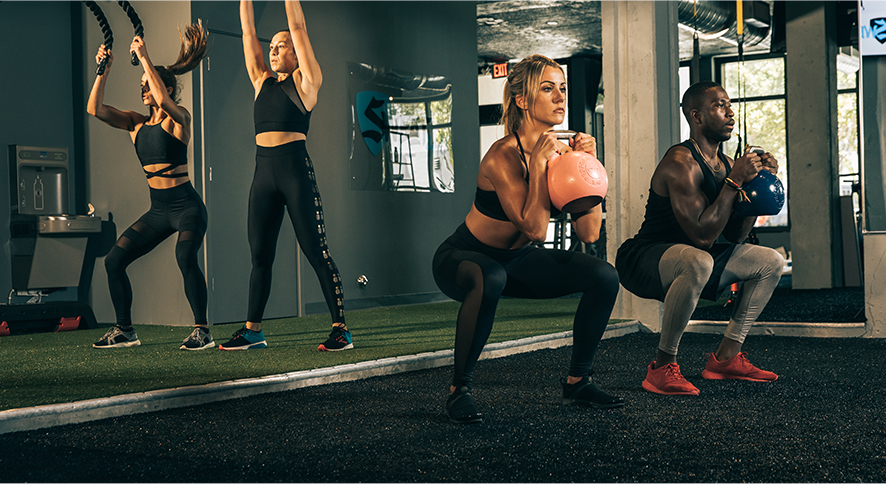 Differences Between Miami Gym Memberships
Pros of a Sweat440 Brickell Membership:
No start up fees, annual fees, or contracts
No penalties to cancel
Free classes for all first-timers
Free personal training in HIIT classes
Small group training for custom workouts
Environment that's welcoming to everyone
Classes for all types of athletes
Workout method aligns with your preferences
No fees for amenities you don't need
Ample classes for every member
Cons of Some Miami Gym Memberships:
Start up fees and binding contracts
Cancellation fees and hidden costs
Extra fees for each amenity
Long wait lists in group fitness classes
Personal trainers cost extra
Classes aren't suited for all fitness levels
Unwelcoming space for beginners
No free classes before you join
Fitness classes are generalized, not customized
Outdated equipment and training methods