6 Options for Gym Membership Near Jean Talon That Suit Everyone
Have you spent time looking into "gym membership near me in Jean Talon," but still feel uneasy about taking that step? It's likely because you're uncertain whether you'll like the gym or whether it's worth the investment. Many gyms lock you into frustrating contracts, so it makes sense that you'd be cautious about signing up. Sweat440 near Jean Talon offers a better option– in fact, we offer 6 better options for gym membership, so you have total control and flexibility in your membership.
1. Free HIIT Fitness Class- $0
A good gym membership near Jean Talon should offer you a free trial. Sweat440 Montréal does that and more. Our free trial is not just a pass to visit the gym. It's a free high-intensity interval training class, led by our renowned instructors, who give you a real picture of what it's like to work out in our gyms. You don't have to sign a contract or join our gym in order to take a free HIIT class, so it's the ultimate in member flexibility.
Choose from any of our classes that start every 10 minutes, 7 days a week.
You have no obligation to join or buy additional classes after your free trial. This is the optimal way to ease into a gym membership, especially if you're new to gyms in general. You'll have 90 days to use that free class, once you request one. That's plenty of time to fit a workout into your life, so you can choose the best day and time and the class that interests you most.
2. Single Sweat Session- $25
After your free trial, you can "join" Sweat440 if you choose to, but you still won't have to sign a contract. We don't use contracts whatsoever, nor do we charge initiation, annual, or cancellation fees. Each individual sweat session is just $25, which is a fraction of what you'll pay at other gyms in Montréal. Since we don't charge membership dues, that $25 is all you'll pay to work out in our gym.
These single sweat sessions are valid for up to a month after your purchase. You'll never have to miss a class or cancel a session; you can simply come when it's convenient for you. Since our classes start every 10 minutes, you can even attend one a little later than you intended if your schedule fills up. Our scheduling app, front desk team, and helpful trainers make it easy to come whenever you can.
3. Unlimited Classes Per Week- $32
Once you try Sweat440, you'll become an instant fan, since it's the best workout you'll find in Canada! We offer a huge discount to our devotees; it's just $32 per week to come as many times as you like! Our HIIT classes rotate each day of the week, so there's always something new. We offer SHAPE classes to tone either upper or lower body; SHRED classes to amp up muscle definition in either your lower or upper body; SWEAT classes to torch fat and calories; and WARRIOR classes for a full-body workout.
All of our classes have a distinct emphasis on your core, no matter what other muscle groups we target that day. Since our schedule rotates, you can work out 7 days a week at Sweat440 and impact different muscles every day. All of our classes engage your VO2 Max, and EPOC, which means you'll burn maximum calories, while you build muscle. Want to refine each one of your muscles? This is the perfect membership for you. All-you-can-sweat for 7 days costs just a bit more than a single class!
4. 4 Visits Per Month- $80
Is your schedule busy and unpredictable? Is it tough to know when you'll get to the gym each week? This is the perfect gym membership near Jean Talon to give you flexibility with your workouts. Come once a week, if that works for you, or fit in a workout whenever you can– maybe it's 3 times a week, followed by a couple weeks of business travel, and then you have time for one more session before month's end.
This type of membership auto-renews, so you don't have to think about staying current. You can simply attend to your busy life, knowing those 4 visits await you whenever you can fit them in. This plan saves you $20 from buying 4 classes individually, so it's a great investment that won't make you feel overcommitted. You can always add more classes if time allows, but this might be the perfect amount for you.
5. 8 Visits Per Month- $100
Are you organized with your workouts? Do you know that you'll be able to hit the gym every Tuesday and Thursday night while your kids are at soccer practice? Are you a weekend warrior that crushes your workouts on Saturday and Sunday? If you know that twice a week is your magic number, this is a great membership option for you. Since our classes repeat all day, and change each day, you don't even have to commit to certain days or times.
You might come twice a week, or you might come at random intervals that align with your work and social obligations that month. Sweat440 never charges for classes if you need to skip or reschedule. You simply retain that credit until you're able to come in! You have all month to use the 8 visits in this package, so the choice is totally yours!  
6. 10-Pack of Classes- $200
This use-as-you-go option allows you 3 full months to use 10 HIIT classes. Highly flexible, you can complete all 10 sessions in a week or two, or spread them out over 90 days to accommodate your schedule. This is another great way to save $5 per class, without committing to an annual gym membership like you would at other fitness centers near Jean Talon. Our membership options are designed with every budget and fitness schedule in mind.
No matter how often you visit the gym, Sweat440 has the perfect membership option to keep you from wasting any money. Since you only pay for the classes you take, you save a bundle compared to the fees you'd accrue at other gyms. Give us a call, book a free trial online, or stop by our gym at 5000 Rue Jean-Talon Ouest, near the Jean-Talon/No. 5000 bus stop, to see which membership option works best for you!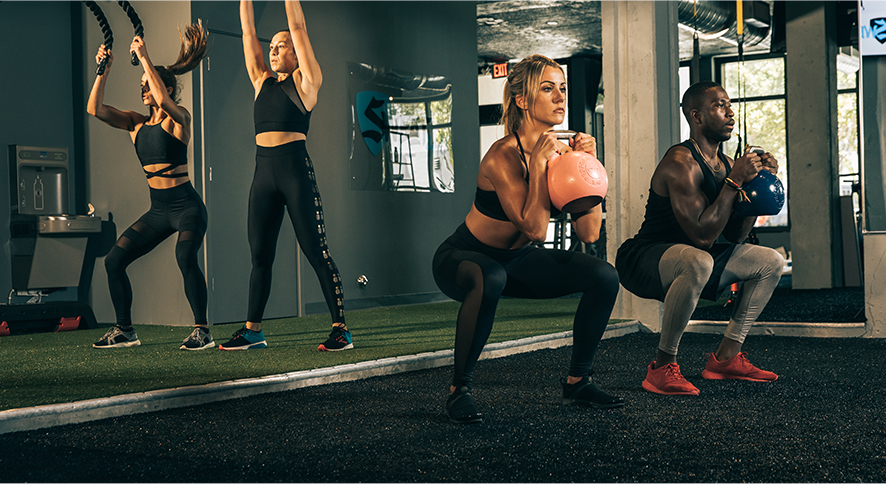 6 Flexible Ways to Join Sweat440
Free trial class- $0
Single session- $25
Unlimited membership- $32/week
4 classes per month- $80
8 classes per month- $100
10-pack of classes- $200
Take a free class
Buy one class at a time
Buy a 4-pack to save $5 per class
Buy an 8-pack to save $12.50 per class
Buy an unlimited pass to save up to $143/week
Buy a 10-pack that lasts 90 days