7 Reasons to Start a Gym Membership Near the Gables
1. Align Career Goals With Your Fitness Goals
Coral Gables is one of the most beautiful cities in Florida. But it's also one of the most productive. It's home to the headquarters of Fresh Del Monte, Steiner Leisure, Florida East Coast Industries, and Brothers Property Corporation, and also hosts countless financial, hospitality, and real estate companies, lending a constant bustling energy to the city. If you work in the Gables, you know that spare time is a luxury, so you need a gym nearby to expedite your fitness. Join Sweat440 in Coral Gables to advance your fitness while also advancing your career. Our 40-minute HIIT classes provide an incomparable workout that gets the job done in half the time, so you won't miss a thing at work.
2. Align Personal Training With Your Schedule
Depending on where you live, a commute to your job in Coral Gables can take well over an hour. Traffic is unpredictable, which makes it tough to schedule a personal trainer. You might have an appointment to train before or after work, but an accident on I-95 or the Palmetto Expressway derails that plan. Instead, join a gym right near where you work, so you don't waste money on missed training appointments. Better yet, join Sweat440, where personal training is free in every class and classes start every 10 minutes, so you're #never late. We won't charge you if you're running late; you simply take the very next class. Personal training that revolves around your schedule? You'll only find that at Sweat440!
3. Align Group Training With Your Social Life
Coral Gables residents work hard, but they also love to socialize. So why not blend two great things into one, to squeeze more hours out of your day? At Sweat440 Coral Gables, all of our workouts are small group training classes. You can work out with your best friends before retail therapy at the Shops at Merrick Park. Or grab your workout buddies and knock out a quick sweat session before grabbing tapas at Tapeo Eatery & Bar or La Taberna Giralda. With our hospital-grade, EPA-approved sanitizing procedures and individual workout pods, socializing is safe and simple at Sweat440 Coral Gables.
4. Align Fitness With Philanthropy
With the little extra time you have on the weekend, you shouldn't have to choose between taking care of your health and caring for others. At Sweat440 Coral Gables, we offer 40-minute WARRIOR classes on both Saturday and Sunday for a full-body workout that doesn't cut into your day. You'll still have plenty of time to lend a hand at the Coral Gables Community Foundation, Beauchamp Charity Foundation, or your favorite charitable organization. Since our HIIT workouts burn twice the calories of other workouts, in less time, you don't have to sacrifice one good thing for another.
5. Align Exercise With the Arts
Is your favorite artist or play premiering at Actor's Playhouse at the Miracle Theatre, UM Maurice Gusman Concert Hall, or GableStage at the Biltmore? You don't have to skip a workout in order to attend your event. Sweat440 has towels, showers, lockers, and all the amenities you need to head out for the evening after you exercise. Skip the headache of sitting in traffic to go home and change before your event. We've got all the necessities, including a selfie station, so you can look your best at your special event. Whether you're heading to a family day at Coral Gables Museum, or a black-tie affair, Sweat440 is located near all of the cultural hotspots and offers everything you need to prepare.
6. Align Fitness Costs With Your Budget
Living in Coral Gables can be expensive, so you don't want a gym that depletes your spending money. Sweat440's affordable, flexible membership options keep you from having to choose between a HIIT class and a night out with friends. We offer unlimited monthly and weekly plans, and you can also buy an individual class, or a package of 10, so you have total control. We don't use contracts or annual fees or initiation fees, so you truly just pay for the classes you attend. With state of the art equipment, free personal training in each class, and a superior HIIT method, Sweat440 is the best deal you'll find in Coral Gables.
7. Align Workouts With Positive Feedback
Some gyms in Coral Gables have an air of exclusivity. But studies show that intimidation in the gym actually prevents people from going back. Rather than choosing a gym membership near the Gables that feels like an elitist club, choose one that welcomes new members of all fitness levels. Trust us, it's much better to join a gym you'll actually go to, if you want to see results. Sweat440 has top-tier trainers, cutting-edge equipment, and excellent amenities. What we don't have is an attitude of superiority. You'll feel at home immediately in our friendly, upbeat gyms. From inspiring trainers, to encouraging classmates, to invigorating music, you'll leave happier each time you come to Sweat440. Try a free class today!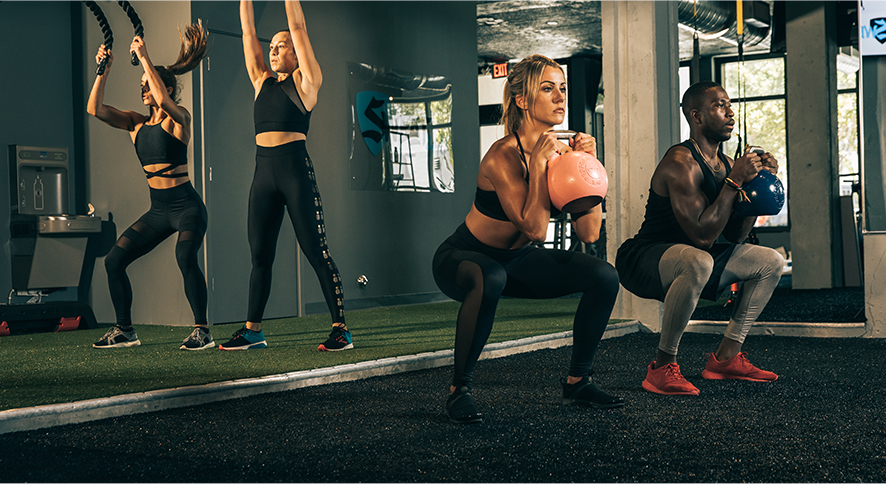 7 Reasons Why You Should Join Sweat440 Coral Gables
7 Benefits of Our Coral Gables Gym Location:
Aligns career goals with fitness goals
Aligns personal training with your schedule
Aligns group training with your social life
Aligns fitness with philanthropy
Aligns exercise with the arts
Aligns fitness costs with your budget
Aligns workouts with positive feedback
7 Free Classes to Try at Sweat440 Coral Gables:
WARRIOR- total body weekend workouts
SHAPE- lower body and core-driven workouts
SHAPE- compound circuits for upper body shaping
SHRED- agility, plyometric, & TRX upper body circuits
SHRED- metabolic conditioning for lower body & core
SWEAT- heart-pounding interval training & core work
OUTDOOR- full-body workout in open air