7 Aspects of the Best Gym Membership Near FIDI
On the hunt for a new "gym membership near me in FIDI?" Sweat440 near FIDI has the 7 essential attributes of a great gym membership. Come check us out for free! And read on to see what makes a gym worthy of joining.
1. Personal Trainers Are Part of the Package
There's really no substitute for personal training. Customized workouts, led by inspiring fitness pros, are key to consistent gym attendance and quick results. However, most gyms in NYC either don't have personal trainers or charge an astronomical fee to train with one. At Sweat440, personal training is seamlessly incorporated in each of our group fitness classes, free of charge. Our personal trainers circulate throughout each small group session, providing individualized feedback, recommendations, and accommodations to suit your abilities. Our members absolutely love the personalized instruction they receive for free in every single one of our HIIT classes.
2. Small Group Fitness Classes Are Guaranteed
Group fitness classes have countless benefits, perhaps the most important one being that they are more enjoyable than exercising alone. No matter how hard you train at the gym, if you hate your workouts, you aren't likely to stick with them. When you're in a small group environment, you feed off the energy in the room and the team mentality of everyone pursuing a common goal. Slogging through a solo treadmill workout simply doesn't compare to a community sweat session bubbling with enthusiasm. However, the average gym membership near FIDI doesn't guarantee that you'll get a spot in a class. Many FIDI gyms have lengthy wait lists and prioritize certain members for class access. If you're new to the gym, you might get stuck waiting forever to join a class. But Sweat440 near Madison Square Park has classes every 10 minutes, so everyone is guaranteed a group fitness class, every day of the week.
3. The Training Method Actually Works
You might assume that all gyms produce results, but in reality, results vary widely, depending on the training method, equipment, and staff. You should seek a gym like Sweat440 that uses high-intensity interval training (HIIT) if you want guaranteed results. Since HIIT is as effective for burning calories as it is for building muscle, it's a perfect fit for members of all fitness levels with various fitness goals. Research proves that HIIT works as well for older people, even cardiac rehab patients, as it does for the youngest and fittest athletes. Since Sweat440's HIIT classes use individual training stations, divided into 45-second sets, the workouts are highly customizable. Our instructors make sure you're working at the right intensity and with the right resistance to achieve peak fitness.  
4. Membership Fees Provide Unlimited Access to Workouts
The average gym in NYC charges annual fees, membership fees, initiation fees, and then additional fees to use amenities or access things like group fitness classes or personal trainers. Instead, join Sweat440, where all you pay for is the actual class you take. There are no contracts, annual fees, initiation fees, or extra fees for classes or trainers. Our unlimited access model means you can take as many classes as you like, and you're never charged for things you won't use or classes you miss. You aren't required to purchase a set number of classes or book classes months in advance. You only pay for the actual workout, and personalized training is included!
5. Functional Training Is Incorporated
Many of us join a gym to gain strength, lose weight, or improve our general health. But our daily lifestyle is also enhanced by working out. Whether you're logging long hours at your desk, hunching over your phone scrolling through social media, or clenching your jaw through tense meetings, our lifestyles take a toll on our skeletal, muscular, and nervous systems, and functional training seeks to improve that. Choose a gym with instructors who adapt exercises to meet your needs and provide an upbeat atmosphere to counter those physical stressors. Sweat440 is a gym fueled by positivity and functional training exercises to improve your overall health.
6. Amenities Are a Courtesy
Some FIDI residents are swayed by gyms with a long list of amenities, without realizing that those are just money-making tools for certain gyms. If you have to pay for every basic thing you use at the gym, it's not a member-focused fitness center. Some gyms even charge for the upkeep of amenities like pools, tennis, and basketball courts, even if you don't use them. Choose a gym that doesn't charge for amenities you don't need and considers things like locker rooms, towels, and showers a courtesy to their members. You should be paying to get fit, not to have the pool cleaned or the smoothie bar staffed, if those aren't part of your fitness routine.
7. You Can Cancel Anytime Without Penalty
Most gyms lock members into complicated contracts that are tough to cancel. They also typically require several months' notice to cancel your gym membership and even charge cancellation fees. Sweat440 doesn't believe in "trapping" members into paying even after they leave. At our gyms, you can cancel anytime, no questions asked, and no penalties assigned. We understand that people move and health issues pop up, and we want our members to know they aren't stuck if they need to cancel. With locations throughout the world, we'll also help you find another Sweat440 near you, if life takes you out of NYC.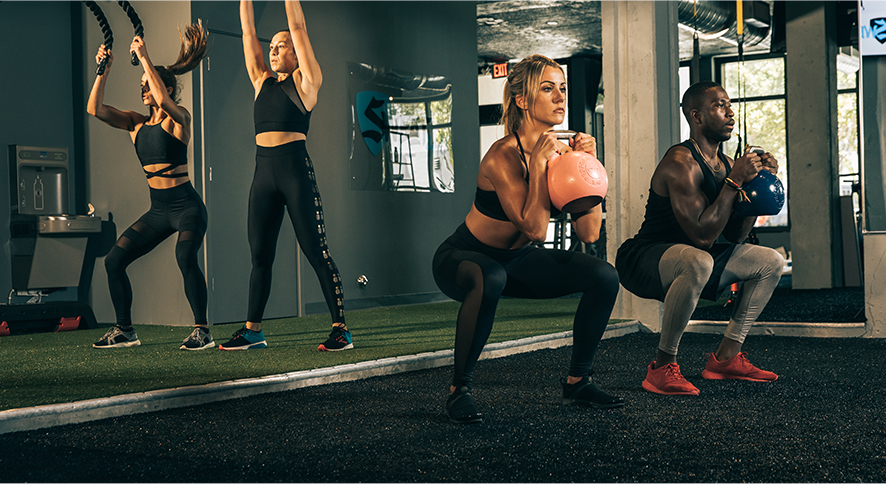 Want the Best Gym Membership Near FIDI?
7 Key Attributes of Good Memberships:
Personal trainers included
Available spots in fitness classes
Training method truly works
Unlimited access to workouts
Functional training incorporated
No charge for unnecessary amenities
Cancel promptly without fees
7 Free Sweat440 Classes to Try:
Warrior- Total body conditioning class
Shape- Upper body and core workout
Shred- Lower body and core session
Sweat- Core and conditioning workout
Shred- Upper body with core emphasis
Shape- Lower body class
Outdoor- Full body workout in fresh air