5 Reasons Sweat440 Is the Gym Membership Near Doral for You
1. Sweat440's Fitness Classes Are for Everyone
One of the top reasons to try a Sweat440 gym membership near Doral is the all-inclusive fitness classes. Each of our classes takes a high-intensity interval training (HIIT) approach to fitness, which is the best way to burn fat while also building muscle. Our group classes are uniquely designed to include everyone because of how we execute our sweat sessions.
Each of our classes is led by a qualified trainer who guides you through the entire workout. We make sure you're positioned correctly and using the right resistance to maximize results safely. Since our trainers circulate, rather than remaining at the front of the class, we're able to assist each and every participant, from the rookies, to the pros, as they tackle our HIIT workouts. We complement this training with demonstrations of each exercise displayed on screens at every station.
If you're new to HIIT, we guide you through expertly, so you always know exactly what to do. If you're a seasoned HIIT fanatic, we'll take your athleticism to new heights with our unparalleled expertise. Since our classes combine cardio with resistance, we deliver superior results that surpass the outcome from HIIT workouts you'll find online or in less equipped gyms that only dabble in HIIT.
2. Sweat440's Fitness Classes Have Openings All Day
A second reason Sweat440 is the best gym membership near Doral is our incomparable class access. Most gyms only offer a class once or twice a week. Sweat440 offers each class all day long, beginning in 10-minute intervals, so you can hop into a class literally any time of day. You'll never have to miss your favorite class due to traffic or unexpected delays!
Our classes last 40 minutes, so you can maximize your efforts and still be done in under an hour. You don't have to plan weeks in advance in order to secure your spot in a class. You can book online, call ahead, or just stop by, and we'll rotate you right in. We offer the most efficient gym schedule in Doral, and also the most effective. We make sure you're always in a small group so you get that personalized instruction that you need. Our scheduling system keeps capacity low for social distancing and less exposure in times like a pandemic.
3. Sweat440's Personal Training Is Totally Free
Another thing members love about Sweat440 in Doral is that our personal training is completely free with each fitness class you take. Most Doral gyms charge a fortune for trainers, who are typically all booked up. Our founders are trainers themselves, so they created a better solution for Doral residents.
All of our classes are led by trainers who customize your workout for no additional fee. They'll help you burn the most calories, sculpt the most muscle, and build the most endurance without charging anything extra. Our instructors love seeing results as much as you love getting them and they're passionate about helping members achieve their fitness goals. If you want personal training, as well as group fitness, Sweat440 is the best deal in town!
4. Sweat440's Interval Training Is Second-to-None
Our gyms are equipped with individual workout pods where you move throughout 4 distinct workout stations. Each station lasts 10 minutes, but it's divided into segments of 45-second intense bursts, followed by 15-second rest periods. In total, you'll complete 36 sets– 3 sets of 12 different exercises, all within 40 minutes. This rapid transition between exercises and levels of intensity keeps your muscles guessing and your blood pumping so you maximize calorie burn and continue burning calories for hours afterward. Our specific ratio of intensity to rest ensures that you make the most of each movement in our gyms.
Our interval system allows you to perform at a higher level for a longer period so you reach heights you never thought possible. Members consistently leave 5-star reviews on social media concerning their rapid, enduring results achieved at Sweat440. While some Doral gyms offer a HIIT class here and there, our gym is a dedicated HIIT facility, led by HIIT pros who teach HIIT all day, 7 days a week. If you want the best HIIT, there's no other choice but Sweat440 Doral. Studies show that HIIT boosts workout motivation, so come get pumped with us!
5. Sweat440's Group Training Is for All Fitness Levels
Some gyms in the Miami area are intimidating for beginners. There might be a lack of instruction, an air of elitism, or a shortage of classes for newcomers to join. Many new members feel anxious at a new gym, regarding things like how to use the equipment or how to keep up in a class that's too advanced for them. Sweat440 is the total opposite. We love adding new members to the family, and we never leave you to figure things out on your own. Our trainers are an integral part of each class, assisting you at every station. If you're brand-new to HIIT, or to gyms in general, Sweat440 is a great place to start.
On the other hand, if you're an old pro at the gym, Sweat440 offers something new for you too! Our equipment is state of the art, providing a new dynamic for your workouts that yields faster returns. Our Ski Ergs, Versa Climbers, Assault Bikes, and more take a compound cardio approach that reveals and improves muscle tone with every session. Our trainers are constantly changing the routine, so your muscles don't get complacent or shift into muscle memory. There's no such thing as a plateau in our high-energy gyms where every day presents a different set of classes than the day before.
Come try Sweat440 Doral risk-free, contract-free, and cost-free today! We offer free classes for everyone, and you can choose which one to try! With our convenient location near Downtown Doral Park, it's easy to give fitness a go at Sweat440!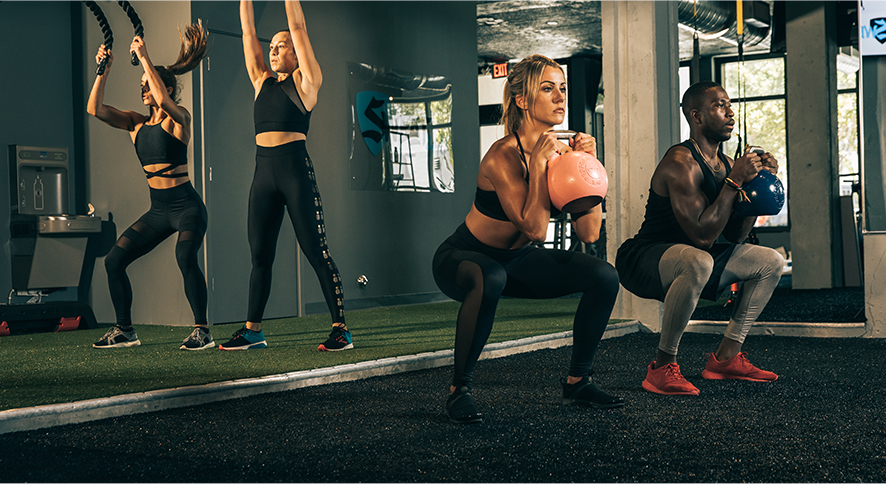 5 Reasons to Try a Sweat440 Doral Gym Membership
5 Member Benefits at Sweat440:
Our fitness classes include everyone.
We have class openings all day long.
Our personal training is free in classes.
Our interval training is second-to-none.
Our group fitness is for all fitness levels.
5 Free Advantages to Sweat440:
We offer a free trial class to everyone.
We provide free training in every class.
We have free amenities for members.
Our memberships are free of contracts.
You are free to quit at any time.