Which Gym Membership Near Me in Chelsea Is Right for Me?
Wondering Which Gym Membership Is Right for You?
If you're excited by the prospect of joining a gym, but confused by the various options, you're not alone. There are many fitness centers in NYC, but they aren't all suited for everyone. Sweat440 Chelsea offers multiple membership options without an annual contract, so you can try our gym with no strings attached. Click HERE to learn more about our groundbreaking gym, or ask yourself the following questions to find the gym that's right for you.
What Are You Looking for in a Gym Membership Near Chelsea?
Have you thought about what you want from a gym, besides a fit physique? Are you interested in working with a personal trainer or taking group fitness classes? Do you want state of the art equipment or high-tech fitness machines? Are you hoping to meet new neighbors or connect with a workout partner? Do you care about amenities like locker rooms, showers, and towels? Are you concerned about gym sanitization? Do you want unlimited access to instructors and trainers while you're there?
It's important to identify your non-negotiables before you tour a gym. Otherwise, you might get caught up in a sales pitch and sign up without checking all of the essential items off your list. Sweat440 in Chelsea isn't pushy or salesy about new members joining our gym. We offer free classes so you can see what we're all about, and our trainers guide you through the workout, answering any questions you have.
Sweat440 offers everything you could ask for in a gym: innovative equipment (including digitally animated demos at each station), inclusive HIIT classes, inspiring personal trainers, and spotless facilities with all the amenities you need. Our gym helps you connect with your Chelsea neighbors safely in a highly sanitized, socially distanced workout space. Designed for every fitness level, our personalized training is included in each class to customize your workout plan.
Which Gyms Have You Already Tried?
Before you sign up for a new gym membership in Chelsea, consider what you've already tried. Did you try pilates, but found it boring or lacking in cardio? Did you invest in spin classes, but found them overcrowded, monotonous, or lacking an upper body component? Did you try a large chain gym but found it impersonal, uninspiring, or plagued with waitlists for classes and machines? Determining what you didn't like about other methods of fitness in Chelsea helps identify your optimal workout plan.
A gym with varied workout classes, diverse equipment, and personalized training infused in each group fitness class is the key to staying motivated and achieving superior health and fitness. Sweat440 Chelsea offers unlimited access to try any class you want, every day of the week. You can book online, use our scheduling app, call ahead, or stop in and let our friendly staff add you to a class. Each of our classes is led by encouraging personal trainers who use high-intensity interval training methods to produce fat-burning and muscle-building results you won't find anywhere else. Once you try our method, you'll understand why those other gyms didn't work and you'll make Sweat440 your fitness home.  
What Prevents You from Working Out?
It's not just the caliber of the gym that determines your results, but also your commitment to working out. The life of a New Yorker is never dull, so there's no shortage of things that can cut into your gym time. Rush hour traffic, never-ending Zoom calls, kids doing school from home… there are plenty of things that cramp your schedule. Most people say a lack of time, lack of motivation, or cost of a gym membership near Chelsea are what prohibit them from working out. Sweat440 aims to fix that.
Our gym owners understand everything life throws your way. Sweat440 offers classes every 10 minutes, so you're #neverlate, no matter what pops up. We're steps away from convenient transit stops like the 18th St. and 14th St. Metro Station. We don't charge for cancellations, nor do we charge annual fees or initiation fees, so your gym costs are solely determined by how many times you hit the gym. Lack of motivation? That's not a thing at Sweat440. Stop into one of our classes and try NOT to be inspired. Inspiration is unavoidable. Our high-energy, music-filled, upbeat classes will motivate even the most reluctant participant!  
What Are Your Ultimate Goals With a Chelsea Gym Membership?
Do you want to lose weight, bulk up, lean out, get cut, improve endurance, or increase flexibility? What is the ultimate goal you want to reach? Some gyms simply can't do it all. Spinning studios aren't great for building muscle. Pilates studios won't enhance endurance. Bodybuilding gyms aren't designed for weight loss. Ideally, you want a HIIT gym like Sweat440, since high-intensity interval training is as effective at building muscle as it is at shredding fat.
Sweat440's exercise stations provide personalized training specific to your goals. Your speed, resistance, and reps are determined with your endgame in mind. What you do in your 45-second sets will be different than other classmates with different goals. Choosing a gym with HIIT fitness classes led by qualified instructors is the quickest way to cross any fitness finish line. Try a free class today with no down payment, initiation fees, or obligation to join us. Like the other fans of Sweat440 fitness in Chelsea, you'll see that this is the gym where you were meant to be!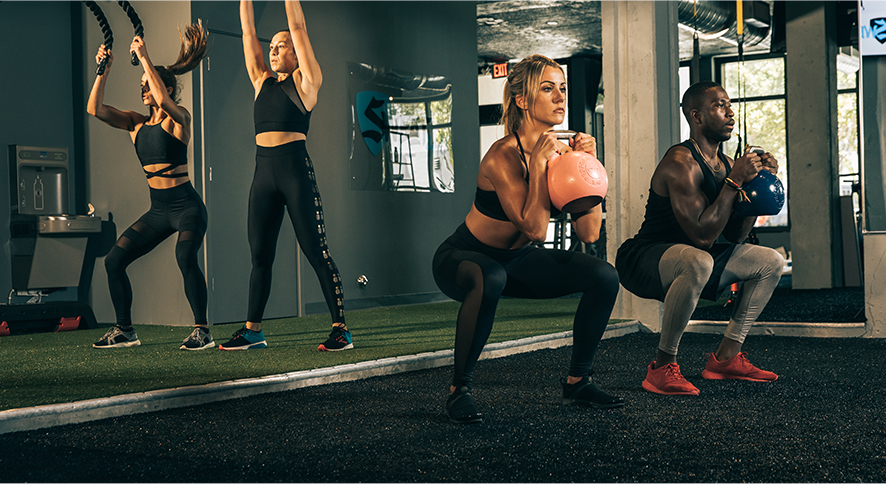 Questions to Ask About a Gym Membership Near Chelsea
5 Questions to Ask Yourself:
What environment do I want in a gym?
What features (locker rooms, personal trainers) matter?
Which prior workout plans didn't work for me?
What prevents me from exercising?
What are my ultimate fitness goals?
5 Questions to Ask the Gym:
Do you offer a free trial?
Do you provide personalized training?
Do you grant unlimited access to classes?
Do you require a year-long contract?
Do you use state of the art tools and techniques?