10 Questions to Ask About Gym Membership Miami Beach
Miami Beach is a city for fitness fans. With the miles of sparkling beaches, sunny days, and exciting nightlife, it's a place where fitness is on full display. The energy of the city beckons you to join in the fun- let's get fit together! But before you sign up for just any gym, you should know, they don't all get the job done. Here are 10 questions to ask to determine the best gym membership in Miami Beach for you.
1. Where is the Gym Located?
Accessibility is the key to regular exercise. If you have to fight rush hour on I-395, you might not make it to your gym class on time. And if your gym is across town from a meeting that runs long, you might have to choose between fitness or other obligations. Look for a gym like Sweat440 with multiple locations near Miami Beach so your workout is always close by.
2. Does It Offer Monthly Memberships?
Many gyms lock you into lengthy contracts that are difficult to get out of. Avoid gyms that don't offer free classes or free trial periods to see if they're a fit. Try a gym like Sweat440 that has no contracts and lets you buy as little as one class at a time. The best gyms offer multiple membership options, including month-by-month, to accommodate different budgets.
3. Is it Affordable?
Look beyond the monthly membership rate. Read the fine print to see if there are initiation fees, down payments, or hidden fees. Do they charge fees when you quit? Do they charge extra for classes and personal training? Do they charge for things like shoes and water, or charge you for classes that you miss? The true cost of a gym factors in all the hidden costs, including the cost of travel and the cost of classes you might never get into. At Sweat440, there are no hidden fees, and all classes include free personalized training. We don't charge for classes you miss, we just pop you into the next one. Unlike other gyms, we aren't looking to empty your wallet, we're looking for ways to add value to your workout, like offering free seminars.
4. Is it Convenient?
Convenience is crucial in our busy lives. We know how many things you have to fit into your day. That's why we only teach HIIT classes, since they provide the most effective workout in the least amount of time. In just 40 minutes, you can bang out a powerful workout and get out and enjoy Miami Beach. With four 10-minute stations we implement 12 different exercises to get you in the best shape of your life. We provide all the other conveniences too, like a locker room, showers, and even a selfie station so you can stay social while you work out.
5. Does It Have Group Fitness Classes?
Working out with a professional instructor and likeminded classmates will push you past plateaus and boost both willpower and performance. At Sweat440, we offer dynamic 40-minute classes every 10 minutes for HIIT fitness at all fitness levels. With our awesome music and upbeat class vibe, you'll get fitter than you ever thought possible.
6. Does It Offer Weight Training?
Weight training is the secret weapon for burning fat and calories, even at rest. Some fitness studios neglect this crucial component of fitness. It's a myth that weight training will only make you bulk up. The right compound cardio circuits with infused weight training create lean muscle mass that boosts your metabolism. Check out Sweat440's innovative techniques to blast fat that utilize kettlebells, dumbbells, and suspension trainers to build muscle.
7. Does It Have a Variety of Cardio Equipment?
Sure, you can tread on a treadmill for hours on end, or pedal a bike until your legs go numb. But, you'll get bored and, worse yet, hit plateaus. Our bodies demand variety of movement to increase fitness, and our minds demand variety to stick with the program. At Sweat440, we keep your body guessing with compound circuit training that includes everything from assault bikes, to sleds, to rowers, to ski ergs and versa climbers. We guarantee there's no boredom or halt to your fitness in our high-intensity interval training (HIIT) classes.
8. Does It Prioritize Health and Fitness?
This might seem like a silly question, but you'd be surprised how many gyms are driven by corporate agendas more than a passion for fitness. Spas, saunas, facial treatments, juice bars, scented candles- they're all nice ideas, but remember, you're paying for them even if you don't use them. Those amenities require square footage and staff. So don't get tricked into paying for real estate and employees you don't really need in your gym. Stick with a gym like Sweat440 where we turn every membership dollar into tangible fitness results. Our founders are trainers passionate about making fitness accessible and effective for all. You get your money's worth at Sweat440.
9. Does it Work With My Schedule?
Don't settle for knowing a gym's hours of operation or whether they offer certain classes. Many gyms are overbooked with people stuck on waiting lists for months at a time. Other gyms are so overcrowded, you can't get a spot on a cardio machine. And some only offer each class once or twice a week, so if you miss, you're out of luck. At Sweat440, our classes start every 10 minutes, so you are #neverlate. Our classes are offered all day long, so you aren't stuck with a certain time that doesn't work. Our schedule is one way we are changing the fitness game- our members can always find a spot in class.
10. Does it Feel Like My Fitness Home?
If you don't love your gym, you won't go- it's that simple. No matter how many members or glowing reviews it has, it needs to be a fit for you. Some gyms are intimidating, isolating, or elitist. Others are dirty, crowded, or outdated. When you walk in the gym, you want to feel welcomed, included, and assisted. Avoid gyms that see you as just a number and don't prioritize acclimating new members. Our classes are designed with everyone in mind, since you perform each station to the best of your own ability. We don't post your scores on the wall like spin classes or ignore you like larger gyms. At Sweat440, we're glad you showed up, and we're sure you'll be back again!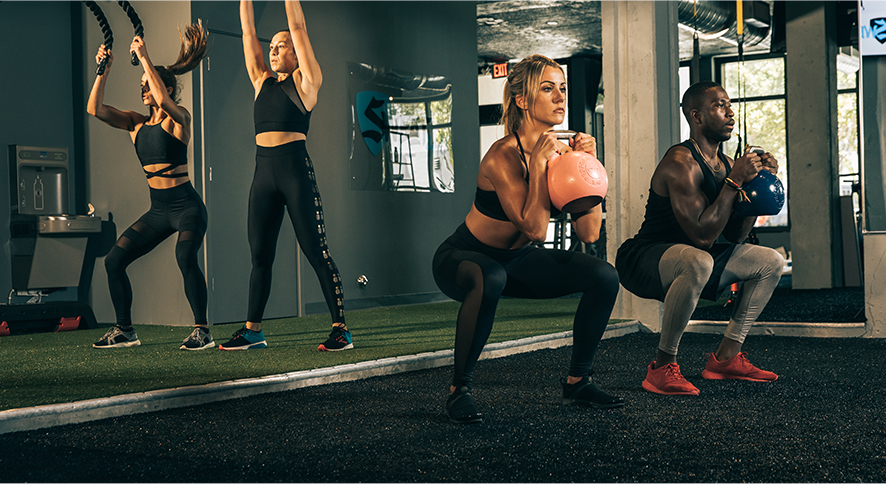 How To Find The Best Gym Membership in Miami Beach
Four Must-Haves for Miami Beach Gyms
It's a fit for you- including location, price, amenities, and environment
It prioritizes fitness- not revenue or unnecessary services
It is inclusive- making classes available and accessible to everyone
It is effective- utilizing certified trainers and proven methods for results
Four Miami Beach Gyms to Try
Sweat440 Miami Beach- located at 1916 Bay Road
Sweat440 Brickell- located at 25 SW 9th Street
Sweat440 Coral Gables- located at 301 Altara Avenue
Sweat440 Doral- located at 8395 NW 53rd Street