Gym Chains for Fitness Training — From the Worst to the Best
If you're serious about your fitness training, you should also seriously consider your training environment. A bad fitness training environment can adversely affect your long-term fitness journey and kill your motivation. It isn't hard to find gym chains for fitness training — you probably have a dozen choices a short walking distance from wherever you live. However, it is hard to find the best or most effective gym chains for fitness training.
But how do you identify bad gym chains? Well, you can usually identify bad gym chains based on how they treat fitness training — do they provide proper support and motivation, or do they treat it like a drive-through fast-food chain? The best gym chains should have personal training options, a curated and structured workout plan, and effective group fitness classes. Furthermore, the best gym chains also avoid legally binding contracts in favor of flexible gym memberships.
This article provides examples of some of the available gym chains for fitness training — arranged from worst to best.
#6. Equinox Sports Club
Equinox Health Club is perhaps one of the most popular (and controversial) gym chains out there. The Equinox Sports Club is a venue for sports and fitness enthusiasts, but it feels more like a high-end luxury resort. Sure, they have some of the best amenities and facilities, including swimming pools, courts, etc. But they charge a premium because you're also paying for things you don't really need, like luxurious toiletries, full-service spa, salons, six full-service restaurants, etc. Sure, if you want to lounge around a luxury resort all day, Equinox is pretty alright — but we believe fitness should be accessible, and it should be about… well, fitness. Equinox Sports Club essentially makes you pay for a whole bunch of luxuries and facilities you probably won't even use.
#5. Anytime Fitness
Anytime Fitness is one of the most expensive gym chains out there. It's a suitable option for those who are constantly traveling because you can use your keycard to access any of its 3,000+ locations across the globe. You're sure to find an Anytime Fitness fitness location wherever you are in the world. However, if you're not a frequent traveler, Anytime Fitness doesn't offer much else. Anytime Fitness is a prime example of a gym chain that treats fitness like fast food — you get free weights and the necessary facilities, but little else. There's no structure, no care and attention, and they do little to ensure you meet your fitness goals.
#4. 24 Hour Fitness
24 Hour Fitness is similar to Anytime Fitness — they're both massive gym chains that have thoroughly embraced that fast food model of fitness training. 24 Hour Fitness is open 24/7, but the amenities and equipment are lacking. Some of the gyms have terrible infrastructure, and they're not staffed 24/7, which means you may not find an attendant to help you if there's an accident. 24 Hour Fitness is primarily meant for free weights training, but they don't provide a structured plan for you to achieve your fitness goals.
#3. Planet Fitness
Planet Fitness is a super affordable gym chain that provides a wide range of equipment and free weights. Unfortunately, that about all that it has going for it — it costs around $10 a month. That's insanely cheap, but you get what you pay for. The equipment is often damaged or outdated, the facility is demotivating, and they don't have group fitness classes. People who workout in Planet Fitness often find it hard to maintain their enthusiasm for long.
#2. Gold's Gym
Gold's Gym is a traditional gym that focuses on free weights and heavy lifting — they have dumbbells that go up to 140 pounds. Gold's Gym is suitable for people who understand exactly what they need to do to achieve their fitness goals, but it's not suitable for those without a deep understanding of fitness programs. It's also worth noting that Gold's Gym ties you into an inflexible and legally binding one-year contract — we believe you should be free to leave gyms whenever you want.
#1. Sweat440: Best Health Club for Personal Training, Group Fitness Classes, and Free Weights
Sweat440 is the best health club for long-term fitness goals, suitable for beginners and experts alike. Sweat440 provides 40-minute group fitness classes divided into four 10-minute fitness stations, each comprising 3 sets of 3 exercises performed with clockwork precision. They have certified fitness experts on-premises to offer the guidance and motivation you need — you get the benefits of personal training without paying an exorbitant amount for a personal trainer. Furthermore, Sweat440 group fitness classes are designed as such that you can join a new class every 10 minutes, so you're never late for a fitness class. Sweat440 gyms are currently available in New York, Florida, Texas, and Montreal — find your nearest gym center to claim a free trial session today!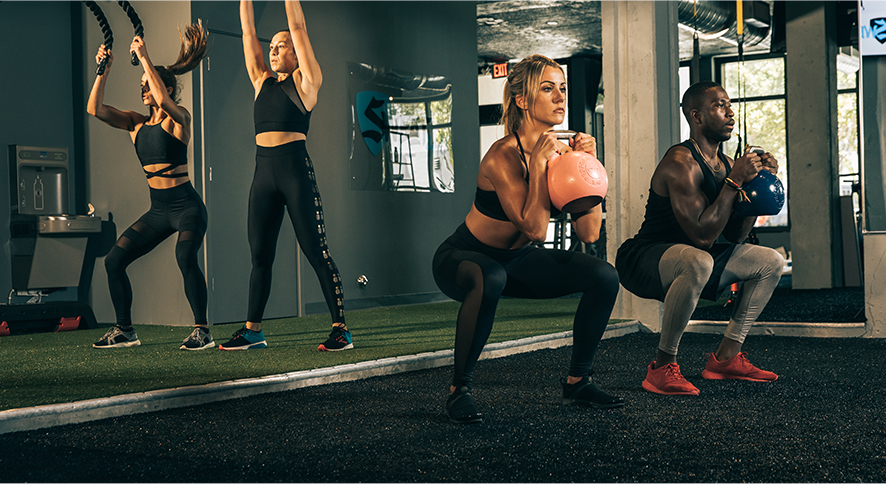 Gym Chains for Fitness Training
#6. Equinox Sports Club
#5. Anytime Fitness
#4. 24 Hour Fitness
#3. Planet Fitness
#2. Gold's Gym
#1. Sweat440
Sweat440 Fitness Locations