Sweat440: The Best Gym Center Near Me with Social Distancing Measures
"I've been looking for a gym center near me, but I'm concerned about COVID-19." Recently, we've been getting a lot of messages that follow a similar sentiment. COVID-19 lockdowns have made most people abandon their fitness goals, but now that gyms are opening up again, you may wonder where you can get gym memberships without risking COVID-19 transmission.
Sweat440 follows the most effective social distancing measures and protocols to keep you safe. We aim to help you resume your fitness journey and set up actionable fitness goals, without falling prey to coronavirus along the way. Studies show that sitting around at home without exercise poses grave health concerns — amongst other things, prolonged inactivity increases your risk of coronary heart disease, mental health problems, and depression.
Sweat440 helps you achieve your fitness goals while following the strictest sanitization and social distancing measures. Furthermore, we provide flexible and no-contract gym memberships, allowing you to leave the gym whenever you want; no strings attached. Please continue reading to learn about Sweat440's social distancing measures, gym memberships, and locations.
Sweat440's social distancing measures.
Cleaning Procedures: We've implemented medical-grade sanitization procedures and protocols across all our gyms to ensure they're as sterile as any hospital, if not more so. Our equipment is constantly sanitized after each use, and we've also implemented defogging disinfectants.
Staff Precautions: Our Sweat440 team goes through no-contact fever-checks before each shift, and it's mandatory for them to wear protective gear, including masks and gloves.
Socially Distanced Training: We maintain social distancing protocols even during classes. We've set a ceiling on the number of members we allow into each group. Furthermore, each small group trains within small pods or fitness stations with clearly demarcated socially-distanced spaces.
Stay-at-Home Guidelines: We've also mandated no-contact fever checks for all the trainees. If you're sick or display any of the signs of COVID-19, we encourage you to stay at home for the general well-being of the entire community.
No Community Spaces: Sweat440 prides itself on its community and social spirit. However, we've temporarily eliminated community spaces, such as locker rooms, showers, and towel use.
No Contact: We encourage our members to replace high-fives with an enthusiastic thumbs-up.
Minimal Time within the Gym: Our group fitness classes last for 40 minutes precisely, and we cycle members out of the gym after every ten minutes. By minimizing the amount of time spent within the gym, we also minimize the risk of transmission.
Sweat440 gym center near me.
Financial District, New York: Our FiDi gym is located near the New York Stock Exchange, a short walk from both the Fulton Street Station and Wall Street Subway Station.
Coral Gables, Florida: Our Coral Gables gym is located in an upscale and prestigious residential neighborhood, close to the Merrick Manor.
Brickell, Florida: Our Brickell gym is located near the 8th Street Light Rail Station and the Brickell train station.
Downtown Doral, Florida: Our Downtown Doral gym is located near the NW 53rd St. and NW 84th Ave. bus stop, a short walk from family-friendly locations like the Downtown Doral Park.
How Sweat440 helps you meet your fitness goals
At Sweat440, we aim to help you meet your long-term fitness goals in a structured and sustainable manner. Our 40-minute group fitness classes take you through four 10-minute fitness stations, each of them guiding you through three sets of three exercises. All the exercises are executed with clockwork-precision, and they take you through various components of fitness, including strength training, core training, cross-training, high-intensity interval training, etc.
Furthermore, our structured weekly fitness plan targets each major muscle group at least twice. The following is our weekly fitness plan:
Monday: Shape — Lower Body
Tuesday: Shred — Upper Body/Core
Wednesday: Sweat — Core/Conditioning
Thursday: Shred — Lower Body/Core
Friday: Shape — Upper Body/Core
Saturday: Warrior — Total Body Conditioning
Sunday: Warrior — Total Body Conditioning
Sweat440 provides flexible gym memberships
Sweat440 doesn't believe in trapping you with legally binding contracts. We provide transparent, affordable, and accessible gym memberships without contracts. You can pay for a single session, a specific number of sessions, or get an unlimited gym membership. You can exit our gym memberships whenever you want, without hassles or contractual troubles. Sweat440 also provides a free trial session — if you're ready to resume or begin your fitness journey, claim your free sweat session today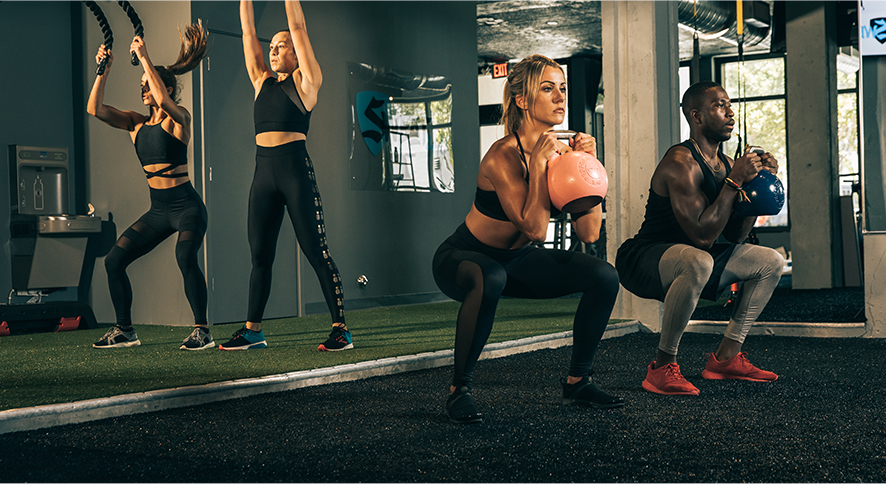 The Best Gym Center Near Me with Social Distancing Measures
Sweat440 Social Distancing Measures
Medical-grade sanitization practices.
Implementation of defogging disinfectants.
Mandatory no-contact fever-checks for staff and members.
Mandatory protective gear for the Sweat440 team.
Socially distanced training spaces.
A limited number of members per class.
Stay-at-home guidelines for symptomatic or asymptomatic members.
No community spaces to minimize transmission.