Top 10 Perks of Sweat440's Group Training Gym in Montreal
Your First Class Is a Free Workout at Sweat440
Are you tired of your current workout but afraid to join a new gym? Whether you're worried about being locked in a contract, figuring out new equipment, or not liking the new gym, Sweat440 Montreal eliminates your concerns! We offer free classes for every newcomer, so you can try our gym with zero hesitation. Our classes start every 10 minutes, and you can try whichever one you want! All of our HIIT classes are led by trainers who walk you through the moves. We also have screens with animated demos, so newcomers will know exactly what to do. Our classes have participants of all fitness levels who are focused on getting fit and having fun! Try a high-energy group fitness class for free at Sweat440 Montreal!
We Offer the Best Group Fitness Classes for All Levels
Sweat440 Montreal is a high intensity interval training gym that moves you through 3 sets of 12 different exercises in 40 minutes. You'll work at your own pace with customized resistance and accommodations for anything you need. Whether you are new to the gym or a professional athlete, our group fitness classes are designed for you! Our trainers provide individualized instruction to ensure each person is working at their peak capacity to maximize results safely. 
Free Trainer Daily, Not One Personal Trainer Free Trial 
Most gyms don't offer any free personal training. Some gyms offer one personal trainer free trial session. But Sweat440 offers free personal training in every class! Our trainers specialize in HIIT, so they're uniquely qualified to help you reach your goals. In addition, our founders are renowned personal trainers who created Sweat440 with the goal of offering customized instruction without charging members extra. They know what a difference personal training makes, so they created an affordable gym where personal training is included in every small group class. If you're searching for "gyms near me with free personal training," head to Sweat440!
Sweat440's HIIT Workouts Are the Best Exercise Classes
Sweat440 teaches HIIT exclusively. Mountains of research have proven HIIT workouts to be supremely effective at both strength training and fat burning. So, why choose a gym that doesn't specialize in HIIT? Our boutique fitness centers are stocked with the latest HIIT fitness equipment like VersaClimbers, SkiErgs, Assault Bikes, battle ropes, rowers, sleds, sliders, TRX, and kettlebells to expedite all of your fitness goals. 
The Best Full Body Workout Classes Are Group Classes
For the best full body workout, choose group classes. When you exercise in a group, you're motivated to work harder, so you see results faster. The inspiration you get from other class members will not only push you to succeed, but it will also keep you accountable to each other, so you don't skip your workouts. Sweat440's class members are uplifting, inclusive, and come from all fitness backgrounds, so no one feels left behind. We use positive music and enthusiasm to keep everyone's morale up throughout our invigorating workouts! 
Sweat440 Is Exclusively a Group Training Gym in Montreal
Group training is the best way to stay motivated. Personal training is the best way to reach your goals. And HIIT is the best path to quick results. So, there's no better choice than Sweat440 Montreal, which offers HIIT group classes with personalized training every day! Our gyms are dedicated HIIT group fitness facilities, so no matter when you come, you're guaranteed the best workout for weight loss, strength training, or whatever your goals may be!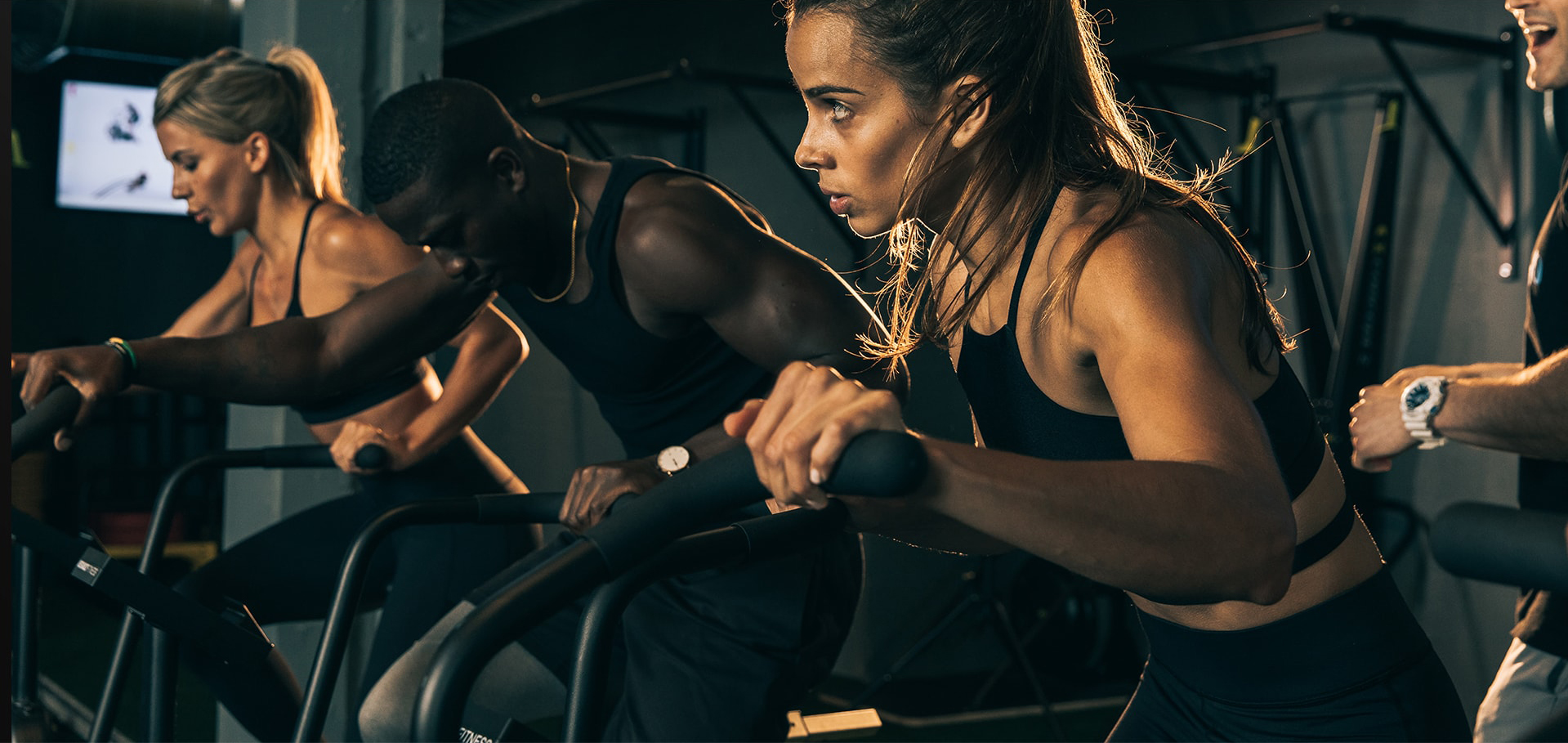 We Fuse Strength Training with Cardio for Faster Results
Sweat440 doesn't just teach HIIT; we specialize in it. We use specific ratios of intensity and compound cardio for optimal results. HIIT isn't just about intensity. It's a specific formula that requires expertise. Our trainers teach HIIT all day, every day, so they're experts at making each move count! If you're looking for "HIIT fitness near me," look no further than Sweat440!
Sweat440's Group Training HIIT Classes Prevent Plateau
Group training prevents plateau because working out together helps you reach heights you didn't expect. When you think you've maxed out your efforts, but someone next to you keeps pushing, it inspires you to do the same. Our members are always surprised by what they're capable of, when they realize they've put arbitrary limits on themselves. Our trainers ensure you don't overexert yourself. But they safely guide you to see what you're made of. Spoiler alert: it's more than you think! 
Our Full Body Workouts Vary Daily & Start Every 10 Minutes
Unlike most gyms, Sweat440's classes are different every day! You can safely do HIIT workouts at Sweat440 Montreal daily without overtaxing your muscles. On Monday, we might shape upper bodies, while on Tuesday we might shred lower bodies. Other days, we torch the core or do full-body compound cardio. Since our classes start every 10 minutes, you'll never be on a waiting list or miss your favorite class. 
Sweat440's Affordable Gym in Montreal Is Contract-Free
Sweat440 Montreal is contract-free and charges no joining or cancellation fees. You're never charged for classes you miss, and you don't have to buy classes in bulk. Sweat440 provides an affordable workout that ends your search for the "best HIIT workout classes near me." Try a free class today at Sweat440's group training gym in Montreal, right near the MADA Community Center.
10 Reasons to Try Sweat440 Montreal Today!
10 Perks of Sweat440's HIIT Workouts
Compound cardio for quicker results

Cutting-edge equipment and qualified trainers 

Classes every 10 minutes to fit your schedule

Inclusive classes for all fitness levels

Maximum fat burning

Optimal strength training

Personalized instruction and animated demos 

Varied equipment to accommodate everyone

Rapid interval shifts to prevent plateau

Upbeat music in an inspiring environment
10 Perks of Sweat440's Memberships
Sweat440 is contract-free

Sweat440 offers a free class to every first-timer

Sweat440 offers free personal training in every class

Sweat440 has no joining, annual, or cancellation fees

Sweat440 doesn't charge for missed classes

Sweat440's classes run every 10 minutes, so no waitlists

Sweat440 doesn't charge for towels, showers, or lockers

Sweat440's HIIT has a great return on investment

Sweat440's positivity helps you stick with fitness

Sweat440 helps prevent costly injuries and health issues