Best Group Fitness Classes for Burning Calories
Most people understand that losing weight means burning calories. However, simply burning calories is often insufficient — you must also pair that with strength training to simultaneously build muscle mass. Furthermore, everyone's fitness journey is unique, and it helps to find group fitness classes that provide the necessary motivation and structure to help you reach and conquer your fitness goals. We introduce you to the various types of group fitness classes and help you find the best training class for HIIT and total body strength training.
5. Stationary Bike Classes
Stationary bike classes, like Spin, are probably the most popular group fitness classes for burning calories. Stationary bike classes promise to increase your heart rate, burn calories, and help you get in shape. They're practical and easy to follow, but they're not suitable for total body fitness. Stationary bike classes are only suitable for cardiovascular training, combined with lower-body strength training — over-reliance on stationary bike classes may disproportionately strengthen your calf muscles without affecting the rest of your muscle groups. Sure, some stationary bike classes also incorporate elements of upper body workouts, like doing push-ups on the handlebars, but using stationary bikes for anything other than simply cycling is dangerous.
4. Barre Classes
Barre Classes, focus on low-impact and high-intensity movements that provide total body strength training, flexibility, and agility training. Most barre classes focus on strength training without paying adequate attention to getting your heart rate up. Sure, you'll burn calories, but not to the extent necessary to significantly lower body fat. Furthermore, most people eventually reach a plateau with barre classes because they don't incorporate weights and have few opportunities to scale up your efforts. As such, barre classes aren't suitable for those who want to make considerable leaps in their muscle building and weight loss efforts.
3. Martial Arts
Martial Arts refers to a wide range of self-defense and combative techniques. In recent years, martial arts have seen massive growth in popularity because of their inbuilt total body strength training and cardiovascular training components. Besides teaching self-defense and discipline, martial arts often include movements and exercises that train your entire body. Depending on the intensity of your sessions, they also help with burning calories. However, martial arts can be hard to master, especially because they depend on an increasingly complex set of movements. If you don't master those movements, you're likely to reach a plateau with your efforts.
2. Boot Camp
Fitness boot camps provide a wide range of fitness benefits. These group fitness classes provide considerable motivation, they're cost-effective, involve social interaction, and they help you burn calories during strength training. However, fitness boot camps are also notorious for pushing people past their breaking points, driving you so hard that you collapse or give up on fitness altogether. Any fitness expert can tell you that long term fitness is a marathon rather than a sprint — you have to pace yourself and gradually escalate your efforts. Most people can't keep up with a boot camp's bodily and psychological demands, eventually giving up before they achieve their fitness goals.
1. Sweat440: Best Group Fitness Classes for Strength Training & Burning Calories
Sweat440 provides the best group fitness classes for long-term physical fitness, incorporating elements of strength training, high-intensity interval training, cross-training, core training, and conditioning. Furthermore, Sweat440 group fitness classes are structured to ensure that you're never late for a class, nor do you have to schedule your class ahead of time.
Each 40-minute Sweat440 training class consists of four fitness stations. Each 10-minute fitness station takes you through three sets of three exercises, each performed for a total of 1-minute. After 9 minutes of various exercises, you can rest for a minute before moving to the next fitness station. As you move to the next fitness station, another group takes your place in the previous station. This circuitous style ensures that a new group can join the training class every 10 minutes.
Furthermore, Sweat440 group fitness classes are expertly curated to target each muscle group at least twice a week. The following is the Sweat440 training class schedule:
Monday: Shape — Lower Body
Tuesday: Shred — Upper Body/Core
Wednesday: Sweat — Core/Conditioning
Thursday: Shred — Lower Body/Core
Friday: Shape — Upper Body/Core
Saturday: Warrior — Total Body Conditioning
Sunday: Warrior — Total Body Conditioning
As you can see, Sweat440 ensures that you achieve total-body strength training and cardiovascular training benefits. It helps you build muscle mass while burning calories simultaneously. As such, you don't need to go to different fitness classes throughout the week — attending 5 or 6 Sweat440 classes per week will help you achieve all your fitness goals.
Schedule your Total Body Strength Training Class
Sweat440 group fitness classes are located in several states around the US, including New York, Florida, and Texas. Our New York group fitness classes are available in Chelsea and Financial District, and our Florida classes are available in Coral Gables, Downtown Doral, Brickell, and Miami Beach. Sweat440 also provides a free trial training session for all first-timers. You can find your nearest Sweat440 gym and claim your trial session whenever you're ready!​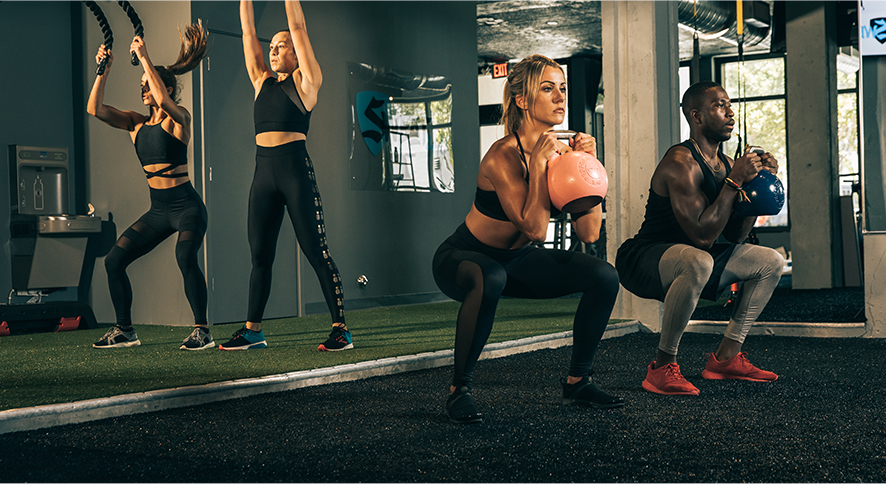 Best Group Fitness Classes for Burning Calories
Stationary Bike Classes
Barre Classes
Martial Arts
Boot Camp
Sweat440 Group Fitness
Sweat440 Group Fitness Classes Near Me