Group Fitness: The Cure for Your Fitness Frustrations
Are you frustrated with your fitness? You're not alone. There are a number of barriers that hinder optimal fitness- everything from health issues, to motivation, to Netflix (aka willpower). But the number one reason most people aren't as fit as they want to be is that they're too busy. A recent survey revealed that 42% of adults don't have time to exercise, and that the average adult only has 89 minutes of free time each day! If it takes 15 minutes to get to the gym, that leaves you with a whopping 59 minutes to work out and squeeze in other activities.
But the question is, if we don't have time to work out, are we running out of time in life? Studies show that lack of exercise contributes to premature death, and that even 15 minutes of exercise a day adds an average of 3 years to your lifespan. So, rather than assuming we don't have time to work out, we should make time for it to increase our viable time on the planet.
The good news is, group fitness is the remedy for all of your fitness frustrations! From a lack of time, to a lack of motivation, there's a cure for whatever ails your workout, and it's a fun cure too! No bitter pill to swallow or brutal diets to endure, group fitness classes at Sweat440 are only 40 minutes long, and while they're a blast, they blast the most calories too!
How Sweat440's Group Fitness Classes Fix Your Ailing Workout
Problem: Lack of Time  Solution: Sweat440's Schedule
Sweat440 solves the battle against time by offering classes every 10 minutes! Our schedule aligns with everyone's schedule, whether you're an early bird or a night owl! Our classes pack a powerful punch in just 40 minutes, so you can get fit and get on your way!
Problem: No Motivation  Solution: Sweat440's Trainers
Sometimes we get stuck in a rut, and sometimes that rut involves a comfy couch. It's easier to get motivated when you have a wedding, a reunion, or a swimsuit season on the horizon. But sometimes we lack motivation. Sweat440's trainers reignite that spark in you that keeps you eager to exercise. Once you try our group fitness classes with encouraging trainers, you'll be hooked! Not to mention, you'll be ahead of the game when swimsuit season swings back around!  
Problem: Tight Budget  Solution: Sweat440's Memberships
Sweat440 believes fitness should be accessible for all. So that's why we don't use contracts and we offer flexible membership options. You can buy as many classes as you like at a time, and best of all, your first class is free! Come see how our group fitness program works without investing one cent! Unlike group fitness classes at other gyms, you won't be charged for classes you miss, and you can cancel at any time!
Problem: Too Intimidated  Solution: Sweat440's Inclusivity
If other gyms left you feeling out of place or behind the curve, Sweat440 is here to fix that. Some gyms seem to specialize in elitism and intimidation, but those qualities have no benefit to physical fitness! Our members are an encouraging, inspiring group of people of all fitness levels, who gladly welcome newcomers. We're known for positivity, high-fives, and an uplifting environment, as well as a killer workout!
Problem: Bored of Exercise  Solution: Sweat440's HIIT Classes
Plodding along on a treadmill for an hour is boring. So is spinning your wheels in the same cycling class day after day. If you're bored of your workout, try a Sweat440 HIIT group workout, and you'll never look back! Our classes pack 4 10-minute stations with 3 sets of 3 different exercises. You'll work hard for 45 seconds, take 15 seconds to catch your breath, and keep moving through our circuits. You won't believe how fast the workout flies by, and boredom is never an option.
Problem: Chaotic Schedule  Solution: Sweat440's Convenience 
If you're one of those people who only uses a pencil in your planner, we feel you! Life can be unpredictable. That's why group fitness classes at many gyms don't work for busy members. If the class meets at 6pm on Friday and you're stuck in Miami or NYC rush-hour traffic, that's just not going to work. Many gyms only offer each group fitness class once or twice a week, and require you to book months in advance. But at Sweat440, our classes repeat all day long, so you never have to miss a class! Book a class online, give us a call, or simply stop by, and we'll fit you in!
Problem: Can't Get to Gym  Solution: Sweat440's Zoom Classes
Sometimes, despite our best efforts, we simply can't get to the gym. Whether you're snowed in, tending to a sick child, or dealing with circumstances like COVID-19, some barriers are tough to tackle. That's why Sweat440 offers multiple fitness formats, including Zoom workouts and fitness routines through social media. A group workout in our state-of-the-art gyms is always ideal, but when you're in a bind, we're here with the solution! Each class participant receives individual instruction, whether you take a class online or in person.
Group Fitness Classes + All Fitness Levels = The Remedy
If you're ready to try a group fitness program, Sweat440 has multiple free options for you! Our group fitness classes vary each day, and repeat all day long, so you can choose the best time for you. All of our classes are designed for all fitness levels, and are led by certified instructors to assist you along the way. Each class participant receives personal training and also follows animated demonstrations at each workout station.
If you'd like to receive an email or phone call to discuss our group workout options, contact us today! Or schedule your free class online! Due to COVID-19 precautions, please arrive no more than 5 minutes prior to the start of class, to ensure optimal occupancy. We look forward to curing your fitness frustrations with our incomparable group fitness classes!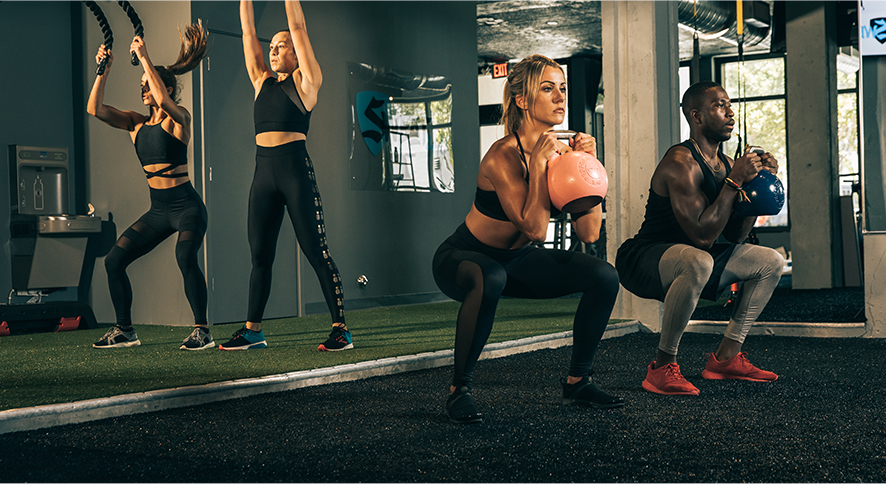 Try a Group Workout at Sweat440 Today!
Our Group Fitness Locations:
Sweat440 Montréal
Sweat440 Austin
Sweat440 Chelsea
Sweat440 FIDI
Sweat440 Coral Gables
Sweat440 Miami Beach
Sweat440 Brickell
Sweat440 Kendall
Sweat440 Downtown Doral
Sweat440 Palm Beach
Our Group Fitness Benefits:
Example of a pro: Lorem Ipsum Dolor Sequet et all working out doloreujm that sweat

Example of a pro: Lorem Ipsum Dolor Sequet et all working out doloreujm that sweat

Example of a pro: Lorem Ipsum Dolor Sequet et all working out doloreujm that sweat

Example of a pro: Lorem Ipsum Dolor Sequet et all working out doloreujm that sweat