7 Good HIIT Exercises for Total Body Fitness
If you're searching for good HIIT exercises, congrats! You're on the right track to optimal fitness! High intensity interval training (HIIT) is unmatched in its ability to produce rapid results. A word of caution, though- lots of gyms call their workouts "HIIT," without actually meeting the criteria. But Sweat440's HIIT exercises are taught in gyms that specialize exclusively in HIIT. Our certified trainers teach HIIT all day, every day, and even our founders are HIIT trainers! Take a look at why good HIIT exercises make all the difference, and learn 7 HIIT exercises for total body fitness!
How High Intensity Interval Training (HIIT) Works
Before you try a HIIT workout, make sure it has the essential components. Many gyms offer interval training, but they lack the intensity required for substantial results. Other gyms offer intense workouts, but they don't incorporate proper intervals to maximize your efforts. And some gyms use intervals or intensity, but lack the individual training you need. Let's take a look at why each component of HIIT is essential.
Each Component of High Intensity Interval Training Matters
HIGH–For a true HIIT workout, your intensity needs to be high at periodic intervals. It's not just a matter of varied levels of intensity, you need to kick it into your highest gear for brief periods in order to increase your metabolism and burn the most calories.
INTENSITY– While you need to work at high intensity, you also need rest periods interspersed to recharge for your next set. Without these breaks, you'll tire out too soon, and won't maximize your workout. This intensity variation helps increase your EPOC(excess post-exercise oxygen consumption), which is the extra calories you burn post-workout, thanks to your new supercharged metabolism.
INTERVAL– Intervals of varied intensity are important, but so is the length of the intervals. If your rest periods are too long between sets, your muscles won't stay warm, and you won't reach your VO2 Max (maximum consumption of oxygen during exercise.) But if your rest periods aren't long enough, you risk muscle fatigue or injury, and you stay in the aerobic state, rather than switching into the anaerobic state to burn fat.
The length of the workout also matters. A 10-minute HIIT session won't give you a total body workout, and 20 or 30 minutes might not kick you into the anaerobic state to lose weight. But if your HIIT workout lasts over an hour, it's not being done properly or efficiently. At Sweat440, our classes last 40 minutes, and we pack a punch in each minute! Each 45-second high-intensity exercise is followed by 15-second rest periods, so you can go hard for the whole 40 minutes! Our ideal intervals maximize weight loss as well as muscle definition.
TRAINING– One aspect of HIIT that's particularly important is the need for a personal trainer to help you execute it. Each person's abilities, goals, and resting heart rate are different, so you don't want to guess at a routine. You also risk overdoing it or underperforming without professional guidance. Some HIIT moves are complicated and require careful technique and form.
But personal trainers can be expensive and require a specific schedule. That's why at Sweat440, we include free training and animated demonstrations in all of our classes! Our trainers monitor form, heart rate, and intervals of intensity, so you'll always perform safely at your ideal level. Personal training in HIIT workouts is essential, and Sweat440 is the gym that combines them for free!
7 Good HIIT Exercises for Total Body Impact
1. Ski Ergs
If you've heard of Ski Ergs, you'll be pumped to know that Sweat440's HIIT gyms provide them. And if you haven't, here's why you're going to love them! Ski Ergs give you a total body workout and can be performed standing, sitting, or even kneeling. With a full range of motion, they utilize your back, arms, shoulders, abs, and legs while standing. They also isolate your lats and core while kneeling and are versatile for all fitness abilities. Not to mention, they provide the exhilaration of skiing without the sub-zero temperatures and frostbite!
2. Rowers
Bored of the treadmill? Try HIIT-infused rowing to crank out your cardio in a fraction of the time. The combination of resistance and the utilization of all muscles simultaneously makes rowing an expedient way to burn calories while increasing muscle mass.  
3. Assault Bikes
If you've been spinning your wheels in a cycling class, join Sweat440 for innovative cycling that delivers the results you're looking for. Our proprietary intervals of speed, intensity, and resistance cut your cycling time by a third. And our bikes include a powerful upper body workout, unlike the bikes at other gyms.
4. Versa Climbers
Versa Climbers are often considered the #1 cardio machine! Traditional stair climbers and step mills don't use your upper body, and even worse, they often contribute to back pain and poor posture as you lean on them. Versa Climbers engage your arms and raise them over your heart for optimal circulation, alignment, and accelerated calorie burn. Step mills feel like you'll never reach your destination, but Versa Climbers keep you energized to get the job done in mere minutes!
5. Sleds
Got a little stress? Unload it by shoving our sleds for a killer total body workout. Tone your arms, core, legs, and glutes, and more importantly, have a blast while racing for your best time. Our sleds amplify weight loss, but also define muscles, making them ideal for all fitness goals.
6. Battle Ropes
If you haven't thrown battle ropes yet, come see why celebrities and pro athletes swear by them. They make you feel equally like a superhero and like a kid again, and they're great at releasing aggression. Proper form and stance allow battle ropes to sculpt your total body, so you lose weight and tone up in a hurry!
7. Compound Cardio
Our HIIT trainers use tools, plyometrics, and body-resistance work to sculpt your ideal physique quickly through compound cardio. Our innovative method takes common moves like planks, Russian Twists, push-ups, burpees, and mountain climbers, and fuses them with tools like kettlebells, dumbbells, and sliders, and a dose of custom enhancements for maximum impact. To achieve total body results, come see how our trainers innovate movement for incomparable results! Your first class at Sweat440 is free!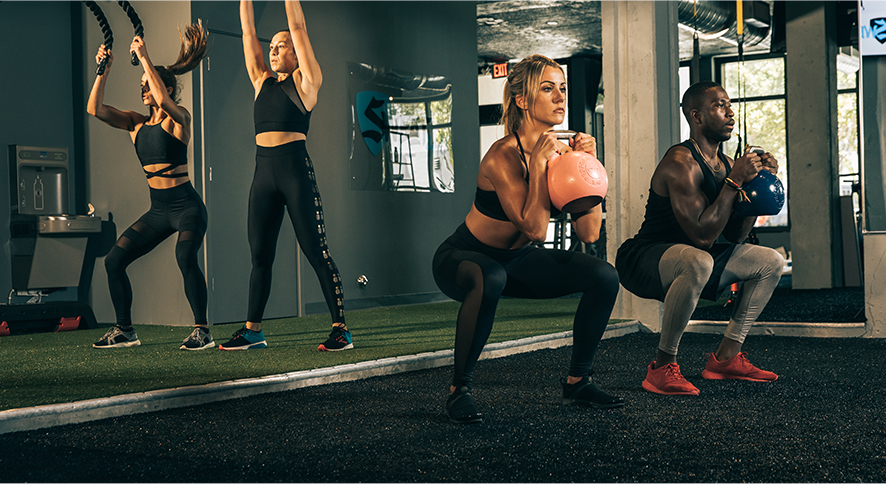 Try High Intensity Interval Training for Free at Sweat440!
Free Training & HIIT Workouts Near Me
Sweat440 Brickell
Sweat440 Miami Beach
Sweat440 Downtown Doral
Sweat440 Palm Beach
Sweat440 Coral Gables
Sweat440 Kendall
Sweat440 Austin
Sweat440 Chelsea
Sweat440 FIDI
Sweat440 Montréal
Good HIIT Exercises for Total Body
Assault Bikes
Versa Climbers
Ski Ergs
Rowers
Sleds
Battle Ropes
Compound Cardio
Kettlebells & Dumbbells
Sliders & Resistance Bands
Mountain Climbers, Burpees, Planks