Conquer your Fitness Goals with a Full Body Weight HIIT Workout at Sweat440
Nothing beats a total body HIIT workout when it comes to maximizing your fat loss with intense fat burning and conditioning. You can do a full body HIIT workout with bodyweight or dumbbells and other equipment, and you can do it either in a gym or at home.
If you don't have the time or means of hitting the gym, you can do a quick 30-minute full body weight HIIT workout at home. However, if you really want to boost your fat burning and body shaping abilities, you should ideally find a gym with advanced equipment and an expertly curated full body HIIT workout program.
This article discusses the benefits of high-intensity interval training (HIIT) at a state-of-the-art gym, like Sweat440.
What is high-intensity interval training (HIIT)?
High-Intensity Interval Training (HIIT) is a form of training in which you repeat high-energy circuits of exercises with brief recovery periods. While most people assume this form of training only applies to cardiovascular exercises, you can also achieve a total body HIIT workout by incorporating circuits of strength training and conditioning workouts, combining fat loss and muscle training benefits.
What are the benefits of a full body HIIT workout?
In recent years, several studies have shown that high-intensity interval training for short periods of time is far more effective than moderate-intensity or "steady-state" cardiovascular exercises for long periods of time. As such, you can maximize your fat burning and muscle building abilities with a short 30 minutes total body HIIT workout, allowing you to add it to your daily schedule with greater ease.
A total body HIIT workout is much better than moderate-intensity steady-state cardio because it combines various movements to target all your major muscle groups while also facilitating fat burning. This type of training minimizes recovery periods to bring you close to your VO2 max, i.e., the metric for endurance training that measures your body's oxygen level.
High-intensity interval training (HIIT) is also much better at increasing your metabolic rate. Since this type of workout makes you use more oxygen, it also boosts your metabolic rate after the workout period. Consequently, your body's fat loss process continues for around two hours after the workout, so you burn more calories in the long run.
The following is a brief overview of the specific benefits of a total body HIIT workout:
Efficiency: You benefit more from a 30-minute total body HIIT workout than an hour-long moderate-intensity workout.
Total Body Benefits: You can perform high-intensity interval training (HIIT) with strength training exercises, so you achieve both cardio and muscle-building benefits.
Maximum VO2: It takes you to your VO2 max to ensure maximum strength and cardiovascular endurance.
Boost Metabolism: You continue burning fat and calories long after the workout, boosting your metabolism.
Practical: It's always preferable to do HIIT workouts using a professional program at a reputable gym. However, you can also do a 30-minute total body HIIT workout at home using nothing but your body weight.
Sweat440: The Best Total Body HIIT Workout
Sweat440 is one of the best and most reputable gyms for high-intensity interval training (HIIT) and strength training.
Sweat440 provides 40-minute group fitness classes that consist of four fitness stations, each taking you through 3 sets of 3 exercises, each performed in clockwork fashion for 50 seconds, with a short 10-second break. As such, this intense circuit increases your VO2 max while also targeting each muscle group on your body.
Sweat440 is an advanced and state-of-the-art gym with a wide array of equipment, including rowers, assault bikes, sleds, battle ropes, etc. These exercises target major muscle groups and keep you engaged through the entire 40-minute session with minimal rest periods. The training schedule ensures you target each muscle group several times over the week.
The following is the Sweat440 weekly total body HIIT workout schedule:
Monday: Lower Body
Tuesday: Upper Body/Core
Wednesday: Core/Conditioning
Thursday: Lower Body/Core
Friday: Upper Body/Core
Saturday: Total Body Conditioning
Sunday: Total Body Conditioning
In addition to having one of the most cohesive workout schedules, Sweat440's structure also ensures maximum flexibility. Each "fitness station" lasts for 10 minutes, and you progress to the next station once you're done. As you move through the stations, the following groups take your place. This allows a new group to enter the class every ten minutes, so there's no need for advanced booking, and you're never late for a class!
Sweat440 also has extremely comfortable no-contract memberships that give you complete control in terms of cancelation and payments. We also provide a free trial sweat session, so go to any of our gyms in New York or Florida, and claim your free session!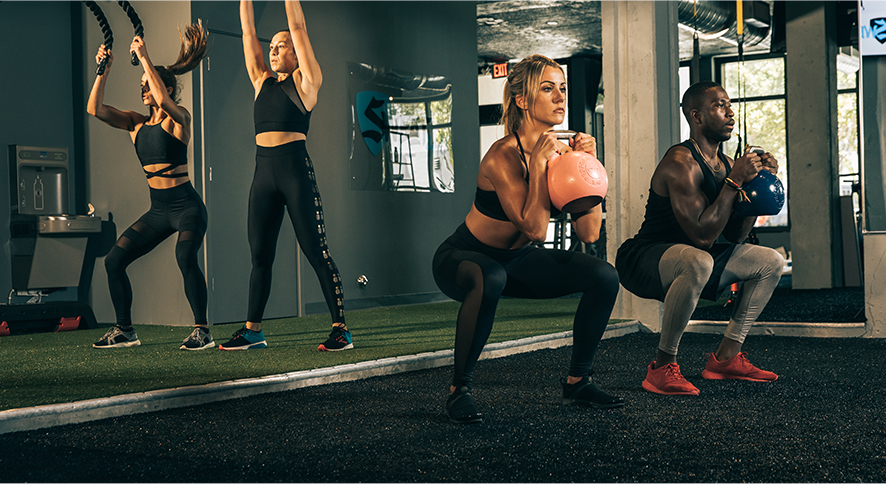 Full Body Weight HIIT Workout
Benefits of Full Body HIIT Workout
Maximum efficiency — you maximize fat loss in a short period of time.
Includes both strength training and fat burning components.
Your body reaches its VO2 max.
It's a great metabolic booster.
You continue burning fat and calories long after the workout.
Extremely practical — can be done at home or at the gym.
It can be done with bodyweight or professional equipment.