Before you sign up for FlyWheel Sports or SoulCycle, you should know that even their founder finds flaws in both. That's right, both gyms were co-founded by the same person, Ruth Zukerman, who jumped ship at SoulCycle to form FlyWheel Sports less than four years later. She thought she could improve upon SoulCycle's concept, but it turns out, the perfect cycling workout still doesn't exist. Zukerman isn't the only one to point out the shortcomings of FlyWheel Sports and SoulCycle; devotees of both hurl frequent insults.
Regardless of which side you stand on the debate, you're facing the wrong direction. Cycling classes simply don't provide the optimal workout, so turn to Sweat440 instead. Our 40-minute HIIT classes leave spin classes pedaling to keep up. Take a look at why even the FlyWheel Sports founder sees shortcomings in cycling gyms.
Flaws the Founder Saw in SoulCycle
Zukerman left SoulCycle to do cycling differently, starting with the gym environment. Like its members lament, SoulCycle felt crowded and exclusive to her. She claims that classes were jammed too tight, creating a cramped and sweaty experience. She didn't like that new riders were encouraged to stay in the back and couldn't see the instructor very well. She designed FlyWheel with stadium-style flooring to improve upon the problem.
She also disliked the social hierarchy of the SoulCycle- it seemed to her like a gym for the young and glamorous. She wanted a boutique fitness gym with more inclusivity, where all fitness levels were welcomed. It was part of her desire for better customer service, which included more space in the hallways for sweaty gym-goers to pass clean ones without rubbing shoulders.
She also agreed with members that paying extra for water or shoe rentals was exorbitant, and decided to scale things down. She didn't like how riders had to fend for themselves, rather than having staff assist with bikes before class started.
Zukerman felt SoulCycle lacked technology, so she added TorqBoards to bikes when she started FlyWheel to measure resistance and power output. She also added a leaderboard so riders could see how they rank in the class and track performance. She wanted to appeal to more male clients since SoulCycle's disco ball dancing routine drew a more female crowd. She designed FlyWheel with more of a competitive athlete's appeal.
She felt that SoulCycle's instructors often lacked warmth or appeal, and sometimes had a big ego. She avoids that personality type at FlyWheel, where she recruits new instructors twice a month. She asks instructors keep an eye on new riders, so they aren't lost in the dark like SoulCycle newbies.
Why FlyWheel Sports Doesn't Fix the Flaws
Despite her best efforts to improve upon SoulCycle's concept, FlyWheel doesn't check all the boxes. Zukerman likens FlyWheel's races to running 50-yard-dashes as a kid, which isn't everyone's cup of tea. And her attempt to take the snootiness out of SoulCycle left FlyWheel with an elite athlete air instead.
While the leaderboards were designed to help riders beat their own scores and push themselves further, Twitter reviews deem the concept "sadistic," "alienating," and "elitist." FlyWheel foregoes the dancing component, and brings in body bar weights instead. But experts have denounced the body bar weightlifting section as pointless and inefficient. Some say it's a feeble attempt to add an upper body component to a workout that only targets the lower body. But fitness experts agree it doesn't get the job done. 
FlyWheel aimed to reduce the cost, but its classes cost just as much. For $96 a month, you only get one class per week, versus unlimited classes per month with the special Founder's Rate at Sweat440. Class pricing is one issue, and class scheduling is even more problematic at FlyWheel Sports. Members have to log in weeks in advance for a shot at a spot in a class. There are no guarantees. So, that monthly membership that only allows you one class per week? Chances are, you won't even get in. At Sweat440, our classes start every 10 minutes, and we never charge for classes that you miss. You don't have to book months in advance- we always have a spot for you. Our boutique fitness center prioritizes our members, every single one.
FlyWheel Sports doesn't provide the personalized training of HIIT classes at Sweat440 where instructors circulate throughout the class. There's only so much a teacher can do from their bike, which is why many FlyWheel members complain they aren't losing any weight. Everything from poor posture, to improper intervals, to insufficient energy expenditure, to the limitations of cycling contribute to less than desirable results. The trainers at Sweat440 assist with every exercise and complement their efforts with animated demos at every station. You never spin your wheels without getting results at Sweat440.
FlyWheel Sports says its classes are high-intensity interval classes, but they fall short of the true definition. Being strapped to a bike the whole time, you can't engage in a true HIIT workout. Short bursts of dynamic energy expenditure in varied form, from weights, to battle ropes, to sprints, to TRX, to kettle balls, to resistance bands, to box jumps… THIS is high-intensity interval training. Your body is in a constant state of change, creating a change in body composition.
No matter what a cycle class claims, HIIT performed on a bike alone will create muscle memory and plateau. Not to mention, the impact to the lower body is disproportionate to the upper body on a bike. Sweat440 is the only HIIT gym offering the classes experts agree are the most effective, every 10 minutes.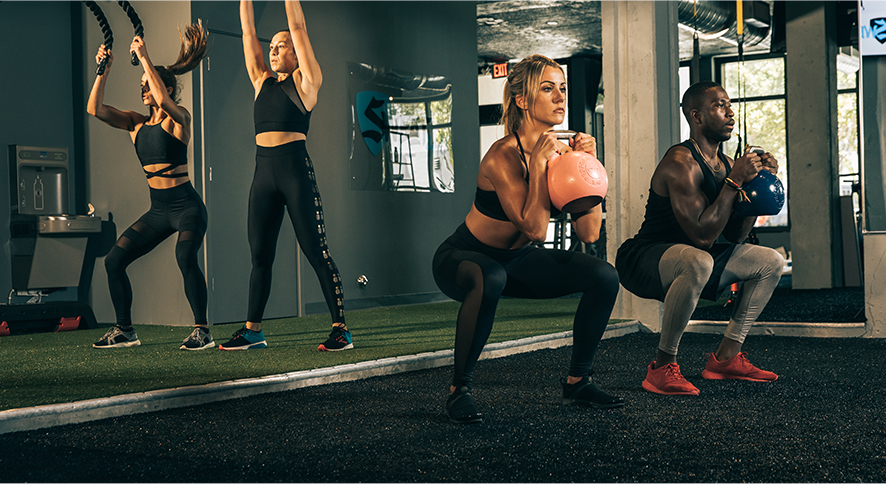 Why FlyWheel Sports and SoulCycle are Both Losing the Battle
Problems FlyWheel Sports and SoulCycle Share
FlyWheel Sports and SoulCycle both charge more than other gyms.
FlyWheel Sports and SoulCycle both have an elitist attitude.
FlyWheel Sports and SoulCycle both require classes to be booked in advance.
FlyWheel Sports and SoulCycle both offer an incomplete HIIT workout.
FlyWheel and SoulCycle both lack thorough assistance during the classes.
FlyWheel and SoulCycle both focus primarily on the lower body.
FlyWheel and SoulCycle both lack the diversity required to prevent plateau.
Solutions Sweat440 Provides
Sweat440 offers many pricing options, like unlimited monthly memberships.
Sweat440 welcomes people at every fitness level and doesn't broadcast your scores.
Sweat440 has classes every 10 minutes, so you can come when it's convenient.
Sweat440 offers a true HIIT workout with various machines, equipment, and stations.
Sweat440 has instructors circulating to assist with every station.
Sweat440 offers a full-body workout in 40 minutes, with different classes every day.
Sweat440 implements varied equipment and different routines so you never plateau.
If you're considering FlyWheel Sports or SoulCycle, pump the breaks. Their methodology is one even the founder can't totally get behind. Head to Sweat440 where HIIT is legit and our founders are in sync with their mission.