10 Reasons to Join Sweat440's Fitness Studios near Me
Is your gym the total package? Or do you find yourself going to a pilates studio Monday, a cycling gym Wednesday, and a cross training gym on Friday? If you're juggling multiple gym memberships in search of one complete workout, it's time to break up with your gyms! Sweat440 has complete "fitness studios near me" in major cities around the world. Our gyms are packed with versatile equipment, dynamic classes, and innovative trainers, so everything you need is under one roof.
Sweat440's gyms offer the best full body workout on the planet, and the workouts change daily to keep you on your toes. Here are 10 reasons to cut ties with your current gym and try Sweat440's total body HIIT classes today!
​10 Reasons to Quit Your Gym and Try Our Full Body Workouts
HIIT Group Fitness Classes- When it comes to total body workouts, high intensity interval training (HIIT) is second to none. At Sweat440, we don't just teach HIIT, we are HIIT specialists who teach HIIT all day, every day! You won't find another class that burns more calories in a shorter amount of time.
Classes Every 10 Minutes– We all know that one of the biggest hurdles to fitness is finding time in your day. The fact that most gyms only offer certain classes once a day or even once a week makes it even harder. But Sweat440's classes start every 10 minutes and repeat throughout the day, so you never have to miss a class! If your morning gets crazy, stop by in the evening. There's always a class waiting for you!
Classes for All Fitness Levels- Some gyms cater to elite athletes, or those that specialize in one thing like cycling or yoga. Others are so large and generalized that both newbies and pros feel lost in the shuffle. But Sweat440's classes are designed for all fitness levels, since you work at your own pace in our stations. With 4 10-minute stations of 3 sets of 3 exercises, everyone from the beginner to the competitive athlete gets the ultimate workout. Our 45-second intense bursts are followed by 15 seconds of rest. So, if you're new, you get a chance to catch your breath. And if you're a pro, you're able to perform at the highest level for a longer period of time.
40-Minute Calorie Blast-  Our classes burn twice as many calories in half the time of other gyms. Since we target your VO2 maxand implement strategic intervals of intensity, we maximize calories burned during class, and enable your body to burn calories for hours after you're done! No need to visit multiple gyms to get in optimal shape. Sweat440 provides the best full body workout in just 40 minutes!
Different Classes Daily- Some gyms offer a HIIT class or a spin class once a week, but it's the same workout each time. At Sweat440, our classes are totally different every day, so you can safely work out at our gyms daily without boredom or muscle fatigue. Each day is a full body workout, but we target different muscle groups every day, with an emphasis on core daily. So, you can blast your glutes, build your biceps, or tone your thighs on different days of the week.
Diverse Equipment- You would have to join several different gyms to get all of the equipment Sweat440 provides. Spin gyms only have bikes, but we have assault bikes and so much more! Some gyms have treadmills or stairclimbers, but we have VersaClimbers, Ski Ergs, rowers, and multiple other forms of cardio. Some gyms focus on weightlifting, but we have dumbbells, kettlebells, sleds, and more for compound cardio circuits that blast fat while building muscle. Don't join a gym with minimal options, when Sweat440 has endless options to sculpt your physique!
Free Training- Unlike other "fitness studios near me," Sweat440 includes personalized training for free! Each of our small group fitness classes is led by certified trainers who circulate through the class, correcting form, accommodating limitations, and helping you max out your efforts. Our founders are trainers who understand the importance of instruction, accountability, and motivation in fitness, so we include free training in every class.
Free Classes- Some gyms try to lock you in before you've given them a try. But Sweat440 offers free classes for everyone, so you see what you think. We know you're going to love it here, that's why we can't wait for you to give us a try! Book a class online, call our front desk, or simply stop by, and we'll fit you into a class for free!
No Contracts or Fees- Maybe one reason you're stuck at a gym you don't like is the iron-clad contract. Sweat440 believes members should get to choose when they want to stop attending their gym. Jobs change, people move, babies are born, surgery happens… a binding contract is not something you should have to worry about with fitness. Stop anytime you like at Sweat440, and join us again when you're ready! Since you can buy as many or as few classes as you like, there's nothing stopping you from giving it a try!
Inclusive Environment- We love helping professional athletes improve their game, as much as we love helping beginners get started on their fitness journey. You won't feel excluded, outmatched, or uninspired in our gyms- we cater to all fitness levels. Our classes are fueled by inspiring trainers and filled with uplifting classmates who cheer each other on to excel. Forget wait lists, full classes, and overcrowded weight rooms. We schedule our classes so everyone gets the space and assistance they need.
With locations in Miami, Miami Beach, Doral, Coral Gables, Kendall, Austin, Montréal, and New York City, Sweat440 has "fitness studios near me" in major cities across the globe. Try a free class today and see why Sweat440 consistently ranks #1! End your search for the perfect gym with Sweat440 today!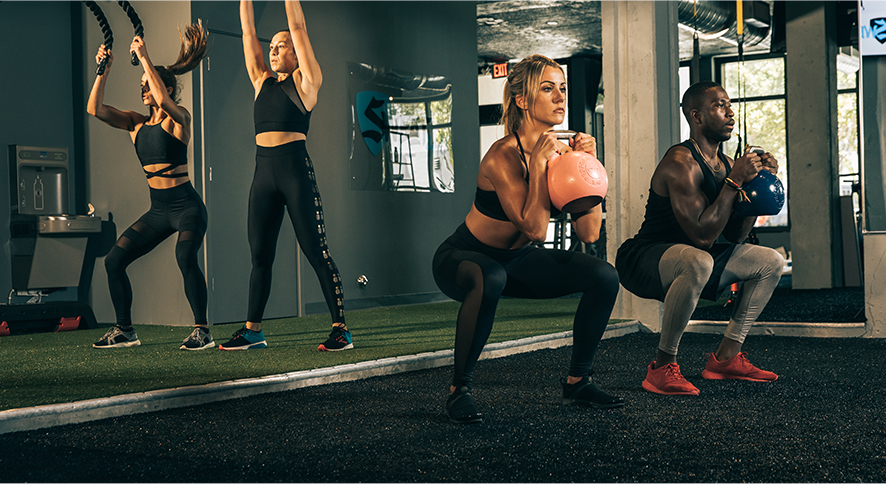 10 Fitness Studios With Group Fitness Classes Near Me
Sweat440's Fitness Studios Near Me:
Sweat440 Brickell
Sweat440 Miami Beach
Sweat440 Kendall
Sweat440 Downtown Doral
Sweat440 Palm Beach
Sweat440 Coral Gables
Sweat440 Austin
Sweat440 Montréal
Sweat440 Chelsea
Sweat440 FIDI
Our HIIT Group Fitness Classes:
Shape- Lower Body
Shred- Upper Body/Core
Sweat- Core/Conditioning
Shred- Lower Body/Core
Shape- Upper Body/Core
Warrior- Total Body Conditioning