7 Key Perks of Sweat440's Fitness Studio Near Miami
1. Sweat440 Has More Than One Fitness Studio Near Miami
Miami is a lively city, and that includes the roadways. Whether you take Interstate 95, the Palmetto Expressway, or the Dolphin Expressway to get around, you're bound to encounter traffic regularly. One of the best advantages of joining Sweat440 is that we offer multiple Miami gyms to choose from. You can visit Sweat440 in Coral Gables, South Beach, Brickell, or Doral, depending on where you're commuting to that day. There is always a convenient option nearby when you're a member of Sweat440! Skip the traffic and take your pick of the gym nearest to you!
2. Sweat440 Provides Free Personal Training
One perk our members can't get enough of is our free personal training. Hiring a personal trainer in Miami is not only challenging, due to demand, but it's also extremely expensive. Sweat440 offers personal training for free in every small group fitness class. Our trainers provide individual assistance, instruction, recommendations, and encouragement to each member in every single class! Unlike with other trainers, you don't have to worry about making it to a specific appointment on time. All of our classes include free training, so you're always guaranteed a customized workout!
3. Sweat440's Miami Gyms Specialize in HIIT Group Fitness
Experts agree, there's no better way to blast calories or build muscle than high-intensity interval training (HIIT). Sweat440's precise ratio of intervals of intensity ensures that you will burn the most calories possible during your workout (VO2 Max). You'll also keep burning them after you're done (EPOC), so you can count on rapid results. Since our exercises combine cardio and resistance, you don't have to spend as long working out to reap maximum rewards. Sweat440's HIIT is high energy, but it's also filled with variety, so you won't think about how hard you're working while you're doing it, since you're focused on finishing your set and moving on to the next station.
4. Sweat440's High Energy Workouts Optimize Your Heart Rate
One of the main reasons people are discouraged by their progress in the gym is that they don't know what their target heart rate is, or how to utilize variations in intensity. If you trudge along on the treadmill at a steady pace, you won't burn that many calories, no matter how long you last. Our bodies are challenged by variety and we can last much longer in a workout if we vary our intensity and movement. Our high energy classes involve high-intensity segments of 45 seconds, followed by 15 seconds of rest, so you can continue to perform at max capacity. This prolongs endurance, prevents injury, and eliminates the possibility of plateau.  
5. Sweat440's Total Body Workouts Vary Every Day
Tired of your routine? You'll love Sweat440's innovative schedule. Our classes repeat all day, so you're #neverlate. You can come anytime you like and find the same class starting every 10 minutes. We know how essential this is to members with busy, unpredictable schedules. However, our classes switch up every day, so that no two days are the same! You don't have to join multiple gyms to get comprehensive fitness, like you do with cycling gyms, yoga studios, etc. Our classes provide total body workouts every single day, but we highlight specific muscle groups on different days, so you don't have to skip a day or worry about overexerting certain muscles.   
6. Our Workouts Mimic Rock Climbing, Skiing, and More
South Florida has beautiful weather, but let's admit, there isn't a ton of variation. You won't be catching snowflakes, climbing mountains, or skiing any slopes if you live in Miami. Sweat440 brings those outdoor adventures to you, in the comfort of an air-conditioned gym. Our Versa Climbers give you an exhilarating rock climbing sensation, while our Ski Ergs imitate cross-country skiing and slicing through slaloms. Want to imagine an Alpine setting while you beat the Miami heat? Come try our innovative machines for an adrenaline boost that perfects your physique.  
7. Our South Beach, Coral Gables & Miami Gyms Have Freebies
Our top two freebies are a free trial for every newcomer and free training in every single class! If it's your first visit to Sweat440, you can choose from any of our classes in South Beach, Brickell, Doral, or our Coral Gables gym near Merrick Manor with absolutely no strings attached. Our HIIT classes are designed for all fitness levels and our trainers walk you through exactly what to do. We also have animated demos at each station to help you get acclimated. Other freebies include our top-notch amenities like locker rooms, showers, towels, water, scheduling apps, and even a selfie station! Unlike most Miami gyms, Sweat440 is contract-free and we don't charge extra fees. If you want to feel like a valued member, instead of a number, try Sweat440 for free today! You're going to love all the perks that set us apart!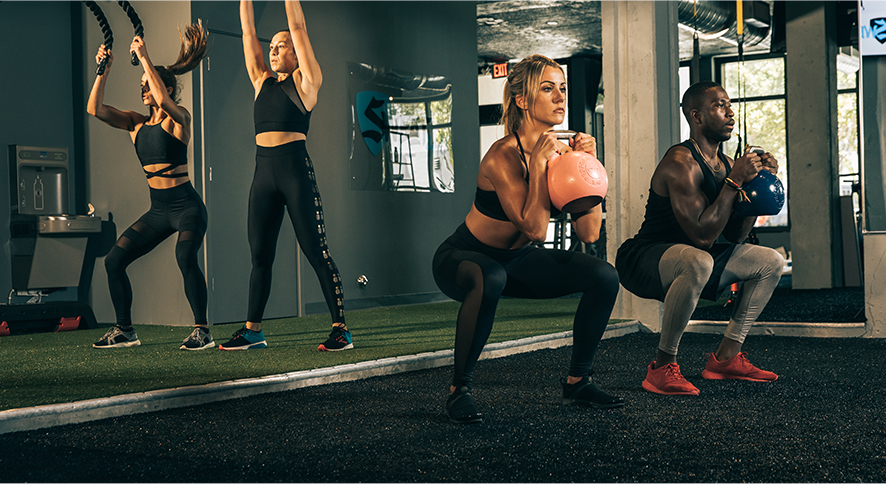 7 Reasons to Join a Sweat440 Fitness Studio Near Miami
7 Perks of Sweat440 Miami:
Multiple fitness studios around Miami
Free personal training
Specialized HIIT group fitness
High energy classes hit target heart rate
Varied total body workouts each day
Infused with rock climbing, skiing, etc.
Several freebies including a free trial
7 Classes to Choose From:
WARRIOR- full body conditioning
SHAPE- for upper body & core
SHRED- for lower body & core
SWEAT- for core & conditioning
SHRED- for upper body & core
SHAPE- for lower body
OUTDOOR- for extra Covid safety