Fitness Studio Near Financial District for Top Personal Trainer
Searching for a Great Personal Trainer Near FiDi?
There are several reasons people search for a personal trainer in NYC. Maybe you want to get fit for summer in the Hamptons. Perhaps you're trying to lose that stubborn baby weight. Maybe you're training for the New York City Marathon or a weightlifting competition. If you've embarked on a fitness journey, you've probably determined that it's not easy to do it on your own. Personal trainers expedite your results and elevate your fitness beyond what you thought possible. More importantly, they do it safely, with customized workouts to meet your specific needs.
Sweat440 FiDi has the best trainers in the business, and better yet, we train members for free! Our gym was founded by renowned personal trainers who know how important individualized exercise plans are. We hire only the best of the best and our trainers circulate through every single class to provide assistance, recommendations, inspiration, and accommodations as you rotate through each station.
Our team of instructors ensures that you stay motivated and avoid boredom and plateau. We keep you moving through 12 different exercises that vary each day, to keep your body guessing, which translates into quicker results. Our awesome playlist and encouraging members enhance the positive atmosphere created by our trainers.
Want to Train at a Top Fitness Studio Near Financial District?
We don't just have the best trainers, we also have the best fitness studio near the Financial District. Our gyms are fully equipped with state of the art machines that combine cardio and resistance for a more powerful workout. We utilize a high-intensity interval training (HIIT) method that helps you burn more calories and build more muscle in less time. Because we vary the intensity, you can go harder, for longer, without risking injury, overexertion, or poor form.
Our members have full access to all classes, which start every 10 minutes, providing the most flexible schedule in NYC! Each day, our classes focus on a new muscle group and a new technique. So, one day, you're shaping your upper body, and the next day you're shredding your lower body, and every day, you're torching your core. You will sweat for the entire 40-minute class, which is why we're called Sweat440. However, you'll be having so much fun, you won't notice how hard you're working. Our classes fly by and leave you pumped to come back the next day to see what else you can do!
Come check out our Assault Bikes, Ski Ergs, Versa Climbers, and individual workout pods with digital demos, and we promise, you'll never want to step on a boring treadmill again. Our gyms have all the amenities you need, like showers, locker rooms, towels, water, and scheduling apps to expedite your workout and have you in and out in under an hour.
Wondering What Gym Memberships Near Wall Street Cost?
If you're eager to join a gym and start personal training, you might be discouraged to learn how much that costs at most Wall Street gyms. Gym memberships alone can cost thousands of dollars, and that doesn't include the joining fees, annual fees, amenities fees, and the often astronomical personal trainer fees. An average trainer in NYC charges $150 per session, and their schedules are typically full. So, even if you can afford to fork over the dough, you're probably going to sit on a waiting list for quite a while.
Sweat440 FiDi solves this dilemma by providing personalized training for free in each of our small group classes. You can buy one class at a time, 10 at a time, or even an unlimited monthly membership. We don't use contracts or charge joining fees, so you can get an awesome HIIT class, personal training, and gym membership for less than $10 per session, depending on your membership level. There is no better deal in NYC, and unlike other affordable gyms, we offer a boutique fitness experience with free amenities, cutting edge equipment, and exceptional trainers.
Want to Train Affordably at the Top Fitness Studio Near FiDi?
Are you ready to join the best fitness studio in NYC and begin your personal training routine? Sweat440 Fidi offers free classes for every first-time guest, so you can check us out 100% risk-free. After your initial visit, you simply buy as many classes as you want, and personal training is included for free in every single one.
Our gyms are always fully staffed, so if you pull long hours on Wall Street, you don't have to worry about working out in an unstaffed gym, no matter when you arrive. With classes every 10 minutes, you can book your spot in advance, or simply show up and we'll work you in. Our classes repeat all day long, so you'll never miss a session, no matter what pops into your schedule that day. Try a free class at Sweat440 FiDi near the New York Stock Exchange and optimize your health with personal training for no additional fee!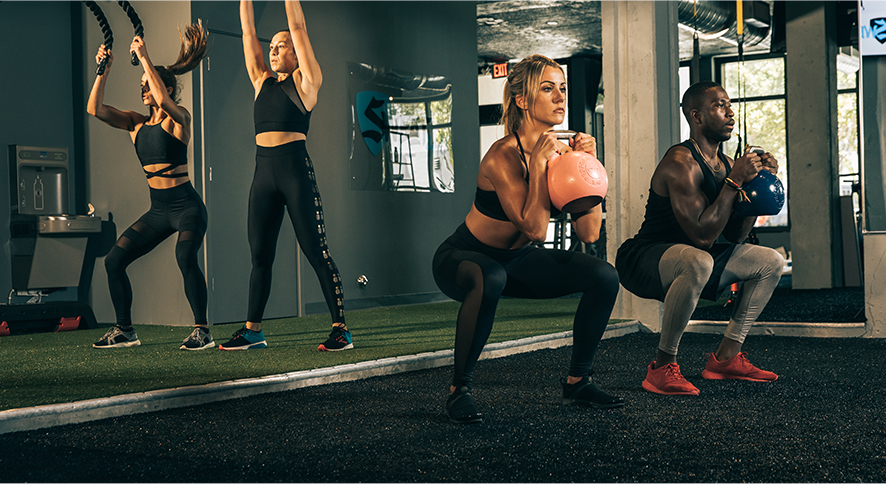 The Perks of Personal Training in FiDi
Why Personal Training Is Essential:
Workout accountability
Motivation to exercise
Variety to prevent boredom
Safety from injury
Health and nutrition advice
Quicker results
Customized workouts
Individual accommodations
Expert insight
Why Sweat440's Personal Training Is Best:
Top trainers in NYC
Gym founded by trainers
First class is totally free
Free training in every class
Small classes for custom instruction
New sessions every 10 minutes
Different classes every day
Classes repeat all day to fit your schedule
No contracts or extra fees