8 Reasons to Choose Sweat440's Fitness Studio Near Doral
1. Our Fitness Studio Near Doral Is Contract-Free
The pandemic caused confusion around the world. But one thing it made very clear is that some things are beyond our control. As we reemerge from quarantine and isolation, it's more important than ever to factor flexibility into your decisions. Joining Sweat440 Doral is the wise choice, because we are a contract-free gym that doesn't require you to commit to a year, a month, or even a week to give us a try. Your first class is totally free, and you can purchase as many as you'd like after that. You are never locked into a binding contract, so you have total control of your finances and your membership. This is not a feature we added in response to the pandemic, it's simply the way we've always operated. Our members decide when they come and go, with no joining fees, cancellation fees, or penalties whatsoever.
2. Our Personal Trainers Are Complimentary
Personal training provides a tremendous boost to your fitness, since it incorporates professional expertise with incentive, motivation, and accountability. However, it's not always easy or affordable to book personal trainers in Doral. At Sweat440, personal training is complimentary in every small group class. Our trainers work with each class participant to select the right reps, resistance, pace, and form to generate results. We don't take the one-size-fits-all approach of most Doral fitness classes. Instead, we offer alternatives, accommodations, and expertise to make the most of your unique capabilities.  
3. Our Membership Options Are Plentiful
As mentioned above, we don't use contracts to secure your membership. Instead, you simply purchase the number of classes you'd like to take. You can buy one class, a 10-pack of classes, or even an unlimited monthly membership to exercise as often as you want! You can change your membership level at any time. Unlike most gyms, you aren't charged for a class if you have to miss it. You simply apply that credit to the next class that you take. You won't find another fitness studio near Doral where cancelling personal training or classes comes without a penalty! But at Sweat440, we understand that life is unpredictable. Our members choose the level that works best for them and adjust it whenever they need to. As an added bonus, our amenities are included. Use our showers, lockers, water stations, towels, and more at no additional cost. Other South Florida gyms charge extra for everything under the sun. But at Sweat440, you only pay for the time you spend in class.
4. Our Group Fitness Classes Are Inclusive and Inspiring
If you want to really love your workout, you have to try our group fitness classes! We play the most upbeat music, hire the most inspiring trainers, and draw the most encouraging members at our gym. We welcome everyone from beginners to seasoned athletes, and we're excited to celebrate each other's successes, no matter how small or large. Together, we pound out a killer workout that burns more calories than any other class you'll take. But we also smile throughout the session because it's such an exhilarating experience! You won't believe what you accomplish in our 40-minute sweat sessions, but your physique will provide the proof!
5. Our Equipment Is State of the Art
Some Doral fitness studios have been around for a while, but so has their equipment. Rusty dumbbells? Jerky treadmills? Is that what you want from a gym? Try Sweat440 Doral instead, where you'll find the latest, state of the art equipment, like VersaClimbers, SkiErgs, and Assault Bikes, and where all of our fitness tools are kept clean and in top condition. Not only will you enjoy your workout more, you'll also stay safe from injury with our cutting edge, ergonomically designed machines. Join the gym that invests your money in top trainers, new equipment, and superior sanitizing products, rather than pocketing it like other gym owners do.    
6. Our HIIT Method Reigns Supreme
If you actually want to get fit, and not just belong to a gym, join the one that specializes in high-intensity interval training (HIIT). Sweat440 is a dedicated HIIT facility that teaches HIIT all day, every day. Our classes include 4 10-minute stations that each take you through 3 sets of 3 different exercises. You'll get 36 sets packed into 40 minutes, with an emphasis on variations of intensity. This enables you to reach your VO2 max and engage EPOC, so you burn as many calories as you can in the class, and keep burning them for hours afterward. Our compound cardio stations burn fat while building muscle, so your workout is twice as efficient. Results start occurring immediately, and you'll feel invigorated by what you achieve. Studies show that HIIT boosts your metabolism better than other workouts. Don't take our word for it, check out our 5-star reviews on Google, Yelp, and ClassPass, or try a free class today!
7. Our Class Schedule Provides Ultimate Flexibility
If you've lived in Doral for more than a day, you know that regular gym attendance requires a flexible schedule. Everything from rush-hour traffic to tropical storms can impact what time you get to the gym. Sweat440 Doral has classes beginning every 10 minutes, so you are #neverlate! You can book in advance, but if you miss your timeslot, we'll fit you into the next class within minutes. You can also stop in without booking ahead and join a class without waiting around. Unlike other gyms, our schedule serves you, since we want you to have every opportunity to work out.
8. Our Classes Are Designed for Everyone
Have you ever felt intimidated or excluded at the gym? Some fitness studios pride themselves on an elitist, exclusive atmosphere, while others are only suited to certain types of athletes. For example, if you aren't a bodybuilder or a spin fanatic, some gyms won't suit you at all. But Sweat440 has something for everyone, from rowers, to sleds, to TRX, to kettlebells. Better yet, all of our classes are suited to everyone. Since you work in your own station, at your own pace, you don't have to choose from a limited number of "beginner" or "expert" level classes. Choose any class you like and try it for free. Our personal trainers will guide you through smoothly, and our digital demo screens will provide additional guidance. Come join us at Sweat440 near the Doral Library and see why we're the preferred fitness studio in Doral!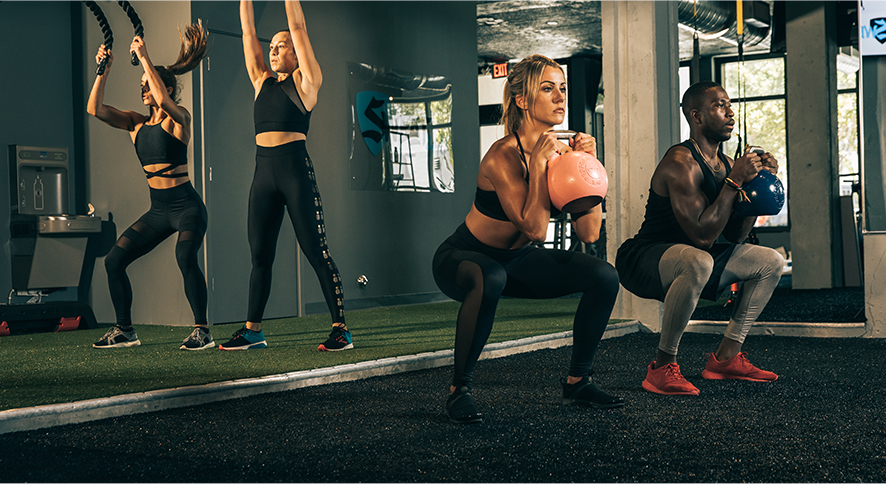 8 Reasons to Try Sweat440 Doral Today!
8 Perks of Joining Sweat440 Doral:
We're a contract-free gym
We provide complimentary training
We offer many membership options
We lead inclusive, inspiring classes
We use state of the art equipment
We teach a superior HIIT method
We have the most flexible schedule
We designed our classes for everyone 
8 Classes to Try for Free:
Monday- shape your lower body
Tuesday- shred your upper body
Wednesday- sweat with core conditioning
Thursday- shred your lower body
Friday- shape your upper body
Saturday- warrior total conditioning
Sunday- warrior total conditioning
Select Days- outdoor full-body workout