9 Features to Try at a Top Fitness Studio Near Coral Gables
1. The Preeminent Weight Loss Method
Are you frustrated by your weight loss efforts? Have you been trudging along for hours on the treadmill and picking at your boring salads, but still not getting results? Visit Sweat440 Coral Gables for a totally new approach. Our high-intensity interval training classes burn twice the calories in a fraction of the time it takes with other routines. Our compound cardio exercises burn fat while building muscle, so you burn calories for hours, not just while you're in class. Our members are absolutely floored by how fast they lose weight, while spending less time in the gym. Try a free class today at our fitness studio near Coral Gables, right across from Coral Gables High School. Your first class is totally free, so come try our weight loss method with no obligation to join.
2. Totally Free Personal Training
Personal training in Coral Gables can be outrageously expensive. In addition, many trainers stay booked 24/7, so it's difficult to get a session, even if you want to spend the money. If you need to cancel, there are no other spots available to you, since they're claimed by someone else. That means you not only lose a workout, you also lose the money you paid to book it. At Sweat440, our founders are personal trainers who know how crucial training is to reaching your fitness goals. So, we offer personal training, free of charge, in every small group fitness class. Any time you come to Sweat440, you're guaranteed to work with a qualified trainer for no additional fee. Unlike other gyms where instructors position themselves at the front of the class, our instructors circulate throughout the class offering customized insight to each participant, to help you reach your goals quickly.  
3. Superior Strength Training + Compound Cardio
Want to get the best possible workout without spending all day in the gym? You have to try Sweat440's compound cardio sessions that fuse strength training with aerobic exercises to maximize your efforts. Each of our stations combines cardio and resistance so you build muscle while burning calories. As a result, your enhanced muscle mass enables your body to burn more calories while at rest, not just while you're at the gym. Our superior HIIT method means you'll get fitter, faster, and still have time to do everything else you want to do. Cut your gym time in half, and cut excess weight too? That's our formula, and you're going to love it!
4. Optimal Heart Rate Exercises
People are often frustrated by their progress because they aren't exercising correctly. Many gyms offer generalized classes that don't include individual instruction. So you might not be reaching your target heart rate or using the different levels of intensity required to shift into fat burning mode. Steady-state cardio isn't effective for achieving and maintaining weight loss or for building muscle. Our trainers use intervals of intensity to keep your heart rate high while you complete a set, and then bring it back down a bit between sets, so you can perform your best for the entire class. More importantly, we identify your unique capabilities and help you adjust speed, reps, resistance, and form to meet your specific needs, rather than using a universal approach. Each participant has different abilities and needs to hit different heart rates to reach their goals. Try our customizable classes to see how our input makes all the difference.
5. Total Body Workout with a Targeted Focus
If you want a total body workout, Sweat440 has you covered! Each of our 40-minute classes gives you a full-body training experience, with emphasis on your core. However, each day, we target different areas of the body, so that your total body workout includes focused emphasis on certain muscle groups. This means you're perfecting your physique in a manner that can be safely repeated throughout the week. Take a class to shred your upper body one day and then shape your lower body the next day, while achieving a total body workout every day of the week.
6. Boot Camp Group Fitness Classes Without Insult or Injury
There are a few positive things about boot camp workouts, but also several negatives. Sweat440 embraces the good things, like a team mentality, camaraderie, and motivation, and we eliminate the bad things like insults, injuries, and intimidation. Our small group fitness classes are designed for all fitness levels and our trainers inspire you to exceed your expectations, not exceed your capabilities. We don't yell, demean, or push our members to work through pain or injury. We use positive music, high-fives, and encouragement to help you achieve your goals. You will burn more calories at Sweat440 than you do in a typical boot camp, thanks to our proprietary HIIT method. But you'll do so in an environment that's safe, welcoming, and uplifting.  
7. More Benefits Than Martial Arts
Martial arts are known for putting you in a clear head space while you exercise. However, most martial arts classes don't burn that many calories or build much muscle, which are the two main reasons why most people join a fitness studio near Coral Gables. If you're looking to improve your physical health, as well as your mental health, try a free class at Sweat440! Our classes are incredibly uplifting and also incredibly effective at improving your fitness. You will leave our gym in a better state of mind, and also in better health, which further improves your state of mind. Come see what 40 minutes at Sweat440 will do for your overall health. We promise you'll be back for more!  
8. A Great Workout That Feels Like a Hangout
After a long battle with the pandemic, our social lives have taken a hit. There has never been a greater need for safe socializing than we're experiencing right now. One of the best features about Sweat440 is that our gyms are designed specifically for socially-distant exercising. Our fitness studios use clear markings and have individual workout pods to keep you at a safe distance from others. We sanitize our gyms frequently with hospital-grade cleansers and provide cleaning supplies for members as well. But you'll forget about those safety barriers when you're engaged in our exciting classes. You'll feel part of something amazing again- a group of people working together for better health. Come have a great workout, that feels more like a hangout, and leave the safety measures to us!
9. State of the Art Tools That Transport Your Body & Mind
Tired of your office, your home, or your fitness routine? Let's take a trip together, without the hassle of air travel! Sweat440 mentally transports you to distant locations with state of the art tools like VersaClimbers that mimic rock climbing and Ski Ergs that replicate cross country skiing. Take a break from your tired routine and try something new at Sweat440 today! Boredom is never an issue at our cutting edge fitness studio near Coral Gables. We'll transport your mind and transform your body at the same time!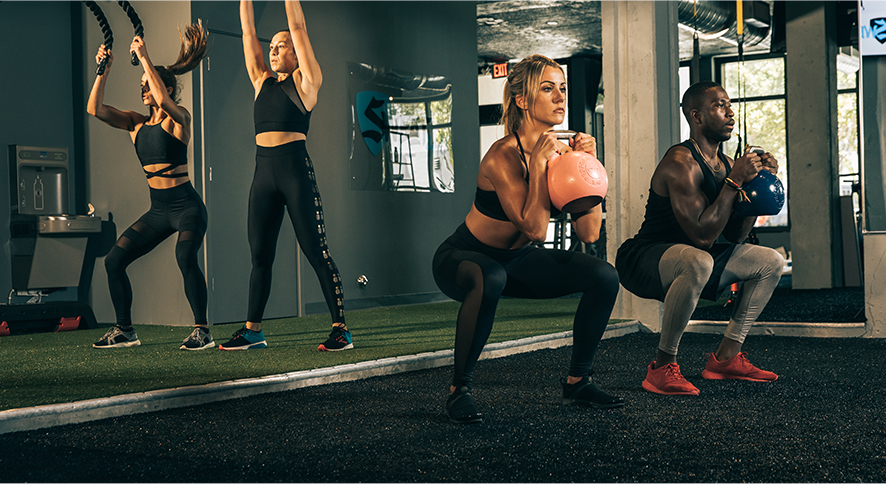 Why You Should Try Sweat440 Today
Perks of Sweat440 Coral Gables
Fast weight loss + free personal training
Strength training + compound cardio
Optimal heart rate exercises
Targeted total body workout
Boot camp minus the negativity
Better than martial arts
Great workout + safe socializing
State of the art tools to transport you
Classes You Simply Must Try
SHAPE- lower body
SHAPE- upper body/core
SWEAT- core/conditioning
WARRIOR- Saturday total body
WARRIOR- Sunday total body
SHRED- upper body/core
SHRED lower body/core
OUTDOOR- total body workout