Fitness Studio Near Brickell with Superior Fitness Classes
What Are the Components of Great Fitness Classes?
Schedule Availability-This might not be the first thing that comes to mind when you're trying to determine which fitness studio near Brickell has the best classes, but it's incredibly important. Miami gyms are often overcrowded, with waitlists a mile long. Choose a gym like Sweat440 Brickell, which offers classes every 10 minutes, so you can actually take a class, not just belong to the gym.
The 5 Essential Exercise Elements-Medical experts agree, there are five essential elements of a great fitness class. It should incorporate aerobic exercise, strength training, stretching, core work, and balance exercises. Together, these factors enhance your overall health while also preventing injury and plateau. At Sweat440 Brickell, our total body HIIT workouts combine cardio with resistance and an emphasis on core and proper form. Our sessions are as effective at burning fat as they are at enhancing your core strength, balance, and muscle definition.
Certified Instructors-It's impossible to overstate the importance of qualified instructors in group fitness classes. No two participants are the same, so you need a trainer who identifies individual abilities, strengths, and weaknesses, not just for your safety, but also for your success. Many classes are led by uncertified trainers, or instructors who don't specialize in the type of class they teach. At Sweat440, all of our instructors are HIIT specialists who teach it all day, every day. We take a highly individualized approach, circulating through each class to customize your workout. Don't settle for anything less than our highly trained fitness experts.
Variety of Exercises-Variety isn't just the spice of life, it's also the key to peak fitness. Our bodies become complacent once they've learned how to perform an exercise. Muscle memory makes our bodies more efficient, since we're hard-wired to conserve energy for our survival. In order to continue progressing in your fitness, variety is a non-negotiable. And it's not just a variety of exercises that matters, it's also important to vary your intensity. At Sweat440, we use an interval system that incorporates 45 seconds of high intensity with 15-second rest periods to keep your body on its toes and in perfect form.
Welcoming Environment-An intimidating environment is a primary reason people quit the gym. Machines and classes can be really confusing and members can be unwelcoming to newcomers, when you choose the wrong gym. At Sweat440, our members are incredibly welcoming, as are our trainers, who assist you throughout the entire class. You have your own workout pod to pursue your personal best, rather than worrying what those around you can do. Our stations have digital animations to show you what to do. Our music is uplifting and our trainers are inspiring, providing a gym space that feels like your second home.
Classes That Aren't Limited to Certain Fitness Levels-Some gyms feature beginner, intermediate, or expert fitness classes, but there are some flaws in this philosophy. First, your fitness level is somewhat subjective. You might be super fit for a 50-year-old, but less fit than a 20-year-old. You might be an expert runner, but a rookie at lifting weights. In addition, your fitness level won't remain static, so you need a class that adapts to you. Segregated classes also limit your options throughout the week, compared to a schedule full of classes for all fitness levels. At Sweat440, we keep our classes small and use individual stations so we can provide personalized instruction. You work at your own pace and level within each station, rather than following a generalized formula, like most Miami classes do.
Cutting-Edge Equipment-Outdated equipment is not only a risk to members, it's also inefficient. The latest machines fuse cardio and resistance for a well-rounded workout that works in half the time. It's also easier on your muscles, bones, and joints to use well-maintained equipment. Sweat440 provides the newest technology, like Ski Ergs, Versa Climbers, and Assault Bikes, and we also keep them in top form and sanitized after each use for our members' safety.
Why Is Sweat440 the Best Fitness Studio Near Brickell for Me?
Sweat440 Brickell is, hands-down, the top choice for fitness classes in Miami. Our trainers are the best in the business and they're experts at what they do. We use state of the art equipment and the most effective HIIT technique to guarantee your results. In addition, we refuse to engage in selfish practices like overpriced memberships, hidden fees, and iron-clad contracts that are tough for members to exit.
In fact, we don't use contracts at all. We offer several affordable membership options and you can quit at any time, penalty-free. Personal training and amenities are included in your membership and our classes are designed for everyone. Our members consistently leave 5-star reviews because our classes are not only the most effective, they're also the most enjoyable. Try a free class at our fitness studio near the Brickell City Centre today and you won't want to train anywhere else!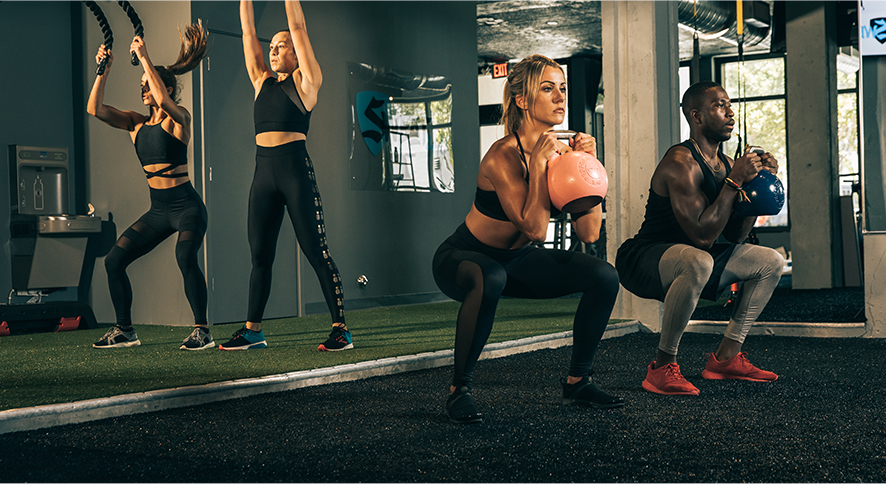 Want to Try a Class at Sweat440's Fitness Studio in Brickell?
Here's What to Expect at Sweat440:
Class availability- every 10 minutes
Free trial- every first-timer trains for free
Free trainers- every class has expert instruction
Latest equipment- Ski Ergs, Versa Climbers, etc.
Classes for everyone- safe for all fitness levels
All bases covered- incorporate all fitness elements
Inclusive environment- no intimidation or confusion
No surprises- no hidden fees or binding contracts
Here's Where to Try a Free Class:
25 SW 9th St., Suite G100, Miami, FL
1916 Bay Rd., Miami Beach, FL
301 Altara Ave., Suite 111, Coral Gables, FL
8403 NW 53rd St., Doral, FL